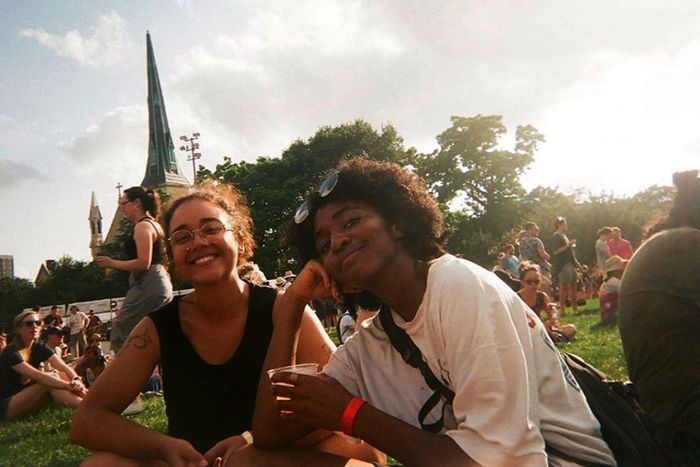 Olivia Craighead and Ayo Edebiri.
Photo: Courtesy of Forever Dog
Are you new to comedy podcasts, overwhelmed by the array of options, and wondering where to begin? Then welcome to Start Here, a recurring guide to the best comedy podcasts available — and our recommendations for which episodes are the best entry points to your next auditory obsession.
Iconography, Ayo Edebiri and Olivia Craighead's celebrity-obsessed podcast, uses the complicated stardom of others as the flowing well from which grade-A riffing is drawn. In each episode, a guest suggests a favorite cultural icon to Edebiri and Craighead, who steadily dissect everything that person has ever made, said, or done. Over the course of revolving segments like "FMK," in which, instead of objectifying people, one must choose which of the celebrity's accomplishments or traits to fuck, marry, or kill, and "The People's Court," in which Craighead uses her illicit EBSCO access to dredge up surreal People magazine stories about them, so-called icons come under such intense scrutiny that the guests who choose them are often forced to rethink whether they truly are, in fact, icons. No show more cannily deconstructs the problematic parts of a problematic fave than Iconography.
Since their July 2019 premiere on the Forever Dog network, the podcast's creators have become seasoned in the art of brutally funny analysis. Edebiri is a fast-rising stand-up with a big break coming via Netflix's Big Mouth, while Craighead is a pop-culture writer with a millennial-savvy newsletter, so theirs is a match made in comedy heaven. Both are also naturally ebullient performers who, lest they be misunderstood as too sunny, enjoy taking detours into delighted (some may say borderline-toxic) savagery. And they share a frankly intimidating artistic intelligence, trading innumerable recommendations and experiences with music, books, comedy, cinema, and travel in every episode.
Yet Edebiri and Craighead's personal cultural tastes remain intriguingly quixotic, and their dynamic is rare for comedy-podcast duos: They are neither each other's regular antagonist, ready to disagree simply for the sake of argument, nor do they parrot each other's opinions for the sake of maintaining a united front. Edebiri and Craighead are just … themselves, which makes every episode both unpredictable and a little chaotic (chaotic good, though). After 51 episodes, it's still impossible to guess what each will think about the next week's icon.
As a result, while Iconography is never boring, it can take listeners a beat to hook into its idiosyncratic wavelength. On rare occasions, the volatility threatens to overwhelm an episode, forcing Edebiri to make awkwardly direct segues ("On that note …") to keep the ship steady. But Iconography is never funnier than when it gets fully out of control, as in the life-mirrors-art tour de force energy of its best and only live episode, "LIVE! John Waters (w/Julie Klausner)."
This episode was taped on November 9, 2019, at Brooklyn's Union Hall, a beloved space for live comedy (RIP) but an off-kilter choice for this program. Unlike in the studio episodes, the sound here is distant and echoey, and the room is annoyingly noisy. (Even though Craighead requests more audience feedback, it's a nuisance in an audio-only medium and therefore a good reminder that comedy podcasts that can afford it should always transcribe their episodes.)
Nonetheless, the hosts arrive in good spirits to Ben Lapidus's Carly Rae Jepsen–esque theme song, delivering their signature synchronized "Hello, hello!" with undaunted excitement. Craighead swiftly acknowledges that they are "trying to cram two different kinds of episodes into a live thing." Then Edebiri pipes in: "We want to give you a little treat! A little present! A little set of presents." "And I think that's nice," Craighead says reassuringly. "Thank youuuuu," Edebiri coos back.
Although the hosts usually reserve this game for guest-free episodes, they start by playing a special edition of "Celebrity Stock Market," which, as Edebiri puts it, requires listeners to "understand that celebrities aren't people — they're meat and money. It's the stock market. We're yelling. We're in suits. I'm sending my kids up to Exeter."
In this version, Craighead "buys" personal stock in "the oldest director in Hollywood," Martin Scorsese — not because of The Irishman, she clarifies ("I have a small bladder"), but because of his then-recent anti-Marvel New York Times screed: "I appreciate anyone who's like, 'I said what I fucking said.'" She decides to "hold" her stock on Henry Golding, due to his movie Last Christmas becoming "a notorious flop," but decides to get rid of her emotional investment in Liam Payne, "former member of One Direction, current maker of bad music," and a man she describes with audible venom as "dating a girl who is either 18 or 19." It's so easy "not to date a teenager," Craighead says. "I do it every day!"
Edebiri then offers to buy into "one of our favorite boys," Lucas Hedges, the rare celebrity who is actually a normal-seeming human. "Our generation doesn't have enough actors who look like nothing!" Edebiri pleads while the audience giggles. "Actually, this is the part where you STOP LAUGHING! We have a lot of people where it's like, 'Timothée Chalamet, oooh, he's got a good jaw!' Or 'Oh, someone else looks hot.' Pfft. I'm tired! … [Hedges] gives me hope that we're gonna have somebody that looks like Tim Blake Nelson."
To "hold," Edebiri selects Kristen Bell while waiting to see how well Frozen 2 does ("What's up, money?!"). But she doesn't hesitate to "sell" her stock in "the former king of the South," the artist T.I., after he notoriously claimed he checks his teenage daughter's hymen on the regular. "We had him when we had him," she moans.
Suddenly, Edebiri pivots to one of her patented overly frank transitions: "That's too much. But you know what isn't too much? Our guest!" Craighead seems dumbfounded at their "incredible get," the "queen of pop culture" herself, Julie Klausner, whom Craighead names as an inspiration for their podcast. Klausner returns the compliment, noting that Craighead and Edebiri are wearing matching outfits like something out of a 1950s diner: "It's soooo cute. I feel like such a hag."
Klausner says she presented "a really long list of just white guys" to discuss but ultimately settled on her hero, the self-proclaimed filth elder John Waters. Ever since learning about Divine's "eating dog shit" in Pink Flamingos, Klausner explains, she has adored the filmmaker: "He is enduring, he is an original, and I always was influenced by him. He's my icon."
Edebiri and Craighead are fans too, and they instantly launch into a wild 15-minute riff that starts with Terry Gross's weird obsession with Waters and ultimately passes through Michael Ian Black's killing it on I Love the '80s, Patty Hearst's wealth-flaunting on Instagram, and getting horny to Cry-Baby. (Craighead: "Johnny Depp may be canceled, but he's so hot in that movie." Klausner: "I knew so many lesbians who were like, 'But … Johnny Depp.'") Only after starting to count how many cheekbones Hairspray star Debbie Harry really has does Klausner finally grasp how far down the rabbit hole she has gone. "Is this boring? Should I be funnier?"
The audience titters nervously, so Edebiri rushes in to salvage things with a round of the fan-favorite game "The People's Court." "We're gonna have a little seg, baby!" she announces. But as Craighead pulls up a mid-'90s profile of Waters trolling the customers at his favorite "horny-gross" bookstore, Baltimore's Atomic Books, things get even looser. "Remember when People was a real magazine?" Craighead asks. "Remember when people used to read?" Edebiri cracks. "Remember when people used to read People?" Klausner cracks back.
Now palpably struggling to keep it together, Craighead tries valiantly to describe the article. Her biggest mistake is revealing that, in the profile, Waters is reading a book called Splosh! Then it's Klausner who, once and for all, pushes the episode into complete anarchy: "Oh, I know what sploshing is! Do you know? Is this what I'm thinking about? Is this … the sexual act?"
At that, the hosts, guest, and audience simultaneously go ballistic. Klausner tries to explain over the din that sploshing involves actual cream pies, which is why it's "especially popular with the British." (Edebiri: "Oh, this rocks.") Craighead asks Klausner and Edebiri, "If you guys had to be sploshed with any food item, what would it be?" Perhaps inevitably, a male audience member delivers the night's first heckle: "Baked beans!" "Okay, Benny Hill," Klausner sneers.
The vibe settles just enough after 59 raucous minutes for the comics to discuss whether they'd fuck, marry, or kill Waters's filmography, his bon vivant persona, or "his teeny-tiny little mustache." All three instantly agree that they have no choice but to fuck the mustache. "That mustache is a fuh-reak!" yells Klausner, inspiring a hearty round of applause. "Right, because it's like pubes, and that's like fucking!" agrees Craighead.
Ever the fan, Klausner decides to make the ultimate sacrifice: "I will kill … myself and marry both of the other two! I'm sorry. I'm such a bad person." Edebiri and Craighead excuse her failure to play by their rules and instead offer Klausner the final word on whether she chose her icon wisely. At first, she responds with an unabashed yes, given that every "white male comedian" she knows has tried and failed to be "more fucked-up" than Waters.
But just as the show is wrapping up, she becomes struck with self-doubt. "Should I have chosen Kylie Minogue?" Klausner asks. "Yeah!" Edebiri snaps decisively. "That would have been funnier."