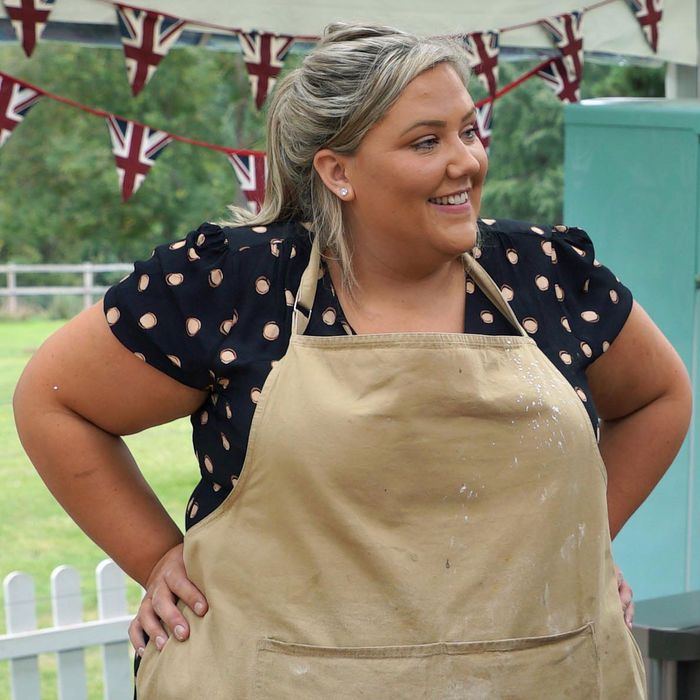 Laura Adlington and an unidentified goth.
Photo: Courtesy of Channel 4
In retrospect, it's kind of incredible that The Great British Baking Show was able to pull together a season amid the disgusting, ongoing dumpster soufflé known as 2020. Moving the filming location (and, of course, the tent) to a historic estate in Essex, the crew, cast, and 12 contestants isolated and remained in their Baking Show bubble for nearly two months in pursuit of their floury dreams, even when historically hot temperatures threatened to melt the fun.
One of those contestants, the messy and cheerful Laura Adlington, was particularly fun to watch this season: She delighted with attempts at rendering classic rockers in sponge and genuinely wowed us by jiggling up some jelly art cakes, all while being open about her struggles with self-confidence. Adlington finished the show as a finalist (baby-faced Peter Sawkins was crowned champion), and, as she told Vulture in a recent interview, hopes the good baking vibes can continue into the new year. Read on to learn more about Adlington's unique living experience within the bubble, behind-the-scenes intel, and, yes, the Freddie Mercury cake.
Do you have that beautiful photo of you and Lottie framed?
It has become quite a bit of a 2020 moment, hasn't it? I haven't gotten it framed yet, but maybe I should frame it and give it to her as a Christmas present. Bonded by Baking Show and friends for life. She can't get rid of me that easily.
Were you confirmed for the show before the pandemic hit?
The whole thing pretty much was done prior to it, yeah. The very last audition occurred just before Britain went into lockdown, so it was on everyone's minds. Everyone was a bit nervy about it. And then the official phone call I got a week later occurred on the day that Boris Johnson announced the lockdown. I literally went from euphoria at lunchtime — screaming happy, phoning my family and my husband — to seeing Boris at night go, Well, the world is coming to an end. It was the biggest comedown ever. I spent a few months thinking if the season would be happening or not. I know now that me, and all of the other contestants, struggled to get flour, eggs, and basic essentials. We were sitting around twiddling our thumbs, worried and anxious like the rest of the nation. Things started to get a little bit better with ingredients.
Did the show send you anything?
Luckily, we were all sent bundles of flour and other items. It was, like, 25 massive bags of every kind of flour and sugar you've ever heard in your life. But finally the day came. The show called us two weeks before we were expected to leave our families and our work and isolate for six weeks. I think all of us were like, Uh, yes, let's do it!
Did the idea of competing during a pandemic ever give you pause?
There was no question for me about doing it. I did discuss it with my husband to ensure it was all right, and he was very, very supportive. It never crossed my mind not to do it. The harder part was asking my work to get two months off of work.
What lie did you end up using?
I was very vague and just requested to take a sabbatical. I received some really lovely messages when I was away. I think my colleagues thought I was really poorly or thought I had a breakdown or something. I got so many messages like, "Are you okay? You can be honest." I was like, "I'm fine, I'm working on something really cool but just can't share!" It was a relief to tell people and share the excitement.
Were your fellow contestants all confirmed prior to the pandemic, or did a few get a lucky break as alternatives? Some reality shows in America had to do that this year with COVID dropouts.
As far as I know, we were all chosen and we all got that call on the same day. Nobody told me otherwise. I've seen some online chatter along the lines of, Did they just choose people who could do it with the pandemic? That's not the case. We were all chosen and picked and told about it as the pandemic was just forcing the world into lockdown. We were ready to go!
I was so glad that the fundamental, on-air Baking Show tenants weren't altered by the pandemic, but it seemed like an interesting experience for you all to live together in this posh hotel bubble for so long. What was the structure like behind the scenes? Did you all have ample time to prepare and practice your bakes?
The show set up, away from the main tent, a bunch of practice kitchens. Basically it was a humongous tent that was curtained off so you had your own individual kitchen and couldn't see what other people were doing. We would have two days off after every episode. We'd normally practice the signature bakes on the first day and the showstopper on the second. It definitely wasn't a "day off," though — everyone would get up early and be baking for around nine or ten hours. I was like, I never want to bake again! And it was a luxury to not have to go out and purchase all of the ingredients.
With the previous seasons, you go home for the week, come back on the weekend, and then you're surprised by what everyone baked. But there was no secrecy with us. The production tried their best to keep us apart, but since we were a close and friendly bunch, they had to keep telling us to stay in our own kitchens. We kept walking around to each other going, "What do you think of this? Can you taste it? Does this recipe look better?" I think that was the loveliest thing — everyone was so kind. I remember during week five I was having a lot of trouble with my showstopper. Marc had been working all day in his test kitchen, and by the time the sun set I was like, "Forget it, Marc, I'm not getting it and I'm going home. This is rubbish." He was like, "No, let's do a full puff pastry master class. We're going to get it right!" I don't think there's ever been an opportunity to do something like that. You had to do your own washing up, though, which was very sad for me especially. [Laughs.] Because I make a mess.
The messy kitchen queen speaks!
I appreciate you saying that but I need to stress that, I swear, I'm really tidy in real life. Really! I keep a tidy and clean home. But when I start baking, it all goes out the window.
Okay, before I ask you about bakes, has the Freddie Mercury estate contacted you with gratitude?
No, not quite. I think that was such a fun bake. It's become an iconic bake, hasn't it? It gave people a great laugh amid an otherwise rubbish and tough year. A lot of people have contacted me about how hard they laughed at it. At the time I didn't find it funny, to be honest. I was mortified and thought I was going home. I was so disappointed, but now I can see the funny side. It has its charm in its very own way.
I feel like, and please correct me if you don't feel this way, that this season's challenges leaned too heavily on virality and pizzazz. I missed the "homey" bakes from past seasons. Do you know what I mean?
Yeah, I do. I'd say that the challenges have always been formulated to push people out of their comfort zones. We can all make cupcakes or Victoria sponges at home. The show has been very complex in the past in terms of the showstoppers, anyway, but the signatures and technicals have become more relatable than in previous seasons. In the past I feel they were very unattainable bakes. I've always adored the show and obviously love to bake, but I'd watch certain challenges and think, Oh, bloody hell, why would they make them do that? I think I speak on behalf of all of the bakers when I say we were all happy with the signature bakes, because of the familiarity factor. That was good. And with the showstoppers, I feel like they were great this year, too. The jelly art was such fun. None of us have worked with that before. So I really enjoyed the mix of the familiar and the challenge.
What would you consider to be your most fulfilling and disappointing bakes this season?
The bottom two are easy: I'd say the ice cream cake and the custard slices. Those were not very proud moments, but I can see the funny side of them now. I don't hang my head up high for those. I think I've never been more proud in my life than baking my caged tart. It was neat, tidy, and elegant. I wasn't able to master it up until that point. I loved my pineapple cake as well. I came up with those flavor combinations by myself, and I did a lot of research about Japanese cakes and what baking style it commonly used. I adapted it as a nod to Japanese heritage with a Western palette. When Paul told me, "That's amazing," that was a very special feeling.
I'm always perplexed why ice cream and chocolate challenges continue to be chosen during the summer. Paul tries to play dumb about it! "Uh, I didn't know it would be so hot." Buddy, it's July.
Trust me, we were all thinking the same thing. Really?! You just have to look back and laugh. It was uncomfortably hot, but we all got through it. Even though it was absolute carnage for me and Lottie, you can't do anything but laugh. It was 98 and 99 degrees at times, but it feels hotter with no fresh air. Some days they would have to put the sides of the tent down to accommodate the cameras. Just imagine being in this hot tent with no windows open and hot television lights everywhere. You have your dress on, camera pack, and a pinny. You feel like you're melting.
As perverse as it is with the extreme heat and lack of air-conditioning, I can't imagine the show without the tent.
It's true. It's the charm of it. There have been other baking shows and cooking shows that have tried to emulate the magic of Baking Show, and part of it is the joyous combination of random, normal people baking in a tent in a field in the English countryside. It doesn't get more twee than that.
And American reality shows certainly aren't known for their twee.
I think that's the other thing, too. We know how much Americans love the show and we love that. From our point of view, a lot of television shows have a big cash prize in the end and it's very dog-eat-dog with people out to win. With us, there's no cash prize in the end. It's a glass bowl. [Laughs.] It's not not competitive. It's friendly. It's people you would want to call your friends.
I have to admit, the glass-bowl trophy looked very underwhelming this season.
It's a bit nothing, isn't it? I think they should up the prize a little bit.
What have you learned most about yourself since competing?
I struggled a lot with confidence. Others did, too, to be fair. Lottie was convinced every week that she was going home so she didn't even unpack. Every week I thought to myself, I don't know why I'm here. Because I do feel like I'm just somebody at home who enjoys baking. I bake cakes for my family and friends. Now that I'm home, I can see that I can bake well and I should believe in myself a little more. But what I'm most proud of is the fact that I kept going. There were honestly so many times where … don't think for one second that I regret it, because I had the absolute time of my life, but I thought so many times, I can't do this anymore. I was so hot, I was so exhausted, I'm a big girl. Being in that heat on my feet all day… [Sighs.] It was really hard work. Emotionally it was hard, too, being away from family. After every time I had a setback, I'd go and have a proper sob-cry and then be like, Okay, about face, let's go onto the next one. I think that's made me realize I'm more resilient than I thought I was.
What's next for you? Would you like to pursue baking full time?
I really don't know. I'm back to work at the moment as I have bills to pay like everybody else. It would be lovely to do some more baking and cooking — share my messy and made-with-love ideas for comfort food. That kind of thing. It would be great to do some more television work. I feel so guilty saying that I had a great 2020. I went on Baking Show, became best friends with Matt Lucas, and then met a Spice Girl. It doesn't get much better than that, doesn't it?