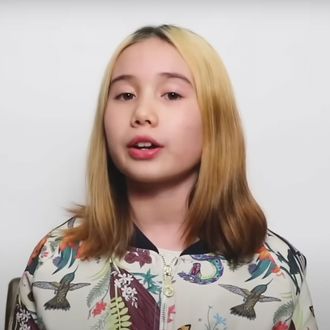 Lil Tay.
Photo: Lil Tay Youtube
After a dizzying 24 hours, TMZ reported on August 10 that Lil Tay is alive despite a post on her Instagram claiming otherwise. When she was 9 years old, Lil Tay, born Tay Tian, became a controversial viral social-media star, professionally flexing on the internet with celebrities like the late Xxxtentacion, under the direction of her older brother, Jason Tian. But Lil Tay's online presence had been almost nonexistent after her account shared unverified legal documents with accusations against her family in 2018. That is, until August 9, when a statement was uploaded to the 14-year-old's feed alleging both she and her 21-year-old brother were dead. Below, what we know about the apparent death hoax so far, and whether we can expect a Lil Tay comeback.
Who started rumors of Lil Tay's death?
A now-deleted announcement was posted on Lil Tay's Instagram account on August 9 from the perspective of two parents claiming that Lil Tay, who is referred to as Claire Hope, and her brother Jason had died. "It is with a heavy heart that we share the devastating news of our beloved Claire's sudden and tragic passing. We have no words to express the unbearable loss and indescribable pain. This outcome was entirely unexpected, and has left us all in shock," the now-deleted post read. "Her brother's passing adds an even more unimaginable depth to our grief. During this time of immense sorrow, we kindly ask for privacy as we grieve this overwhelming loss, as the circumstances surrounding Claire and her brother's passing are still under investigation. Claire will forever remain in our hearts, her absence leaving an irreplaceable void that will be felt by all who knew and loved her." It is unclear at this time who posted the message and why. Vulture reached out to Lil Tay's manager for comment but did not hear back.
When did Lil Tay supposedly speak out about the death hoax?
The social-media star and her family reportedly came forward to TMZ on August 10, a full 24 hours after news of her and her brother's deaths had gone viral. They alleged Lil Tay's Instagram account was "compromised" and the post was falsely made by a third party. The statement reads, "I want to make it clear that my brother and I are safe and alive, but I'm completely heartbroken, and struggling to even find the right words to say. It's been a very traumatizing 24 hours. All day yesterday, I was bombarded with endless heartbreaking and tearful phone calls from loved ones all while trying to sort out this mess. My Instagram account was compromised by a 3rd party and used to spread jarring misinformation and rumors regarding me, to the point that even my name was wrong," it continues. "My legal name is Tay Tian, not 'Claire Hope.'" On August 12, a Meta spokesperson confirmed to TMZ that Tay's account was hacked.
Is there a police investigation?
Vulture spoke to a spokesperson from Burnaby Royal Canadian Mounted Police Department, near where Tay is from, who confirmed that neither the BRCMPD nor the Vancouver Police Department were investigating Tay's death. A report from HuffPost also confirms that multiple agencies in Canada had knowledge of her death but were not investigating it, as claimed by the post. The New York Post also reported that Tay's father had declined to comment or confirm Tay's death on August 9.
How did the internet react?
Initially, reactions were split between mourning Tay's death and being suspicious of the legitimacy of the claims. Even people in Tay's life, like producer John Cunningham, told the Daily Beast that he was "really fucking confused" on August 9 regarding her death. Tay's former manager, Harry Tsang, also told the Daily Beast that he could not "definitively confirm or dismiss the legitimacy of the statement." Tsang also spoke to "Page Six," claiming that neither Tay's dad nor Duane Laventure, Tay's former social-media manager, would confirm Tay's death on August 9, which cast doubt in his mind. Tsang also has questions about Tay's claims that her account was hacked. "I don't believe anything that they say about the hacking," he said. "I'm glad that she's okay." There's also renewed attention to allegations of abuse between Tay and her parents, Chris Hope and Angela Tian. In July 2018, Tay posted the words "help me" to her Instagram Story. In 2021, her brother posted a plea for Tay's followers to help raise money for what he alleged were legal fees against their father, who Jason claimed was abusive and "demanding custody, money, and control over her career." The GoFundMe Jason established raised $15,000.
Is Lil Tay coming back?
It's definitely possible. On August 18, both Lil Tay's Instagram account and the Canadian law firm MacLean Law's Instagram account posted a statement from attorneys for Angela Tian, Lil Tay's mom. According to the statement, the firm has obtained orders in the British Columbia Supreme Court that have enabled Lil Tay "to advance her career." Under a custody agreement, Lil Tay's mom will have "sole day-to-day and final decision-making powers and responsibilities in the best interests of" her daughter. Lil Tay will live primarily with her mom, and the pair are allowed to move out of Vancouver. Meanwhile, Lil Tay's dad must pay around $275,000 in missed child support payments since 2014, as well as ongoing monthly child support.
This post has been updated.