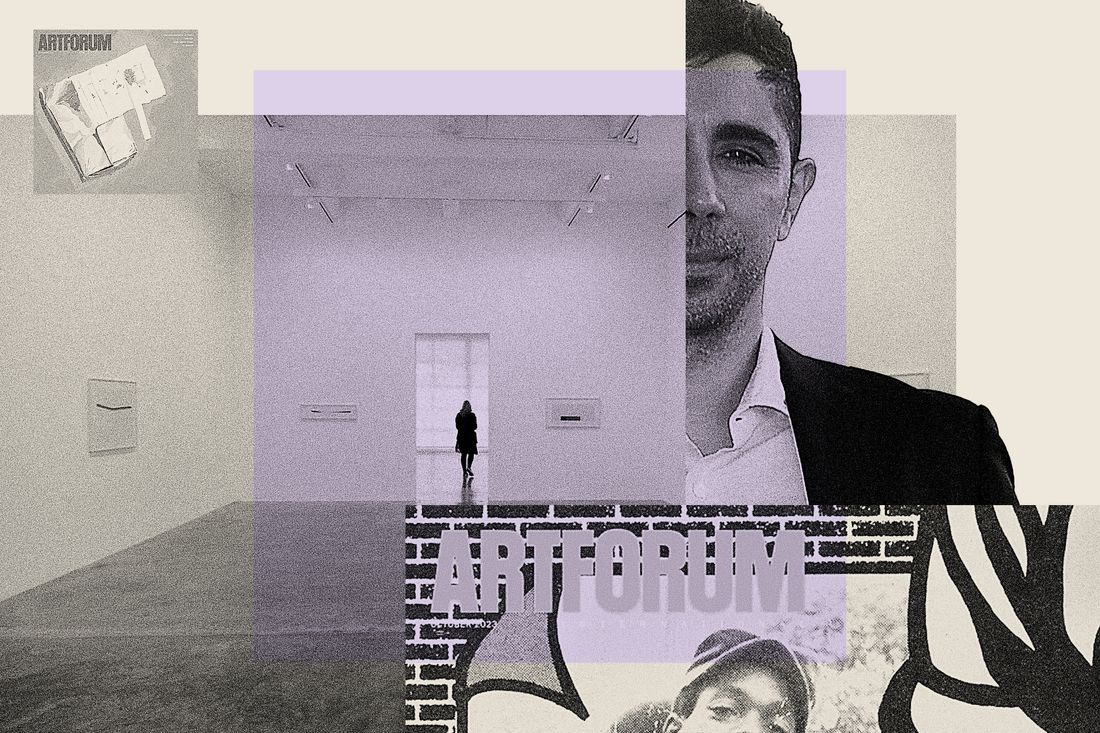 Photo-Illustration: New York Magazine; Photos: Joe Bird/Alamy Stock Photo; Pietro D'Aprano/Getty Images
On October 19, Artforum's website published "An Open Letter From the Art Community to Cultural Organizations," calling for Palestinian liberation and "an end to the killing and harming of all civilians, an immediate ceasefire, the passage of humanitarian aid into Gaza." The letter did not originate with Artforum's editors. It had been circulating as a Google form, where it had already been signed by more than 4,000 people, including Judith Butler and Fred Moten and, as David Velasco, the magazine's editor of almost six years, put it, more artists who had made the cover of Artforum "than I'd ever seen in one space": Barbara Kruger, Kara Walker, Nicole Eisenman, Nan Goldin. "This was the first moment where it felt like there was consensus, where you had thousands of people signing something saying, 'We can agree on this' — people who would normally find it impossible to agree on anything. So I thought, This is the beginning of a coalition," he said. While the letter made a point to "reject violence against all civilians, regardless of their identity," it did not mention Hamas or the murder of more than 1,200 Israelis on October 7. Velasco signed it himself.
By the next morning, the publishers were getting calls. Marianne Boesky, whose gallery's ad happened to appear amid the petition on the website, reached out immediately, saying, "I need you to remove my name and my gallery's brand from supporting this statement." Gallerist Dominique Lévy also called to complain about the petition, which she described as "one-sided and biased and disrespectful to the core." It flouted "the rules," as Boesky put it, "that you must condemn Hamas before you can support any Palestinian base from being killed." Many collectors and other dealers were also upset, and a week after publishing the letter, Velasco was fired.
There's "a long-standing tension," artist Hannah Black said, whereby "artists are far more likely to be aligned with revolutionary positions than collectors and trustees." In the past decade, arts workers have increasingly made activist demands, ousting board members, organizing labor unions, "occupying" and "decolonizing" museums. The art ownership and leadership class — which tends to be older and whiter and wealthy — has grown increasingly irritated, if mostly behind closed doors. Nobody wanted to say the wrong thing, so they mostly listened, or pretended to, and didn't engage. "Political correctness is like a religion here," the dealer Amalia Dayan recently told Haaretz. "You have to be cautious all of the time." Now, these resentments have spilled out into the open.
"This Palestine-Israel thing strips the Band-Aid off that toxicity. This is actually how fucking ugly it really is" in the art world, said the collector Stefan Simchowitz. And he sees that it's becoming personal for many: "They're now wondering, 'Do I like the curators at the institutions? Do I like the educators? Do I in fact even like the fucking artists I've dedicated my life to supporting?' It creates a real existential crisis for the art world."
On both sides are those who would prefer the other be seen and not heard. Plenty of artists would love collectors to stay in their lane, giving money and not advice, and many collectors would rather artists "stick to art."
Artforum, in some ways, embodies many of the art world's contradictions. It's a thick, glossy, old-school tastemaking magazine — which artist is on the cover matters — that is fat with advertising from all the top galleries and many luxury fashion brands. Its breezy, all-over-the-world website mixes criticism with party coverage.
Velasco got the job in 2017 after the magazine's longtime publisher got caught up in a Me Too scandal and the then-editor left. He had been running artforum.com when he was promoted. This meant he already knew his way around the art world and also understood Artforum's place in it, both in print and online. His magazine took activist stances that kept it relevant beyond its art criticism and top-ten lists. It published Goldin's 2018 declaration against the Sackler family's then-ubiquitous arts philanthropy because their company made so much money marketing incredibly addictive opiod drugs. The next year, Artforum ran "The Tear Gas Biennial," which asked artists to withdraw their work from the Whitney Biennial in protest of museum trustee Warren Kanders (who soon resigned). In 2020, Velasco personally posted on Artforum's Instagram a call to support protesters with the caption "Defund Police. Defend Black Life."
Many of the same artists and activists who pushed institutions to embrace BLM have taken up solidarity with Palestinians in what they perceive as a shared struggle against colonization and state violence.
But to others, the politicization of art is asking too much of it, and maybe of artists themselves. Adam Weinberg, the director of the Whitney during the uproar over Kanders, noted then that the "Whitney is first and foremost a museum. It cannot right all the ills of an unjust world, nor is that its role." Kanders voiced his outrage at "the politicized and oftentimes toxic environment in which we find ourselves" in the art community in his resignation letter to the Whitney.
Several artists who signed the letter in Artforum were contacted by prominent collectors and trustees, such as Martin Eisenberg or Eleanor Cayre, about retracting their signatures.  (Eisenberg declined to comment; Cayre did not respond.)
Eisenman, Katharina Grosse, Joan Jonas, and Peter Doig were among those who removed their names. Doig said he removed his name from the petition because it lacked an explicit mention of the Hamas attack, which several people close to him brought to his attention as hurtful. He maintains his support, however, for its call for a cease-fire. "Empathy cannot and must not be selective. If you can rightly condemn the indiscriminate killings and hostage-taking of innocent Israelis but are unable to condemn the indiscriminate killings, maimings, deliberate starvation, dehydration, and mass displacement of innocent Palestinians, then your moral compass has led you astray," he says. "It is extremely worrying and wrong that people should be chastised (or worse) for raising legitimate concerns regarding the safety of a profoundly vulnerable civilian population devastated by a horrific military siege from which there is no escape."
But there were other repercussions. Apolonia Sokol, a painter who signed two different petitions demanding a cease-fire, said three of her collectors called her gallery to say they no longer wanted her work and would either sell it back or put it up for auction, potentially lowering its value. A fourth said he was considering burning it. She agreed to one collector's request that she post about the Israeli victims on Instagram both because she felt pressured to do so and because "of course" she grieved for them. "I'm just tired of being instrumentalized this way," she said. (She told me in a follow-up email that they came to an amicable resolution.)
Lisson Gallery postponed an Ai Weiwei show after the artist tweeted about U.S. financial support for Israel, and Anaïs Duplan posted a letter on Instagram from a German museum canceling a curatorial project he organized because he had posted about Gaza without acknowledging the Hamas attack and described the Israeli military action in Gaza as "genocide."
Messages sent in a WhatsApp group chat singled out artist Tai Shani, who has spoken out on Instagram in support of Palestinian civilians, for her "narcissistic one sided hate filled posts!" The messages also named a museum curator who has shared Shani's posts and indicated that the members would "send these complaints tomorrow" to museums. The "superiors of these institutions need to be advised not once but numerous times by many voices." (Shani currently has a show at the KM21 museum in The Hague.) Reached for comment by email, Shani said, "I'm deeply disturbed to see what appears to be the names of artists such as myself being singled out for harassment."
Boesky said collectors have reached out to her to ask "what certain artists' positions are" on the issue. She said she has heard of other gallerists setting up meetings with artists to talk politics.
"I am confused by the aims of these people who claim to love art yet have no interest in art's primary lesson: to see the world through someone else's eyes," Eisenman said.
Tell that to Simchowitz, who said that he advised his friend the artist Oscar Murillo, whose work he collects, not to sign the Artforum letter: "He does not have the intellectual capacity or historical knowledge to understand the complexity of the situation."
Lévy called her partners, Brett Gorvy and Dayan, and told them, "'I can't sleep with this letter. It's too painful. We need to do an alternative.'" They teamed up with collector Batia Ofer, art adviser Sandy Heller, and newsletter publisher Jeremy Hodkin to write a response to the "uninformed" signatories of the first letter and published it in full-page ads in the New York Times, Le Monde, and The Wall Street Journal. It lamented the horror of Hamas' crimes in Israel but made no mention of the thousands of civilians Israeli forces had killed in Gaza. Six-thousand figures in the arts, including Marina Abramovic, Thomas Houseago, Urs Fischer, Marc Glimcher, and Richard Prince, signed it, titled "A United Call From the Art World." What it really did was show its divisions.
Less than 24 hours after Artforum published the open letter, as readers and advertisers flooded it with irate messages, editors added a sentence at the top clarifying that it "was not composed, directed, or initiated by Artforum or its staff." They later updated the post to express the signatories' "shared revulsion at the horrific massacres" perpetrated by Hamas.
That wasn't enough for Jay Penske, whose media company bought Artforum last year. He called Velasco in for a meeting and told him he needed to publicly apologize for mishandling the publication of the letter. The politics weren't the problem, he said, but he should have notified his colleagues ahead of time given the sensitive nature of the subject.
Velasco told Penske he needed time to think about it. He wasn't convinced yet he'd made any editorial mistakes — he'd consulted with the website's two senior editors, who were the only ones who ever oversaw online content. By the end of the day, Velasco was fired. In a statement, the publishers said his actions were "not consistent with Artforum's editorial process," noting the letter "put members of our team in the untenable position of being represented by a statement that was not uniformly theirs."
Three editors immediately quit. Writers and artists began withdrawing their contributions to the December issue, and nearly 700 signed on to a statement advocating a boycott, vowing not to work with the magazine until it makes "material changes in editorial organization."
"It shows that we are not all beholden to wealthy interests," art critic Johanna Fateman, who signed on to the boycott, said in an email. "We have to be assured of editorial independence. I am not sure I see a path forward for the magazine at this point, but I do see a path forward for its (former) staff and writers."
Both the original letter and its response suggest it goes without saying that civilian deaths on the other side are lamentable, so it's left unsaid. As a result, omissions have become the message. "A sign-on letter should be brief. It's an urgent intervention; it's not going to reflect everybody who signs' entire worldview," said author and activist Naomi Klein. People are searching for "gotchas," she said. "They're looking for ways to dismiss this letter. I think the underlying issue is the disagreement about whether Israel should be able to do whatever it wants."
In the case of the letter Artforum published, omitting the Hamas attack was intentional. "The letter came at a time when most conversations were around the hostages and the slaughtering of civilians in Israel," Velasco said. "On the eve of a ground invasion in Gaza, it was important to make a space to say — unequivocally and without condition — 'Palestinian lives matter.' The letter was explicit in condemning violence against civilians of every identity. It's just saying that these lives are not valued in our culture right now so how about we take a moment to do that."
In November, members of the remaining Artforum staff issued a statement that they are "committed to defending political expression, debate, editorial freedom, and independence." But the boycott has already gutted the December issue, one employee said, and the staff feel assailed from all sides. "The genie's out of the bottle on this," said Black. "I don't think it's anymore possible to reconstitute a depoliticized art world."