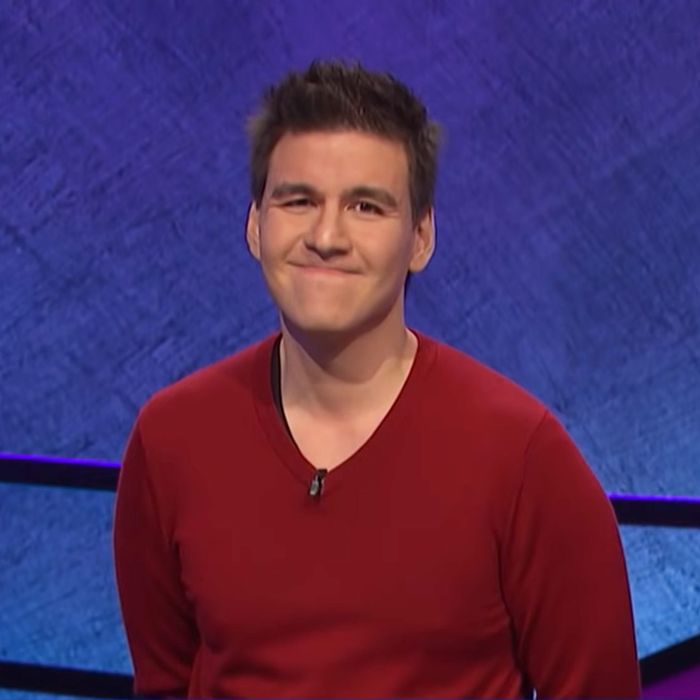 A moment of silence for the Jeopardy! record-takedown that never was. On Monday, only $56,484 short of breaking Jeopardy! legend Ken Jennings' $2,520,700 regular-season earnings record, James Holzhauer's two-month winning streak came to an end. Holzhauer was taken down by Emma Boettcher, which put his final winnings total at $2,464,216.
Over the past two months, Jeopardy!'s newest superstar has gone from unknown to awe-inspiring. The Las Vegas sports gambler came on the show to fulfill a childhood promise he made to his grandmother, but his penchant for big-time bets, quick buzzer skills, and strategy of knocking off the high-value questions early in the game — not to mention his obvious depth of trivia knowledge that has enabled him to answer 97 percent of questions correctly — has made him the most exciting Jeopardy! player to watch since Ken Jennings' legendary 74-game winning streak in 2004.
Holzhauer seemed to break a new record almost every night during his 32-game winning streak. He owns the top ten spots on Jeopardy!'s list of highest single-game winnings, with an astounding $131,127 on his best game. During his time on the show, he averaged $74,673 per game. He played in the second-most consecutive games, topped only by Jennings. And despite his loss in Monday's episode, Holzhauer cemented his spot in Jeopardy! history in second place for total regular-game earnings, right behind Jennings' record of $2,520,700.
Holzhauer's exciting, indomitable gameplay has earned Jeopardy! its highest ratings in 14 years. It remains to be seen if his style of play will become the norm after his departure, or if contestants will revert to selecting the low-value questions first. Whatever Jeopardy!'s future holds, Holzhauer has become a permanent part of its legacy and a constant in its Hall of Fame. And it seems only fitting that his fall was as epic as his run. Below, take a loo at where he ranks among the show's other greatest legends.
Total Regular-Game Earnings
1. Ken Jennings: $2,520,700
2. James Holzhauer: $2,464,216
3. David Madden: $430,400
4. Julia Collins: $428,100
5. Matt Jackson: $411,612
Single-Game Winnings
1. James Holzhauer: $131,127 (April 17, 2019)
2. James Holzhauer: $130,022 (May 27, 2019)
3. James Holzhauer: $118,816 (April 23, 2019)
4. James Holzhauer: $110,914 (April 9, 2019)
5. James Holzhauer: $106,181 (April 16, 2019)
Consecutive Games Won
1. Ken Jennings: 74 games
2. James Holzhauer: 32 games
3. Julia Collins: 20 games
4. David Madden: 19 games
5. Matt Jackson: 13 games
All-Time Winnings, Including Tournaments
1. Brad Rutter: $4,688,440
2. Ken Jennings: $3,370,700
3. James Holzhauer: $2,464,216
4. David Madden: $773,733
5. Larissa Kelly: $660,930
Note: Data was pulled from the official Jeopardy! website and J! Archive, an online Jeopardy! database compiled by ardent fans of the show.