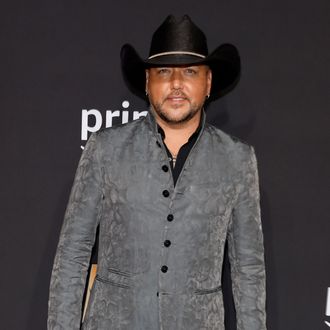 Photo: Jason Kempin/Getty Images
Just days after airing Jason Aldean's new music video for "Try That in a Small Town," CMT has removed the video amid accusations of pro-lynching lyrics and images in the track, Vulture confirms. The country singer defended the video in a statement on Twitter, calling the allegations "meritless" and "dangerous." He writes, "There is not a single lyric in the song that references race or points to it — and there isn't a single video clip that isn't real news footage — and while I can try and respect others to have their own interpretation of a song with music, this one goes too far." Aldean's music video features news footage projected on the Maury County courthouse in Columbia, Tennessee; the location was the site of a 1920s lynching. Vulture has reached out to Jason Aldean's representation for comment.
Outside of the contents of the music video, some cited issues with specific lyrics, like the chorus of the song, which reads, "Well, try that in a small town / See how far ya make it down the road / Around here, we take care of our own / You cross that line, it won't take long / For you to find out, I recommend you don't / Try that in a small town." Aldean stated that the lyrics of the song reflected the "feeling of a community" he had growing up. Singer Sheryl Crow called out Aldean's lyrics on Twitter, stating that people from small towns are also "sick of violence." She writes, "There's nothing small-town or American about promoting violence. You should know that better than anyone having survived a mass shooting," referencing the Las Vegas shooting in 2017.
In his statement, Aldean referenced his pattern of being outspoken about his political beliefs — last year, his publicity team reportedly walked out after Aldean supported transphobic comments from his wife that grew into a feud with Maren Morris. His statement concluded with: "My political views have never been something I've hidden from, and I know that a lot of us in this country don't agree on how we get back to a sense of normalcy where we go at least a day without a headline that keeps us up at night. But the desire for it to, that's what this song is about."