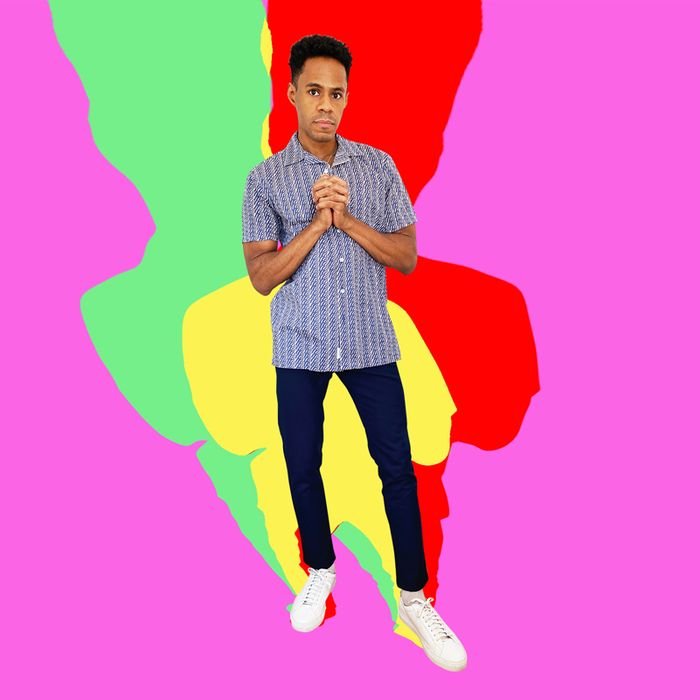 Jay Jurden.
Photo-Illustration: Vulture and Photo courtesy of comedian
This week, we're highlighting 20 talented writers and performers for Vulture's annual list "Comedians You Should and Will Know." Our goal is to introduce a wider audience to the talent that has the comedy community and industry buzzing. (You can read more about our methodology at the link above.) This year, for the first time, we asked the comedians on this list to answer a series of questions about their work and comedy under quarantine. Next up is Jay Jurden.
When did you feel that you were funny enough to make a legitimate go at comedy?
I thought that I was funny enough to make a career out of comedy around late 2017. I had won a few competitions and was confident enough to say "I can definitely do this … and personal training." I came from a theater background and loved the career autonomy I had in comedy.
Describe your comedy in five words.
Black, queer, Southern, nerdy, well-written (is a hyphen cheating?).
If you weren't a comedian, what would you be doing?
I would be a personal trainer (just like I already am some mornings right now) or a college professor. A fun one. I could also see myself being a director of (insert nebulous 9–5 work term here) who says "That's the kind of energy I like!" way too much for it to be genuine.
What of your work do you think you're best known for?
Jokes. I say that both to be silly and catty. I like JOKES. I very rarely listen to people who can't write a good joke. (Shout-out to Whitney Houston.)
Not to be too mastubatory in this but I really do love my Tonight Show set because it was unapologetically me. I got away with a group sex joke on network TV and then got to laugh about it.
How has quarantine affected the way you approach your comedy and your audience?
Precision and execution of a good material has always been very important to me. My current comedy being good enough to entertain via Zoom and eventually also succeed in the parks around the city was a welcomed challenge.
What have you done in quarantine for comedy that you thought you would never do?
A wise man once said: "People always make fun of front-facing videos until you get paid to do a few." I had a lot of people reach out to me regarding my "Questions to Stop Asking Bisexual People" video with Freeform and it was ALL LOVE! People came out to me! The fact that I did something to affirm and uplift members of my community during all of this mess was really moving.
Who are some of your favorite comedians right now? Who is putting out work that excites and inspires you?
I love so many people and this is not an exhaustive list but my peers: Chanel Ali, Kenice Mobley, Shalewa Sharpe, Marcia Belsky, Yedoye Travis, Gianmarco Soresi, and Zach Zimmerman are all comics that make me scream out loud. I think Kylie Brakeman is doing some of the sharpest satire in video form. Mark Phillips and his crew are the only reason to have a Twitter account. Then there are people who inspire me like Amber Ruffin, Chloé Hilliard, Solomon Georgio (he's gonna think I'm calling him old BUT I'M NOT), Ryan Beck, Matthew Broussard, Joel Kim Booster, Roy Wood Jr., Kyle Kinane, Maria Bamford, Jim Gaffigan, and Wanda Sykes. That's a lot of people. But I mean it. And Mulaney because he looks like my boyfriend.
What is the best comedy advice, and then the worst comedy advice, you've ever received, either when you were starting out or more recently?
The best advice I ever got was from Roy Wood Jr. He said: "Our own mental state is the only true hurdle in comedy. Not the industry itself, but our inability to endure when the industry punches you in the chest. Which it will. Repeatedly." And that was motivational and scary all at the same time. The worst comedy advice I ever got was to "dumb down my set."
Tell us one story from your childhood that is a good representation of your life.
I was a very small and somewhat shy kid for a while and my pre-K teacher thought she would have trouble getting me to open up, but when she asked what I liked I said "I'm fascinated by dinosaurs" like a little precocious paleontologist. So I've always liked surprising people with words.
Assuming quarantine ends at some point, is there anything about the way that comedy or the industry in general has changed that you hope continues post-quarantine?
I hope that kindness is still trendy. I want people's stuff to be good and of good. Summer shows outside could be fun next year too — as a feature, not a necessity. I also would love it if comedians stopped attacking transwomen and queer people in their sets because it's 2020. Especially if you're a Black comedian. You really wanna do the straight white man's work for free? The patriarchy will have your ass out here looking very silly. Be cool and kind.