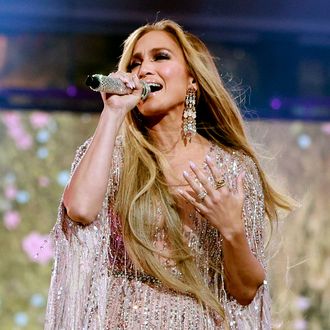 The first lady of Dunkin' Donuts.
Photo: Emma McIntyre/Getty Images for Global Citizen
Twenty-one years ago, Jennifer Lopez reached new heights on her third album, This Is Me … Then, heavily inspired by her relationship with a little actor named Ben Affleck. Now, Lopez is readying a sequel, This Is Me … Now, and it doesn't take much to figure out who this one's about either. Billboard reports the album is officially on the way via a new publishing partnership with BMG, featuring lovestruck songs including "To Be Yours," "Mad in Love," and "Greatest Love Story Never Told," along with "Dear Ben Pt. II," a sequel to a track on Then. The penultimate song is even called "Midnight Train to Vegas," a pretty clear reference to their surprise wedding in summer 2022. Lopez recorded the album — her first in nine years — between 2022-23, per Billboard, with producers including Rogét Chahayed, Angel Lopez, and Jeff "Gitty" Gitelman, not to mention herself. Other collaborators include Hit-Boy, Tay Keith, and Yeti Beats. J.Lo hasn't yet set a date for the project, which she first teased last year. But keep an eye on November 25, when she dropped This Is Me … Then.