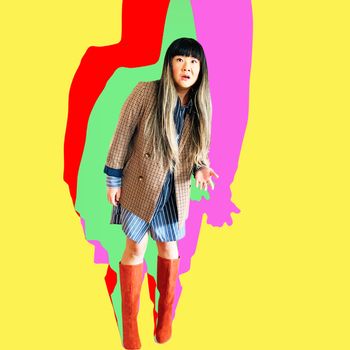 Jenny Yang.
Photo-Illustration: Vulture and Photo courtesy of comedian
This week, we're highlighting 20 talented writers and performers for Vulture's annual list "Comedians You Should and Will Know." Our goal is to introduce a wider audience to the talent that has the comedy community and industry buzzing. (You can read more about our methodology at the link above.) This year, for the first time, we asked the comedians on this list to answer a series of questions about their work and comedy under quarantine. Last but not least is Jenny Yang.
When did you feel that you were funny enough to make a legitimate go at comedy?
I never got to a point where I was like, Oh. I'm for sure funny enough to make a career out of comedy. I just did what I could to invest in my comedy every day — working on my stand-up, producing live shows, making digital videos, tweeting, touring the country, and connecting with audiences.
Describe your comedy in five words.
Angry, energetic, political, nice, silly.
If you weren't a comedian, what would you be doing?
A "work hard play hard" #motivationmondays self-help influencer.
What of your work do you think you're best known for?
Most people know me through viral tweets and videos. I got into comedy to tell stories that don't often get mainstream attention, including mine, and to influence the conversation of the day when it comes to things that I value, which mostly involve social justice issues and food. I've also produced a number of shows and a festival that got the industry talking such as Comedy Crossing, the stand-up comedy show held inside a Nintendo video game watched inside a big Zoom room that was created during the pandemic, and the Disoriented Comedy stand-up comedy tour and the Comedy Comedy Festival: A Comedy Festival, where for many years and hundreds of shows I organized Asian American comedic talent of all types to perform and be dope together.
What's some of your work that you're most proud of?
I'm most proud of the timely tweets and viral videos that I've produced to influence the public conversation on issues I care about. This includes the video I made at the outset of the pandemic criticizing former presidential candidate Andrew Yang's call for Asian Americans to make others be less racist by trying to be "more American" and "non-threatening." I'm also really proud of how I've been able to use my business and producing skills to organize Asian American comedic talent and audiences through the tours and festival I created. These shows provided a platform for many comedians to connect with industry and each other.
How has quarantine affected the way you approach your comedy and your audience?
I've always focused equally on both being a live performer as well as a digital creator, so the pandemic just forced me to lean more on keeping my connection with audiences through tech and online platforms. All of a sudden, to continue to do comedy during quarantine meant being your own tech and media expert. I quickly figured out how to use livestream technology to try to recreate the experience of a live comedy show. Doing jokes is still not exactly the same, depending on whether a show has live audience laughter, but it still gets to exercise that muscle while everything felt bleak and upended.
What have you done in quarantine for comedy that you thought you would never do?
I never knew I would run Comedy Crossing. I never knew that I would then be considered a "gamer comedian" because of Comedy Crossing and be booked to do comedy on Twitch events and to learn how to livestream while playing video games. Once the environment changed so dramatically, we all just had to start experimenting.
Who are some of your favorite comedians right now? Who is putting out work that excites and inspires you?
I'm loving the work of everyone at PEN15 (Maya Erskine and Anna Konkle), Black Lady Sketch Show (including Robin Thede, Amber Ruffin, Rae Sanni, Holly Walker, Ashley Nicole Black, Brittani Nichols, Akilah Green, Lauren Ashley Smith), Gente-fied (Marvin Lemus and Linda Yvette Chávez), and The Amber Ruffin Show (including Dewayne Perkins, Shantira Jackson, and Demi Adejuyigbe). Also, Ziwe, Brent Terhune, Janelle James, Nori Reed, Robin Tran, Atsuko Okatsuka, Ramy Youssef, Adam Conover, Jesus Trejo, Solomon Georgio, Kelly Bachman, Eva Victor, Hari Kondabolu, Randy Rainbow, Jena Friedman, Nicole Byer, Karen Chee, Johan Miranda, Samantha Irby, Jonny Sun, Ron Funches, Guy Branum, Judah Friedlander, Aparna Nancherla, Cardi B, Danielle Perez, Madison Shepard, Jared Goldstein, Mary Beth Barone, and like … more.
All-time favorites are always Issa Rae, Mindy Kaling, Margaret Cho, Maria Bamford, D'Lo, Laurie Kilmartin, Lewis Black, George Carlin, Jim Gaffigan, John Mulaney, Hasan Minhaj, John Oliver, Stephen Colbert.
What is the best comedy advice, and then the worst comedy advice, you've ever received, either when you were starting out or more recently?
Best comedy advice: "Be yourself and talk about things only you could talk about." Also that making a career out of comedy and Hollywood is really just a game of attrition. If you can keep at it and pay the bills somehow, you will eventually get hired. Especially if you have some talent and are nice to be around.
Worst comedy advice? "Do more acting out of your family and culture by doing more Asian accents. People love that stuff." Also, "Don't worry. You are 'diverse' so getting work will be less hard for you."
Tell us one story from your childhood that is a good representation of your life.
My freshman year of high school I rewrote a Snoop Dogg rap song for trigonometry class … extra credit. She didn't have to do more schoolwork but she did. "One, two, three-point-one-foh', Jen Doggy Dog, Dr. Dre is at the doh'." PI JOKES. I was out here making nerdy-ass pi jokes so I could get an A+. To this day I know how to explain sine, cosine, tangent all through rap. Thank you, Comedy Goddesses, for guiding my way.
Assuming quarantine ends at some point, is there anything about the way that comedy or the industry in general has changed that you hope continues post-quarantine?
I'd also love for some comedy shows to continue to be livestreamed or broadcast for those who can't get out physically to shows. Since I've been running my pandemic-friendly Comedy Crossing stand-up show through Zoom, I've gotten a lot of feedback that it has helped those who are disabled and have accessibility issues to see live comedy. Otherwise, it would be heaven to get us all healthy and back to gathering in big live events.