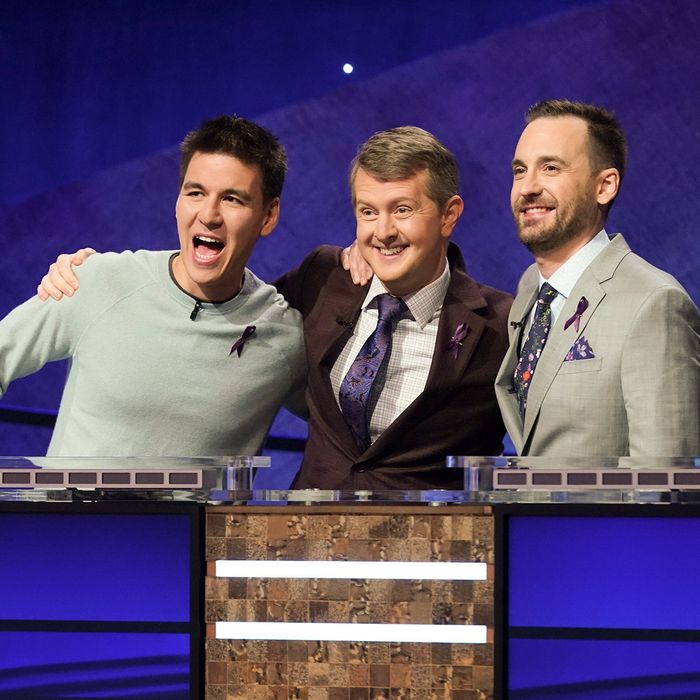 Photo: Eric McCandless/ABC
The intellectual Super Bowl of the millennium, also known as Jeopardy!'s Greatest of All Time tournament, premiered last Tuesday with one hell of a bang: Ken Jennings, James Holzhauer, and Brad Rutter stood behind a bunch of podiums and used some buzzers to answer increasingly complex questions. The stakes! Have never! Been higher! Since you're definitely smarter than the trio and always get every clue correct, Vulture thought it could be fun to keep a running tally of clues the guys couldn't successfully answer to see if you can outsmart them. It's simple: Read the clue, type your answer (ideally within one second; no need to phrase it like a question), and see if you're right. We've also been grammatically liberal with the clues being typed, since you'd be saying your responses out loud if actually on Jeopardy! (Who cares if you mix up a vowel?) Good luck!
DANCING WITH THE CZARS: "We understood each other...and let the others prattle," said Catherine the Great of this longtime adviser and less longtime lover
LET'S JAZZ UP THIS PLACE: Born in New Orleans, Louis Armstrong performed songs named for these two local "B" streets
PHILOSOPHERS: This double-first-name philosopher born in 1842 said that the value of a concept is in its practical consequence
POTPOURRI: This mother of Alexander the Great was in the cult of Dionysus and liked to sleep with snakes
PHILOSOPHERS: German philosopher Hegel saw history as a progression toward this Declaration of Independence value
COLLEGE FOOTBALL AFTER THE GAME: Steve Largent went from this university to a HOF pro career, then returned home to represent the area in Congress
LITERALLY STUPID ANSWERS: Synonyms for this one-word rhyme include lamebrain, dodo, yo-yo, and dum-dum
CLASSIC MOVIE QUOTES: Gene Wilder as Willy Wonka: "You stole fizzy lifting drinks ... so you get nothing! You lose!" This three-word farewell
NEWSPAPERS AND MAGAZINES: This French daily paper began in 1944, when the German army had left Paris and France had need of an independent voice
I JUST TOOK A DNA TEST: You can learn your ethnicity using DNA in your autosomes, nonsex chromosomes; most people have this many sets of autosomes
POP CULTURE PEOPLE: "Pretty baby, you look so heavenly" is a chapter title in Face It, the 2019 memoir by this singing star
GOATS (GREATEST OF ALL TIME): In a 2010 poll, this Nobel Peace Prize winner and politician ranked as Ireland's greatest person
BUY A VOWEL: An Eisteddfod winner adds a vowel and becomes a long, flat piece of pine
WORD ORIGINS: This condition was thought to arise from an excess of black bile, the origin of its name
GREEN THUMB: On The Handmaid's Tale, this wife of Commander Waterford has some pivotal scenes in her greenhouse
GREEN THUMB: Played by Carolyn Jones in the '60s, she loved to cut the heads off her roses and rejoiced when her thorns came in sharp
GEMSTONES! MEET THE GEMSTONES!: This birthstone is used in abrasives for polishing and grinding; the color pairs with gold as an official one for Florida State
CYBERSECURITY: Beware of these types of programs that track every stroke you make while typing in an effort to glean your password
CYBERSECURITY: Companies consider cybersecurity when instructing employees with a policy on BYOD, short for this
SAME FIRST AND LAST LETTER: It's a Hollywood term for a long prose synopsis of a screenplay
"I" WROTE: Books on Ben Franklin and Leonardo da Vinci are included in this author's "the genius biographies" box set
MUSIC AND LEGEND: "Asturias" by this grade-"A" Spanish composer has the subtitle "Leyenda," meaning "legend"
21ST-CENTURY OSCAR WINNERS: These two foreign-born directors have each won two Best Director Oscars, but none of their films has won Best Picture
STUMPTOWN: The fabulous skiing of Snowmass is about 10 miles west of this city
BRITISH STUFF: One of Britain's greatest minds was this 19th century physicist and author of A Treatise of Electricity and Magnetism
JEOPORTMANTEAU!: Insidious culprit of 1918 plus delightfully foamy Italian custard
THE WORLD ACCORDING TO KAREEM: I became a stronger, faster, and more intense basketball player through my training with the great Bruce Lee, who pioneered mixed martial arts with the hybrid fighting style he called this, abbreviated JKD
ALBUMS: "Follow God" and "Closed on Sunday" are tracks on this 2019 Kanye West album
MATH TO ROMAN NUMERALS TO INITIALS TO NAMES: (1000 / 2) - 350 to this rock singer who was also a 1997 Golden Globe nominee
PHRASES AND EXPRESSIONS: In a 1901 novel, a girl is seized by a Frenchmen and "perhaps carried off to" this dreadful destiny
ONCE UPON A TIME IN HOLLYWOOD: In 1961 the Hollywood Palladium on Sunset Boulevard became the longtime home of this North Dakota–born man and his orchestra
ONCE UPON A TIME IN HOLLYWOOD: This alliterative name for a hangout of Western movie extras made the news in 1940 when one cowboy gunned down another for real
Answers, descending from the top: Grigory Potemkin; Bourbon and Basin; William James; Olympias; liberty; University of Tulsa; nitwit; good day, sir; Le Monde; 22; Debbie Harry; John Hume; bard and board; melancholia; Serena; Morticia Addams; garnet; keylogging; bring your own device; treatment; Walter Isaacson; Isaac Albéniz; Alfonso Cuarón and Ang Lee; Aspen; James Clerk Maxwell; influenzabaione; Jeet Kune Do; Jesus Is King; Courtney Love; a fate worse than death; Lawrence Welk; Gower Gulch