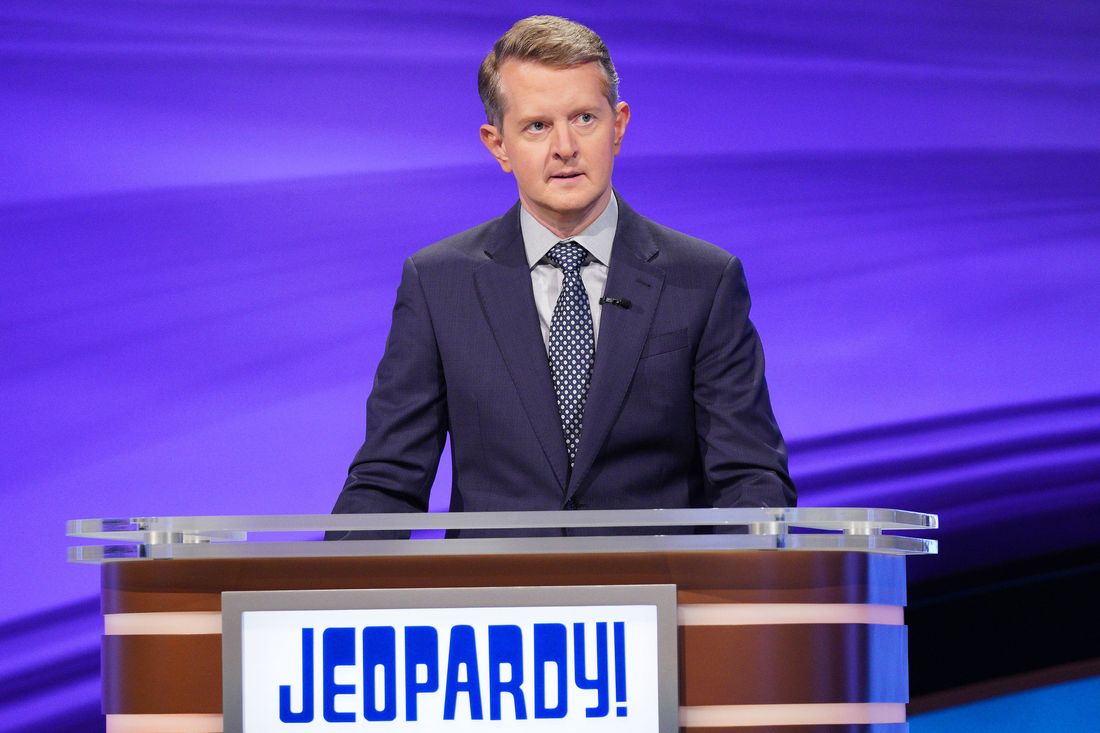 "There's a lot more conservative voices who question my radical and overexcited ideas," says Michael Davies, the executive producer responsible for splitting hosting duties between Ken Jennings (pictured) and Mayim Bialik.
Photo: Christopher Willard/ABC
America's favorite game show of objective, blue-tinted truth has given us a new spectacle to behold. Jeopardy! Masters reconvenes six of the most prolific champions in the show's recent history — Amy Schneider, Andrew He, James Holzhauer, Mattea Roach, Sam Buttrey, and Matt Amodio — many of whom have previously faced off against each other from across the lecterns. Through May 24, this sextet is working within a point system to outsmart their way to glory, with each episode consisting of two back-to-back games hosted by Ken Jennings. (If you win your game, for instance, you're awarded three points, while zero points are given to the third-place finisher.) The $500,000 prize is a nice touch for whoever is eventually crowned "master," but perpetual bragging rights, of course, is perhaps the most important stake of all.
Executive producer Michael Davies has been steering the good ship Jep! ever since the demise of Mike Richards in 2021, bringing forth decades of bold development experience to the franchise. (He's the one who brought Who Wants to Be a Millionaire? stateside.) With a current contract signed for three years, he's enacting a vision that approaches the game show as a sport, with spinoffs, new visuals, and rule changes all possibilities in the near future. "I have lots of ideas," Davies tells me. "There are limits on my power, there are limits on my knowledge. But I've spent a career developing shows and adjusting based on feedback. I'm truly open to it."
Jeopardy! debuted the Second Chance Tournament near the end of last year. Why was now the right time for another new event?
To be honest, I'm not convinced I could say that it was the right time to launch it. I was compelled to produce it because I love the concept. I'm not an impatient person, but when I get excited about an idea, I want to see it happen. I knew the network wanted it, and one thing I've learned over the years is that when a network wants an idea, you don't delay it for a year — you strike while they're excited. So this was the timing.
It would've been hard to do this before now. My predecessors couldn't have done it earlier because we just had that season of super-champions, which is where almost all these players emerged from. There's been some talk out there like, Oh, is there a recency bias? Why do we only have the most recent champions other than James Holzhauer? But when you go through what these players do statistically and how they play the game, you realize they're playing at a different level in terms of the number of correct answers per show. Now we look at their buzzer data. We can see their buzzer attempts and their buzzer speed. We had six masters and Ken who were able to carry this franchise, put that title on it, and have it mean something.
Do you fear that too many new programs and initiatives could perhaps be seen as overkill for the franchise?
Jeopardy! is a Monday through Friday show in syndication. Obviously a lot of the people who watch the syndication show are also watching the prime-time Masters or Celebrity Jeopardy!, but the large part of the audience is different; it's an audience on a different platform. I think Jeopardy! deserves to be a prime-time brand. We can afford to make a prime-time version of the show and a syndicated version of the show.
I'm managing Jeopardy! as though it's a sport. I want to build an elite pyramid of competition that plays a postseason every single year at the same time that allows our best players to compete against each other, whether they directly qualify for the Tournament of Champions, Second Chance, or come through the Champions Wildcard we're introducing this year. I want a real postseason. I've talked long and hard about the Jeopardy! Invitational Tournament, where I want the best players who ever played Jeopardy! to come back and play again. That is where I see it going. Sony, ABC, and the majority of the Jeopardy! community — which is incredibly active and passionate — have supported me in that vision. It doesn't mean that Monday through Friday Jeopardy! isn't as important and every contestant who has a dream of playing isn't important. But I do believe our very best players deserve to be in competition with each other. I think it makes Jeopardy! an even more appealing and important program.
I took the job on an interim basis thinking I was going to stay for three months. I fell in love with Jeopardy! It's this incredible community of fact-based knowledge and intellectual curiosity of book reading, learning, merit, and words. It says everything that's great about this country.
What's the difference between the prime-time and syndicated audiences?
We have Nielsen, so we don't have pure numbers, but we have a sample of both audiences. The prime-time audience is a little bit younger, but other than that, it follows the same patterns of the Jeopardy! audience. This platform makes a big difference. A lot more people are available to watch it. We always think that Jeopardy! is on at 7 p.m. or 7:30 p.m. at night, but it's not in every part of the country.
Were all six of these champions open to the idea immediately or did it require convincing? I remember Ken, back at the Greatest of All Time tournament, told me he didn't want to do it at first.
I spoke to all of the masters personally about what I was planning. I felt that I had buy-in. Some of them had legitimate points about the prize structure and the format of the competition. It was a ten-episode order and there was no way of getting away from the episode count, so we had to jury-rig it to work. I would've liked to truly test out the masters in this tournament — seen every single combination of three-play game. We were close to every combination, but you can't get every combination in seven quarterfinal episodes.
What adjustments did you have to make?
We threw a little more money at the lower end of the prize budget. I realized we were asking these people to spend a lot of time doing this tournament, and perhaps the prize at the lower end of the leaderboard wasn't sufficient. That was the major thing, as well as a charitable component to the first-place prize. James Holzhauer deserves credit for that. In terms of the format, they had questions, but we worked through as much as we could on paper. I'm interested to see how the tournament is received. I think there are some things we broadly got right, and there are some other things we've got to wait and give some time to see if we're right.
How was the point system settled upon for Jeopardy! Masters? Were any other formats considered?
The way I work with my creative team at Jeopardy! is that there's a very healthy pushback against me. More conservative voices question my radical and overexcited ideas. I was questioned hard about the points format, specifically about its relatability to an American audience. It's very soccer-based — three points for a win, one point for a draw, zero points for a loss. Would that format give somebody such an unassailable lead that they could never be caught? I felt it wasn't enough to give someone two points for a win and one point for second place. Winning is a major difference. We also talked a lot about the tiebreakers. We got them mostly right, which is that first tiebreaker would go to the amount of games won. That encourages risk, especially in the finals. The second tiebreaker is clues answered correctly, and that's because we have the data to figure out how strong our players actually are.
ABC gave a very good note. I had this being a round-robin format until we got to the final and had a champion in the standings, but the network wanted a definitive final where everything was on the line because they could give it more promotion. I understand that. We'll see how that plays out and what the appetite is for how many episodes ABC will want to make next year. I'm very confident that it will be on again this time next year. This is the pinnacle of our game, the top of our pyramid. While I'm in the chair doing this job, this is my contribution.
A creative flourish that debuted in the tournament is Ken showing viewers, but not the contestants, where the Daily Doubles are located on the board. Why did you want to include this more interactive element?
The genesis came from the Tournament of Champions. We have these big grids printed out of the game board, which is how we read the material. When we were sitting at the producers' table in the control room during those epic games between Amy and Andrew and Sam, it was like we were playing Battleship. We were constantly following where the Daily Doubles were and how they gutted around them. You could feel us gasping every time they just missed a Daily Double. Within this elite competition of players, that's the difference between winning and losing. We felt we should be offering fans and viewers the same opportunity we have as producers. The jury is still out. There have been some people who love it and some who don't. But you can just turn away and not look at it.
I know this Masters tournament has been on your franchise wish list for a while. What other ambitions now replace it?
My dream is to have a second-screen Jeopardy! experience. People could get live statistics throughout the show, such as buzzer-speed data and how many attempts contestants have tried to buzz in. The other thing I'm quite fixated upon is the game board. The huge advantage of watching this show in the studio while we're filming is that we see the game board full. The speed of these games move so fast that I often lose track of what category we're in. That's the other feature I'd love to be able to offer on the second screen: the full game board. One of the things we're experimenting with in the off-season is figuring out where, within the real estate of a full-screen clue, we can include the category title — or whether we go for a slightly different shot sequence before we reveal the clue so we can see which category it's coming from.
Listen, the live experience of watching television is really about sports and Jeopardy! at this point. It's become the end use. It sits and competes with sports for eyeballs and viewers. But the player base has changed. Indulge me here. Even to my own closest friends and biggest fans, many of them think that I've lost the plot in what I'm about to say.
All right, let's hear it. I'm intrigued.
I think the nature of trivia and general knowledge has changed, so the canon has changed. In the 1990s, Jeopardy! was just another game show because everybody knew the same general knowledge. It was a test between three people. At this point in 2023, there's so much more knowledge in the world. We have a much broader view of culture. It's so hard for anybody to know everything. Jeopardy! is harder than ever. People think we've eased up the material, but we haven't.
This seems reasonable to me. How is it losing the plot?
Maybe a clue we would ask about John Steinbeck or F. Scott Fitzgerald might seem simpler than a clue about John Steinbeck or F. Scott Fitzgerald 25 years ago. But that was when everybody was reading Steinbeck and Fitzgerald. Now the reading list — the canon that people read in literature — is much broader. We have to push people against a better range. The effect that's happened on Jeopardy! is on our contestants. You don't get on Jeopardy! unless you're really good. You need a really good test score to get on the show. But the delta between our really good contestants and our elite super champions is enormous on any statistical basis. That sort of forced the sport.
When Harry Friedman made the greatest decision ever in the history of Jeopardy!, which was taking away the capped five-win rule, it led to super-champions existing on the show who regular players couldn't really compete with. There was no competition for elite players to play against other elite players except the occasional Tournament of Champions or the Greatest of All Time tournament, which was a huge inspiration for everything I've done. It's the changing nature of general knowledge, the changing nature of education, and the internet in terms of the quality of our players that's forcing this change.
How are these changes reflected in the writers you hire?
I should know and I apologize, but I don't know what happened before I arrived on those periods of the show. We certainly have more writers. This past season, we had more Guild writers than ever before. With the demands on writing between the additional franchises, we promoted a couple of researchers into writing positions. I think the job has become harder because of our material. Our clues become famous. Every night, a bunch of our clues get laser-focused on social media. They get endlessly taken apart and discussed. We have 61 clues per half-hour. The quality of the writing has never been stronger. I see it improving constantly. Each clue has to test an audience and entertain in and of itself.
We also need to understand that to some extent, we're part of the culture and need to make sure we're representing everything. Last year we didn't write about Edward Hopper at the Whitney. I was like, "How do we not write about Hopper at the Whitney?" It was one of the cultural events of the year in New York and we didn't cover it. I felt we should have. It's hard because we're often writing in advance. We're trying to just figure it all out. Jeopardy! is the last place in America where people from all over the country, from all different backgrounds, agree about facts.
When Ken and Mayim were announced as dual hosts last year, the verbiage made it fairly clear that she would be handling new tournaments as they emerged. But Ken is hosting this one. How was that decision made?
I'm not being evasive, I just don't know. That wasn't the decision I came in to make. When I joined Jeopardy!, there was already a deal that existed with Mayim to do all prime-time events. At that point it was just the Jeopardy! National College Championship. I don't think anybody had thought about any other prime-time events. Then Celebrity Jeopardy! happened, which became natural for Mayim to handle. I think Mayim would agree that Masters was a more natural Ken tournament in terms of where his true hosting expertise lies. To me, it was pretty clear from the start that Ken was going to host.
You've stated that you're active in monitoring online responses to the show and take audience feedback seriously. Have you gotten the sense that viewers prefer one host to the other?
I couldn't give you an absolute number. We read data from everywhere. In terms of the tiny percentage of our audience that do go on Reddit or Twitter, there are Ken fans and there are Mayim fans. There are some people who love Jeopardy! and will watch both. We also have various fans who post that they don't like either of them. That's just part of the data we look at. One of the biggest things is the ratings of the show. When Ken is hosting and Mayim is hosting, there's zero difference. It's exactly the same and that's the broadest part of the audience. When I arrived, there had been an incredible fracture at the heart of Jeopardy! with the loss of Alex Trebek and then the awkward months of the summer of 2021. There was a lot of rebuilding to do. I stand by the decision to bring Ken in and have Ken be a second host along with Mayim. I back both of them. I go to the studio every day and try to make both of them better at hosting the show and make a better program environment around them. They have my full support.
This show is so hard to host. Alex made it his own, but it wasn't his own the first couple of years. A lot of what happened on Jeopardy! came from him possessing this job for so long. I do read everything, and look, the strongest thing we've got is the passion of our fans. I wish many of our fans were more patient in understanding that we're dealing with two hosts. Mayim is a very experienced actress. Ken is a very experienced Jeopardy! player. They're both at the beginning of their hosting careers. There's an idea that I hold absolute power in making decisions around Jeopardy!, but I don't. That's not the nature of the job. I'm a caretaker for this. I made a deal for three years and I'll do everything I can to make this successful for the three years I'm in the job. Maybe that's why I'm moving so fast to enact the things I want to do. I'm like a new coach on a basketball team. I've got to get in and do it very, very fast before I get fired.
James has repeatedly teased Ken about wanting a rematch after their Greatest tournament. Is there any scenario in which that could happen?
There are various rules that exist at Jeopardy! that were laid down by the greats. Every now and then I bump up against them. One of those rules is once you've hosted Jeopardy!, you can never play Jeopardy! again. This question of eligibility comes up more frequently than anybody else with Buzzy Cohen, who is the host of two of our podcasts. Ken has very directly told me he's retired from Jeopardy!. I understand the reason that no one who's hosted can ever play again. But Arnold Palmer and Jack Nicklaus played the Masters long after they were hosting tournaments on the PGA. I'm probably more open to the idea than other people, but that would never be my decision. Would I like to see Ken and James play again? Absolutely. We'll see.
James said something to me the other day, though, which really made me laugh. He mentioned that his wife had asked if the prize for Masters could be allowing the player to go back on the Monday through Friday version of Jeopardy!. What he wants more than anything else is to go back on the show. We don't allow anybody back on the show who's played before. There's a little part of me that thinks, Does that make sense? If I want the best possible people playing this game on the Alex Trebek Stage, do I need to deny previous players from those who never played before? I'm not convinced. I always want to find new players, but I'm not sure we should be eliminating everybody who's ever played. There could be another James Holzhauer out there who just had a bad day.
The prime-time Jeopardy! has a definitive evening time slot on ABC and is also available to stream on Hulu. Jeopardy! airs in different markets on syndication at different time zones. In Chicago it airs in the afternoon, for instance, and New York City is 7 p.m.