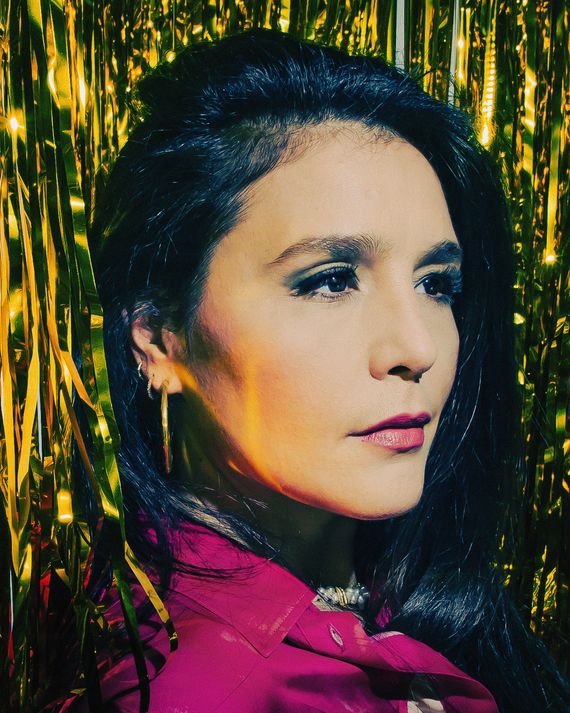 A roller disco seemed within the comfort zone of newly minted dance diva Jessie Ware. Except this place is more like skate night at the school gym: a gray, concrete, sparsely filled pop-up in the middle of Brooklyn's Atlantic Terminal Mall. And we don't hear any actual disco — the DJ is spinning '90s and aughts hip-hop for Throwback Thursday, which makes Ware, at 38, feel old. It's been years since the singer's Rollerblading days with her husband, and she's admittedly out of practice. As we approach the rink, she trips forward and grabs my waist only to glide right past me; a few minutes later, she skates backwards like it's nothing — up until her thighs give out. "Don't make me go back out there," she says, already unlacing her skates after 30 minutes.
Ware has become a master of getting bodies moving since turning her focus at the top of this decade from making soulful, confessional love songs to glistening party music. Her fourth album, What's Your Pleasure? (2020), was a standout of the early-pandemic disco revival, in good company with Dua Lipa and her heroes Kylie Minogue and Róisín Murphy, one that conveyed the euphoria and sensuality of a night out. It led to the biggest successes of her career: her highest U.K. chart debut, her first Album of the Year nod at the BRIT Awards, a tour slot opening for Harry Styles.
For her latest effort, the loose and boisterous That! Feels Good!, Ware says she wasn't pushed to make the same album twice. But, she adds, "I'm not stupid. I know what works." The question became how to follow its path without retreading it. Ware found the answer in Pleasure closing track "Remember Where You Are." Recorded late in the sessions for the album, it's a swaying, mid-tempo anthem with strings and a choir that sounds like the first rays of sunshine at dawn. (It made Obama's annual favorites list.) Now that her music could make people two-step, she started reaching for a more emotional connection, too. Ware was inspired by Prince, Talking Heads, and Fela Kuti; she envisioned her new dance songs for the stage first, leaving behind the polished, electronic studio sheen of Pleasure. (Though she still brought in dance music royalty Stuart Price, who has worked with Madonna, Minogue, and the Pet Shop Boys, to co-produce.)
"I wanted everyone to feel like they could sing it in the room together," Ware says. "That sense of togetherness with soul and groove and musicality."
Ware was 10 years old when she realized she had a voice. She was at after-school music club, and the teacher was auditioning students for a solo. Each of them would sing "Away in a Manger" in a different style. Ware's was jazz, but she performed it like a dirge: head down, no eye contact. She got the solo — and many afterward with the encouragement of her music teacher. "I could sing, but I wasn't like, 'Look at me, I'm Gypsy,'" Ware says, in her best Ethel Merman. Ware's father, John, had been a documentary reporter for the BBC, but she didn't grow up wanting to be in front of cameras herself. When I call John famous in the U.K., Jessie says he's just "very respected" in journalism. Besides, after her parents divorced, also when she was ten, her social worker mother took primary custody of Ware and her two siblings. It is "really strange" that both Ware and her sister, Hannah, an actor, went into showbusiness, she says.
It was a grade-school friend, singer-songwriter Jack Peñate, who jump-started Ware's music career when he asked her to sing backup on a U.S. tour; her mother pushed her to take the gig. She began appearing on dance and electronic tracks for SBTRKT and Sampha. (She also backed another friend from school, Florence Welch, of the Machine fame, on her 2011 album Ceremonials.) PMR Records fell for Ware's heady yet subdued voice and signed her. As her success grew, her team saw an opportunity. "It was like, 'Well, you're a singer, you're chatty — how do we make you the next Adele?'" she says. "I was like, 'There's an Adele. We're very different.'"
The critical and commercial acclaim cooled over the next few years as the music industry tired of balladeers like Ware, Sam Smith, Ed Sheeran, and even Adele. By her third album, Glasshouse, she struggled to fill rooms in Middle America on an overambitious U.S. tour that didn't make money. Ware considered quitting before David Joseph, the CEO of Universal Music UK, among others, helped her move to EMI, where some of her former teammates were employed — with a warning that the switch needed to work. His support inspired her to take the lead on the A&R for her next album, on artistic decisions like musical direction, producers, and collaborations. "I wanted to take the control back, I think," she says. "Not even that. I've never really had the control. But I felt like if I was going to not get signed again, I was going to go out on my terms," she says. "What's Your Pleasure? was that moment where I was just like, Fuck it, let's see what happens."
She was lucky to have a fallback: Table Manners, the podcast Ware launched in 2017 with her mother, Lennie. It's a simple premise — mother and daughter chat with a famous guest over a home-cooked meal — that's taken off with 50 million downloads. She and Lennie have written a cookbook and gone on tour, and Ware's written her own bite-sized "foodoir," Omelette. A-listers, such as Paul McCartney and Dolly Parton, have come on their show, but the real draw is the hosts' authentic rapport. Even arguments stay in the final cut. "That's podcast gold," Ware says.
Making dance music became a release from managing the podcast and raising two children. She began working with James Ford, who had produced for Florence + the Machine and the Arctic Monkeys, and they started the exercise in imagination that would become What's Your Pleasure? Lyrically, Ware and her co-writers inhabited the perspective of lusty and wistful single people. (In real life, Ware is married to her childhood sweetheart. "My husband's constantly like, 'Babe, they must think we are wild in bed,'" she says. "I'm like, 'Let them think!'") When Ware released Pleasure in June 2020, that sense of fantasy resonated — especially with the queer community. Like most women in pop, Ware always had gay fans but never quite stans; drawing on music that has historically been a queer haven afforded her that important distinction. Seeing drag queens lip-sync to her songs, including Pleasure's dazzling opening track, "Spotlight," became her "greatest joy." "I've seen how they put a song across, or just how they present themselves, and it's given me confidence as a performer," she says. That! Feels Good! indulges in camp. She leans in to tell me about one line in "Pearls": "I'm a lady, I'm a lover, a freak, and a mother." "I mean, I am a mother, but it's a double entendre," she says. "It was a wink."
Her next dance odyssey, she says, will be "a full club record": "As long as I'm getting played in clubs — that's important to me."