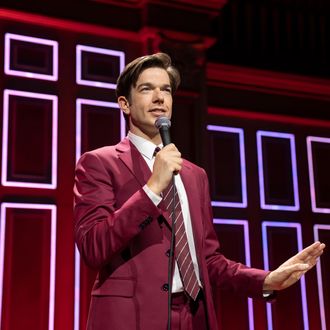 Mulaney in
Baby J.
Photo: Marcus Russell Price/Netflix
From an outsider's perspective, John Mulaney's last few years appear to have been as chaotic as a horse loose in a hospital. Starting at the outset of the pandemic, he hosted SNL, took a job writing for Late Night With Seth Meyers, checked into rehab, ended his marriage, began dating actress Olivia Munn, debriefed his bizarre time as a writer on Late Night With Seth Meyers on Late Night With Seth Meyers, became a father, hosted SNL again, embarked on a worldwide stand-up tour, was the subject of a frankly undignified number of speculative TikTok videos, and more. If all of this sounds like a good run-up for a new stand-up special, Mulaney and Netflix agree, because on March 15, the streamer announced it will debut the comedian's latest hour, John Mulaney: Baby J.
Filmed in February at Boston's Symphony Hall during his From Scratch tour, Baby J will mark Mulaney's third stand-up special for Netflix, following 2015's The Comeback Kid and 2018's Kid Gorgeous at Radio City, and fourth hour-long special overall. It was directed by Alex Timbers, who also directed Kid Gorgeous, and will feature music from hot-dog-finger king David Byrne, who previously worked with Mulaney on John Mulaney and the Sack Lunch Bunch in 2019.
Mulaney has been dropping hints about this special's title since as early as February 2022, when he referenced it during his SNL monologue. "I was there January 6 during the insurrection," he said of his stint in rehab. "Wouldn't have happened on my watch! Because I would've seen to it. Was there ever an insurrection before I went to rehab? No! Has there been one since I got out? Absolutely not! They wouldn't dare. They know Baby J is back on the streets!" Check out Baby J when it hits Netflix's streets on Tuesday, April 25.