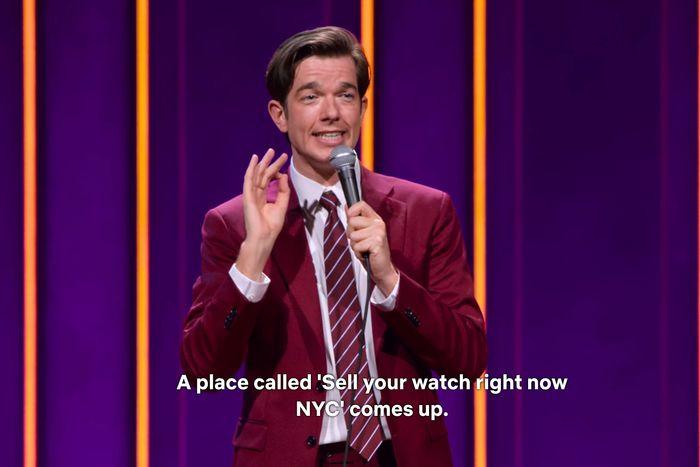 Toward the end of his new comedy special, Baby J, John Mulaney tells the story of one of "the most desperate things" he did to get drug money prior to going to rehab for cocaine addiction at the end of 2020. During a stab at sobriety, Mulaney says, he had told his accountant to forbid him from taking cash out of his savings. But in August 2020, the comedian came up with a scheme to outsmart (or out-dumb) himself: Buy a luxury watch with his still-functioning credit card, then pawn it for cash five minutes later. ("I'm pretty good at reading a room," Mulaney tells the audience. "You're all very impressed by this plan.") Then he acts out a scene of his past self, sweaty and addled in a hoity-toity Rolex store, then desperately selling his brand-new $12,000 watch at a 50 percent loss in a Diamond District pawn shop, ending it all with the punch line "Why don't you name a better way to make $6,000 in five minutes by only spending $12,000?"
The funniest parts of the ten-minute bit are in the details, like Mulaney concocting an elaborate lie about a fingerless brother and misremembering some jeweler's wisdom about "mushing metals" with the rose-gold watch he chose at random. As the retelling grows more vaudevillian, it's hard to tell what he's making up and what actually went down. The thought of this unofficial sequel to Uncut Gems starring Mulaney was too good to let slide, so I went to Midtown the day Baby J dropped to retrace his steps, show the bit to people along the way, and see what they thought.
3 p.m.: The Rolex Store on Madison Avenue
In the special, Mulaney says he went to "the Rolex store on Madison Avenue," which I find at Madison and 53rd Street. There are two women behind the desk, one man on the sales floor, and zero customers. I head to the desk and explain what I'm after. Neither of them has heard of John Mulaney. "Friends with Pete Davidson?" I offer to blank stares. Both of these women are under 40 and work a block away from Saturday Night Live, and I suspect they just don't want to engage. "Anyway, in this new Netflix special, he tells a story about buying a Rolex at this store —"
"Oh, for media requests you would have to talk to corporate," says Left Deskwoman. I say it's less of a corporate thing and more of a this-specific-store thing. She says she's getting the manager. While I wait, a customer comes in. He's a boisterous guy in a good mood, and he's a walking example of Succession-style stealth wealth: black sneakers and a beige, probably cashmere quarter-zip, both logoless. I never would have thought that Rolex stores have regulars, but he's greeted like one.
Quarter-zip says "Hi again!" to the staff and goes straight for the central display case; I checked it earlier and saw no signs of rose gold. The customer and I are apparently on the same page. "I did like the rose-gold one. I wish it had all the dials," he tells the male salesperson. The sales guy heads to the back to find the rose-gold watch for him just as the manager emerges from some secret side door to talk to me. He's pink-faced and deadly serious. I obviously don't expect him to reveal client information, but he refuses to answer my questions about the intricacies of timepiece procurement and also refuses to watch the Mulaney clip. "You'd have to go online, to the website, if you'd like to find a specific model or pricing," he says.
"Thank you," I say, and ask for his name. He tells me I can't use it and that everything is off the record. "So it's off the record that you said that you can go to the website and look up information about the store?" I ask. "No, it's fine to tell people they can find watches on the website," he says.
On my way out, I look over at Quarter-zip, who is test-driving a watch brought to him on a literal platter. It's not rose gold, but it has lots of dials, and I'm happy for him. Back on the sidewalk, I stand next to a European family in ugly matching puffers who are peering into the store window, where three rose-gold watches are on display "for exhibition only." Mister Manager is giving me the stink eye through the glass.
3:35 p.m.: Sell Your Watch Right Now NYC
Mulaney says in Baby J that he darts out of the Rolex store, immediately Googles "Where sell watch right now New York City," and finds an establishment called Sell Your Watch Right Now NYC. The best I could find was one called Sell Your Watch. The address fit the description: 47th Street in the Diamond District, on the second floor. It's a ten-minute walk from the Rolex store, so the "five-minute" start-to-finish conceit of Mulaney's story is definitely an exaggeration, even if he does say he ran from one store to the other. (Then again, in August 2020, there wouldn't have been as much foot traffic, or traffic-traffic, to slow him down. Also, Mulaney's got really long legs and he was addicted to coke. Actually, he might have made it there in four.) It's in a building that says WORLD'S LARGEST JEWELRY EXCHANGE on the outside and is made up of a blinding maze of independent buyers and sellers on the inside, and while I have the suite number for Sell Your Watch, nothing inside is arranged in an order that makes sense.
At the first stall I walk past, a man named Boris asks if I'm looking for anything. I tell him the story. "I've heard of John Mulaney, sure," he says, leaning back in his chair, already 100 percent more helpful than anyone at Rolex. He laughs at the idea that this schlemiel would sell the watch at a loss. "Today, for a new Rolex," he says, "it would be a 30 to 40 percent markup."
I ascend an unmarked staircase at the back of the building to the much quieter mezzanine level, which is low lit and populated only by a few sellers. A young guy in a very un-stealth Chanel sweater walks out of an office with bulletproof glass and big red letters that say WE BUY GOLD DIAMONDS WATCHES BROKEN JEWELRY ELECTRONICS and invites me in. His name is Tony, he's got a few minutes, and he's down to watch the video of Mulaney's bit, even though he hasn't heard of him ("Maybe I'd recognize his face?"). I hand over my phone, and he starts laughing and nodding as he watches. There's a young woman sitting in the office whose name is also Rebecca, and I get a sense that she's Tony's employee, sibling, or both. They share glances at certain moments, like when Mulaney sees the store's ridiculous SEO-ified name and says, "Finally! Someone in this town gets me!" They laugh when he does a voice imitating the seller and at the line about getting buzzed in through two doors like in Uncut Gems. Toward the end of the video, Tony and Rebecca say something to each other in hushed tones I can't quite make out that sounds like they know who the guy in question is.
I ask Tony what he thinks of Mulaney's stand-up. "It's nice, it's funny," he says. "He just stretches out the jokes too long, in my opinion. But there's a lot of truth in it." Like what? "The part where he's having lunch across the street is totally true, because we just sit and wait for clients," he says, referring to an act-out where Mulaney screams into his phone that he's running to the pawn shop, and the buyer, who's at lunch, screams back, "I'm across the street at lunch, I'll start running too!" For as weird as Mulaney thought he must have looked with his same-day watch, Tony says it happens. "They come from Rolex and they sell the same day, but they usually get more." Tony concedes that during the pandemic, Mulaney would have sold at a loss. "Now, it's the opposite. Now, you would buy it at six and you would sell it for 12. Because at the Rolex store, you buy it at retail, but because of the black market, people are holding watches, and now they sell above retail." This mathematically makes Mulaney's joke even better.
Mulaney paints himself as a complete schmuck the pawnbroker can see right through during their negotiation, so I ask Tony for some giveaways that someone doesn't know what they're talking about. "You can tell by the way a person's dressed, their demeanor. If you've been doing it for many years, you already know if you can lowball the client," he explains. "There'll be guys like, 'Oh, I have this reference number, 65-blah-blah-blah.' You know he knows what he's talking about. Or they'll be like, 'I have this watch, I don't know what it's worth.' You already know, Okay, there's money there. But if a guy's like, 'They're selling for 12,000. I'm looking for 11,' you already know you're not gonna make a deal."
I circle back to Tony and Rebecca's knowing smiles from earlier. Was it because they know the guy Mulaney's talking about? "It's possible," Tony says, sort of laughing. That's when his friend, wearing a Yankees cap and a huge diamond earring, pops his head in. Tony waves him in, points at my phone, and says, "They're talking about Yuval." I catch Yankees Cap Guy up on the gist of the story.
"Yeah, he has really good Google. He's the top result if you google 'sell my watch,'" Yankees Cap Guy says. I ask if he can take me to Yuval, and he gives me directions: to the left, around the corner, down the hall, take the stairs on the right up to the next floor, turn left, ring the third door, the one with the doorbell. He warns me, "He's not gonna wanna talk."
"He won't talk," Tony agrees. I ask if it's even worth it. "I mean, you can try?"
I head upstairs, find the door, and ring the doorbell, and just as Mulaney described, I'm buzzed through two rooms. Where Tony's office was see-through and dripping with diamond pieces made to look like the 100 emoji and a swagged-out matte black Kaws bear behind his desk, Sell Your Watch is a windowless, cluttered, carpeted room with a plain desk and gallons of Culligan water bottles on the floor.
A plain-dressed Israeli man with Buster Keaton eyes looks up from his phone and invites me to sit across from him. This has to be the guy. The doors aren't bulletproof glass, but there were two of them, a buzzer system, and the search-engine-optimized name is the best match I've found. I begin with the spiel. He cuts me off: "You have anything to sell?" I tell him I don't, and he immediately turns back to his phone and simply says, "No, I can't." I linger for a few seconds before getting up from the chair. I thank him for his time, and he glances up from his phone for a half-second but doesn't say anything, just hitting the buzzer to let me out. Three years later, still not suffering fools. But unlike Mr. Rolex, I respect the guy. He seems honest. He seems effective. He's the kind of guy who could fleece John Mulaney in 90 seconds on a break from his lunch and get back to Taam Tov before his food gets cold.
I wind my way to the exit, walking past a minyan of older men praying in the mezzanine. Before I go, I ask Tony to recommend a watch for a guy like Mulaney with a $12,000 budget. "Rolex," he says, but "not rose gold. Like a two-tone." In other words, mushing metals.