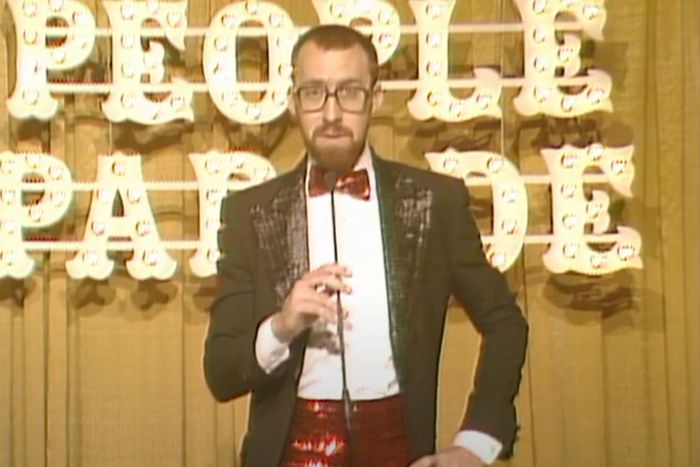 When How to With John Wilson debuted on HBO in 2020 to rave reviews, its first episode was a long time coming. The project began over a decade ago, with a series of online short films that feature many of the same inventive sensibilities. They're shot from a first-person perspective, tell stories through strategically edited scraps of found footage, foray into interesting lives and subcultures, and serve as backdrops for Wilson's funny, poignant, and charmingly stilted narration.
At the same time, though, Wilson's early work is not constrained to the How To formula. Elsewhere, his previous work offers glimpses at how his filmmaking style translates to other types of storytelling — glimpses that feel especially relevant now that Wilson has announced he's ending How To after its upcoming third season and moving on to his "next thing." For those who are sad the "current thing" is coming to an end, though, here are 12 more John Wilson videos to help cushion the blow.
People Parade (2011)
A non-documentary film where Wilson is … in front of the camera? It takes some getting used to, but in Wilson's earliest film still available online, the writer, director, and surprisingly capable actor showcases an undeniable flair for surrealist fiction. Produced alongside photographer Chris Maggio, People Parade sees Wilson playing the first-time host of a public-access variety series, fulfilling the last wishes of his recently deceased father — the show's former host — by putting on one final show. Naturally, it turns out to be a disaster, and he winds up having to turn to the very last person he wants to for help: his mother's new boyfriend. Per the short's title cards, it's "a film about the way things are conceived and the way they end up."
How to Clean a Cast Iron Pan (2012)
Watching a How To short that doesn't begin with Wilson saying "Hey, New York!" is a bit jarring, but even though How to Clean a Cast Iron Pan was shot before he landed on his signature greeting, it showcases a key hallmark of his later work: the bait and switch. Much like episodes of his HBO show, this short purports to be a tutorial for a humdrum task but transforms into a rumination on something greater. In the end, the titular cast iron remains uncleaned, because Wilson's inconsiderate roommate (Ahmed Khawaja), who dirtied the pan, gets distracted, and Wilson spends the day documenting everything he does instead of fulfilling his roommate responsibilities.
How to Live With Bed Bugs (2013)
Khawaja is back! But this time he's just one of many of Wilson's roommates who appear in How to Live With Bed Bugs, one of the more straightforward documentaries in Wilson's body of work. Living with bedbugs is a harrowing experience, and here, he captures the depths of just how harrowing. It may be a hollow consolation prize considering he and his roommates ultimately had to desert their apartment, but for his pain, Wilson's short received the stamp of Vimeo Staff Pick.
How to Walk to Manhattan (2013)
A theme Wilson returns to frequently in his work is urban design. Specifically, he's interested in the many design choices that inhibit New York City residents from comfortably inhabiting their city: scaffolding, anti-houseless architecture, and in the case of this video, gentrification and walkability. "Everybody has a different walk to Manhattan," says Wilson. "Your walk depends on where you work, where you want to live, and how much money you make. Some people even get out of bed and they're already walking in Manhattan. I live about five miles away from Manhattan, which is the perfect distance for people who can't afford to live any closer." To illustrate the inconvenience of this, Wilson makes the painstaking trek to the city on foot and documents all the things he sees along the way. He also, for some reason, introduces himself as "N. Winston" and signs off as "Stan Ginsel."
How to Keep Smoking (2014)
Six years before Wilson documented his journey to quit smoking in season one's "How to Cook the Perfect Risotto," he captured the many hardships of being a committed smoker in this short. Even when he tries to quit smoking — via the unorthodox method of gluing all his cigarettes together and making an improvised cat toy — he is confronted by scenes of people smoking everywhere he goes. It's hard to overstate how many shots Wilson captures of strangers smoking in public. Maybe give this one a pass if you're trying to quit smoking yourself.
How to Remain Single (2015)
"New York City is home to some of the most beautiful, desperate, and selfish people on the planet, which makes it the perfect place to avoid relationships," Wilson announces at the start of this short. If this seems reminiscent of any of the thousands of comedians who have taken a stage over the past few decades to exclaim that "dating is weird," keep in mind that Wilson is no ordinary comedian. True to form, he introduces a few curveballs to this topic, including a trip to New York City's last remaining porno theater, which he's surprised to learn has complimentary coffee but no popcorn.
Temporary Color (2015)
It's remarkable how the description of this short on Vimeo — "A true-crime concert doc about David Byrne and a pair of violent criminals" — is both incredibly accurate and not helpful at all. In it, Wilson discusses how he was hired to follow Byrne around on tour to film a documentary about his concert, but when he arrived for his first day of work, there was another, fancier documentary crew already on the job. So, with nothing but time on his hands, Wilson putters around backstage at various tour stops, collecting footage for his "sizzle reel" — creative shots of water bottles — and obsesses over the whereabouts of two violent convicts who recently escaped from a prison nearby. Sarah Koenig is shaking in her boots.
The Spiritual Life of Wholesale Goods (2016)
Many of the best moments in How To come from Wilson spotting some sort of irregularity in the wild, then following it down a rabbit hole to its logical conclusion. The Spiritual Life of Wholesale Goods is like if one of these investigative detours was a stand-alone episode. In it, Wilson notices that a generic consumer-goods brand available at his local dollar store (Trisonic) decorates the packaging of its products with philosophical sentiments like "Life is empty if we do nothing to pass the days," so he travels to the company's factory to ask why it feels this is the correct platform to espouse these ideals. He learns the company is planning to attend a consumer-goods trade show in Las Vegas, so he trails behind them and is rewarded with a wealth of great footage in the form of some of the most frivolous tchotchkes no doubt crowding landfills today. While there, he asks the manufacturers of these products if their companies have the same lofty philosophical beliefs as Trisonic. "I believe in God, and I actually prayed to God for years to think of an idea for a product," one company owner says. "I couldn't think of anything, and then one day it just came to me: It's a Jell-O-shot syringe that's shaped like a penis."
How to Act on Reality TV (2016)
Four years before the release of How To on HBO, Wilson sparked some online buzz with the release of this short about a man named Robert Galinsky, who, despite having never worked in the universe of reality television, opened a school to teach reality-TV aspirants the tools of the trade. Galinsky's methods are unorthodox. To simulate the ruthlessness of television producers, he reduces all of his students' identities to sound bites such as "Communist Latina" and "Legally Blind Singer of Color," and then sends them out into the world to perform uncomfortable challenges like hitting on strangers or singing in a grocery store. All the while, he records confessionals on-camera like he's starring in his own reality-TV show about teaching others how to star in reality-TV shows. In an interview with Vice about the film, Wilson wondered whether some might think it pulled "the curtain back a bit too far." Nope. It pulls the curtain back just the right amount.
Escape From Park City (2017)
By the time of Donald Trump's inauguration in 2017, enough of Wilson's videos had attracted the attention of Vimeo's staff that the company sent him to shoot a documentary for them at the Sundance Film Festival in Utah. "I wasn't sure why a company with a clean reputation asked me to cover a festival I openly resent with a camera that looks terrible on their media player, but as the American experiment seemed to be coming to an end, I decided to go to see how these people escape from it all," Wilson says in the short. The results of his investigation? Sundance attendees evidently seek refuge from the political climate by wading their way through an incessant stream of brand installations and participating in various other vapid, self-congratulatory endeavors. Well, that's not entirely true: Wilson does note that there was a big political protest during the festival, but there didn't seem to be much agreement among its participants about what they were protesting. Case in point: A woman Wilson spots at the protest wearing a red hat that reads "Make Skiing Great Again."
The Road to Magnasanti (2017)
"In 2010, an obsessed gamer designed the perfect game of Sim City," The Road to Magnasanti's official description reads. "Achieved through a repeating pattern of clustered high-rises, Magnasanti exposes the hellish consequences of top-down civic design." In yet another example of Wilson's fascination with urban design — perhaps his most fully realized exploration of the subject to date — this short points out the eerie similarities between New York City and this dystopian fictional metropolis. It covers the city's militarized police presence, insufficient housing, class disparity, and much more. If this short is Wilson's way of illustrating the best way to love your city is by pointing out all the ways it needs to get better, point taken.
How to Live With Regret (2018)
A film so close to the tone and structure of Wilson's eventual HBO show that it may as well have been the pilot. In it, he teaches us about the art of accepting one's past with shots of Hillary Clinton's 2016 election-themed book What Happened and by speaking to a man who has written down every regret he's had in the last 20 years. One of the profound regrets this man catalogued? "I regret shaving off a few extra facial hairs without bothering to put on more shaving cream." If you watch the film closely, you can even spot a shot of the same "Francy Restaurant" Wilson includes in the opening of his season-one episode "How to Split the Check."