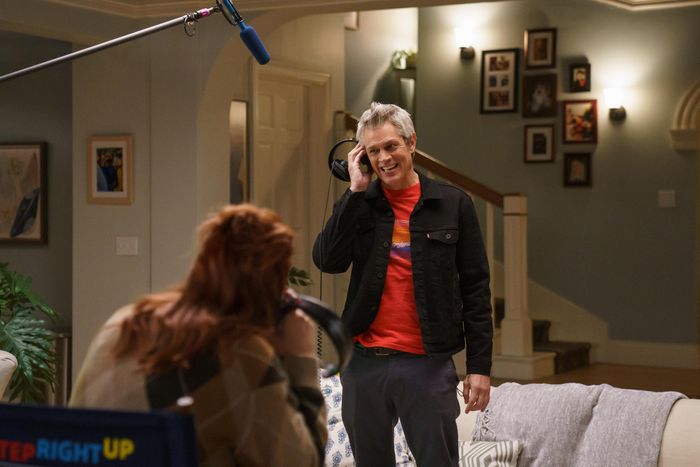 "An actor's show getting canceled isn't the end of the world. But that said, we did love it and were hopeful it was going to go on."
Photo: Michael Desmond/Hulu
It seems unfairly meta that Reboot, a Hulu comedy series about Hulu itself reviving an early-aughts family sitcom, was canceled by the service after one season. It was funny and sincere: a love letter to television that still satirized just how ridiculous it can be. (And it's almost exclusively ridiculous.) Keegan-Michael Key, Judy Greer, and Paul Reiser may have been the comedic legion that gave Reboot its initial jolt, but by the season's end, it was Johnny Knoxville — portraying Clay, a gentle but troubled actor who returns to the small screen following years of jackassery and arrest records — who proved the extent of his range, injecting his recovering addict with a deft pathos. It's all the more remarkable when you realize the series served as Knoxville's first regular scripted television role. "I don't think you understand," his character says in the premiere. "I need somewhere to go during the day or bad shit finds me."
Like Reboot's viewers, Knoxville is still mourning its unceremonious cancellation, which became official earlier this month after a brief search to find a new network failed. "Of course I would've liked it to end differently, but I realize I'm a very lucky human being. We made a great show, and it'll be there for people to watch forever. That's a pretty great thing," Knoxville tells me. "Hopefully I'm not coming off as angry or sad. I'm so appreciative of all that has happened, but of course I'm a little pissed at the way it ended."
How are you feeling now that the show has been officially canceled after that brief purgatory period? Is it a five stages of grief thing?
I have a lot of feelings about it. I'm so grateful and thankful it happened. I'm stunned and shocked it's over. Of course there's anger, but you try not to give into that. I'm still trying to process it. I mean, come on, it was a Steve Levitan show. We delivered a very strong first season. This is my first series, so I was spoiled. Everyone kept telling me it's rare to work on a show of this caliber with people you like. We all got along so well. We were like, Oh, this will be fun to do for the next five or six seasons. We took it for granted. Boy, were we surprised. Oscar Wilde said, "Life imitates art far more than art imitates life," but he didn't see what happened with Reboot. We're disappointed that it was canceled, but I'm also not tone-deaf. People have real problems in this world. An actor's show getting canceled isn't the end of the world. That said, we did love it, and were hopeful it was going to go on.
Steve has had a pretty prolific sitcom streak. I know it's probably not useful to compare Reboot to Modern Family or Just Shoot Me!, but did you envision a certain trajectory for the show?
Steve and the writers always delivered an amazing script each week. It was one of the highlights while shooting — getting the new scripts. It would sometimes be 30 minutes before we were going to do the read-through, but they turned in gold. We were all so excited to get the new pages. The trajectory of the show was firmly in the hands of Steve, where it should've been. I usually wear many hats on a production. For this one, I was happy just to act.
Do you have any insight into why Reboot was canceled?
I have no insight as to why it was canceled. It's all played very close to the vest. I know we made a lot of fun of Hulu in the show, but I give the executives more credit than to cancel it for such a silly reason.
Do you have a personal theory for the cancellation?
I have no idea. It would only be speculation. Why do you think the show got canceled? Any ideas?
I think Hulu has a very arbitrary algorithm and Reboot didn't meet its requirements.
Yeah, you're probably not very far from the truth, if not on the truth.
The writers' room had finished scripts for the second season before the cancellation. Do you know what Reboot's vision was going into the new season, and what was going to be explored with your character?
No, I don't. I know there are two scripts, and I could ask Steve to read them, but I'm afraid it would hurt too much to read them, knowing they're not going to be shot. Personally, there were a couple things I was going to talk to him about just to see what Steve would think. But it doesn't matter now. I rewatched the last episode a few days ago and obviously it's about the show getting canceled. [Laughs.] It was too much.
Did watching the finale a second time shift your perspective about anything?
When we were shooting it, we were at the beginning of an adventure. We were very much leaving things like, See you again in a few months. There was a hopeful feeling on the set, and now, none. I'm proud of the work I did. You could make a spinoff of just the writers' room. That was probably my favorite part of the show — watching those writers and listening to anything that came out of Rose Abdoo's mouth. There were a lot of laughs. But now it's like, Oh, God, really? At least I did something that good. At least I was part of a show that good.
Has Andy Dick contacted you to complain about being deemed the epitome of a rock-bottom person?
Does he even have access to a phone? [Laughs.]
Have you reinterpreted Clay's ending, now that you know it's a conclusive finale?
I have. Clay as a character was doing the best he could. I think there are going to be bumps in the road ahead for him, but he had it in him — I know he had it in him — to overcome his demons.
I thought it was lovely that the season's last shot didn't involve showbiz but rather Clay and Judy Greer's Bree coming together for a quiet moment of companionship. Why do you think those two were a fitting pair for that final emotional punch?
Steve and the writers delivered so much comedy, but the reason I love the show is because of the heart they injected into it. Bree and Clay were the most lost at the end of the season, and they needed each other. The demons are always at the door for Clay. He's battling his addictions and his self-worth. He's trying to change. The structure of the show, literally the one within the show, helped him. Poor Clay. What's going to happen to him now? I'm here, rested and ready to play, if anything changes.
When I've discussed Reboot with friends, the first thing that gets mentioned, without fail, is how you brought a lot of nuance to the role in a way that wasn't necessarily expected. Have you found yourself surprised by how viewers responded to your work?
Oh, thank you for saying that. I feel like I'm at a really good place in my career for being able to deliver on performances. I've been at it for a while, and I feel like it's paying off.
It strikes me that Reboot gave you a sense of pride in an industry where that feeling is rarely guaranteed.
I won't say that my recent projects didn't fulfill me, but this was my first series and I was given a wonderful role. Especially because it was one that a lot of people didn't see me do before. I was challenged. I worked very hard to meet that challenge. A lot of times I get very critical watching myself, but I feel like I did the best I could and delivered for myself and the show.
What challenged you the most?
The comedic side of the character comes pretty easily to me, but Clay had a lot of darkness. To be able to deliver the dramatic side, I had to dig a little deeper. Hopefully this will open up more doors for me.
Do you want to pursue sitcom acting more regularly going forward?
I don't tend to think in those terms. My first inclination is to focus on film. I love acting and producing films, and making documentaries. If a good television show comes along, of course I'll pay attention, because television is so good now. I'd be foolish not to pay attention.
Just promise me that if The White Lotus season three comes your way, you'll consider it.
Are you kidding? Mike White is a very close friend of mine. He and I had been in Tokyo together. I think that's where the next … oh, I'm not giving anything away. I might call him again as soon as this is over.
Please get yourself a luxury vacation disguised as a television show.
Hey, Mike, I'm still here.