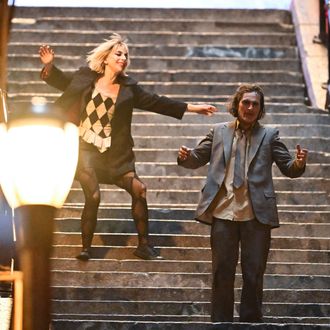 Lady Gaga and Joaquin Phoenix singing show tunes, probably.
Photo: James Devaney/GC Images
Joker: Folie à Deux is a corporate rebrand. The first film was a decidedly straight male phenomenon with Scorsese's King of Comedy vibes and a full-on Oscar win for Joaquin Phoenix's portrayal of the titular deranged villain. Its upcoming sequel, on the other hand, treads down different steps. Folie à Deux will be a musical fantasia starring pop icon Lady Gaga opposite Phoenix's Joker. (We can be certain, though, that the second movie is gunning for awards just like its predecessor.) Little is known about the actual plot of the film, aside from the fact that it chronicles the moments as Harley Quinn and Arthur Fleck fall in love at Gotham City's Arkham Asylum. With filming wrapped, first looks dropped, and set footage circulating the internet, below is everything you need to know about director Todd Phillips's DC Universe superhero sing-along Joker: Folie à Deux.
Is Joker 2 really going to be a musical … ?
Joker (Jacques Demy's Version) Folie à Deux will, in fact, be a musical. Ominous reports of a musical sequel first emerged last August, when an insider told Variety that the sequel has "complicated musical sequences" that are more in line with A Star Is Born than In the Heights. Leaked on-set footage appeared to confirm the threat of showtunes. The videos were taken in New York on March 31 and show Lady Gaga performing a rendition of "A Couple of Swells," the Fred Astair and Judy Garland duet from the 1948 musical Easter Parade. Phoenix was not filmed singing, but it's only a matter of time before we see him doing jazz squares down the Joker steps.
The film's composer, Hildur Guðnadóttir, thinks the musical route makes sense for Folie à Deux. "It's an interesting decision," she told Variety on January 15. "I think it's somehow logical at the same time. It's both logical and also very surprising for me as well as the audience. So far, it's just been a really beautiful conversation, and I'm really excited to see how it unfolds." Guðnadóttir doesn't really dive into the "why?" of it all, but perhaps they didn't want to waste Gaga's classically trained voice or the opportunity to make a film even more inescapable than its predecessor.
Where are they filming Joker 2?
Filming began in Los Angeles last December. Beyond first looks released through the sequel's official social-media channels and Gaga's Twitter, we didn't get a taste of the actual locations until March, when diehards began to share every known filming location on the internet. Fans spotted Phoenix as Arthur Fleck and an unidentified actor also dressed as the Joker running through the streets of downtown L.A. The leading man wore a dusty-gray suit complete with smudged clown makeup and fake blood on his ear. His co-star (or body double, perhaps?) managed to keep his clown makeup pristine, though the same can't be said for his dirty red suit and yellow vest.
Additional filming locations leaked after the production went cross-country (i.e., to New York and New Jersey). Folie à Deux filmed the Arkham Asylum scenes at the shuttered Essex County Isolation Hospital. Much of the film is said to be centered around the Joker and Harley Quinn's meeting at the asylum, making the New Jersey location pivotal. Additional scenes were filmed outside the same courthouse where Donald Trump was arraigned in New York City (lol) and the so-called Joker stairs in the Bronx. Production reportedly wrapped on April 4.
Why is Lady Gaga playing Harley Quinn over Margot Robbie?
Creative freedom? Todd Phillips is a Little Monster? The delicious promise of a Lady Gaga press tour? Mostly, it's because Robbie's Quinn exists in the DCEU, led by Josh Safran and James Gunn, which doesn't include the Joker films or Matthew Reeves's The Batman. Either way, Robbie gave Gaga her blessing in October. "It makes me so happy because I said from the very beginning that all I want is for Harley Quinn to be one of those characters — the way Macbeth or Batman always gets passed from great actor to great actor," she said in an interview with MTV News. "Someone gets to do their Batman, or someone gets to do their Macbeth." Ah, yes, the opportunity to play the timeless Shakespearean role that is Harley Quinn. We are seeing herstory in action, folks.
What does "folie à deux" mean?
It's French for starring Lady Gaga a delusion or mental illness shared by two people. We're not going to spell it out, but the title makes sense considering what we know about the plot of the movie.
When will Joker: Folie à Deux hit theaters?
The film bursts into song on October 4, 2024. The inevitable sing-along version has not yet received a release date.