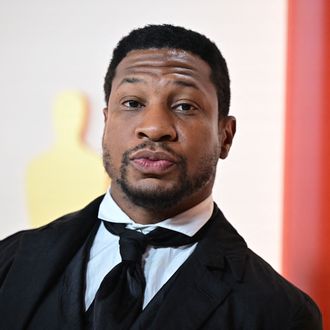 Photo: Frederic J. Brown / AFP
Studios and brands are at a loss with what to do with Jonathan Majors since his arrest for alleged domestic assault on March 26. Despite reps from Majors standing their ground that the actor "has done nothing wrong," Majors is still scheduled to appear in court on May 8 in New York. He has gained a lot of momentum over the past year, starring in Creed III and becoming Marvel's next villain in Ant-Man and the Wasp: Quantumania, but the future of his career has become uncertain. From the people behind the scenes to ad campaigns, here are all the things Majors has allegedly lost due to his domestic-violence dispute.
His management team
Majors was reportedly dropped from his management team at Entertainment 360 and his PR team at the Lede Company. Vulture has reached out to both for statements. Majors continues to be represented by WME. According to an April 19 Variety story, his lawyer's husband is currently acting as crisis PR.
Film and television roles
Several projects in development have dropped Majors from their cast. According to Deadline, the Magazine Dreams actor will no longer star in the film adaptation of the Walter Mosley novel The Man in My Basement or be considered for the unannounced Fifth Season's Otis Redding biopic, Otis and Zelma. As for projects that Majors's name is still attached to, there's Avengers: The Kang Dynasty (2025), Loki season two, Spike Lee's Da Understudy, and Lionsgate's 48 Hours in Vegas, in which he would play Dennis Rodman.
Brand deals
Within the first week after Majors' arrest, the U.S. Army postponed a campaign featuring Majors. MLB's Texas Rangers have removed Majors from their 2023 season ad campaign that was reportedly set to debut on Friday. As for already-announced endeavors, Valentino and Majors have also "mutually agreed" that the actor will no longer attend this year's Met Gala, Deadline reported. Vulture has reached out to the fashion house for confirmation.
Nonprofits
Variety reports that Majors is stepping down from the Gotham Film and Media Institute board and its Sidney Poitier Initiative.