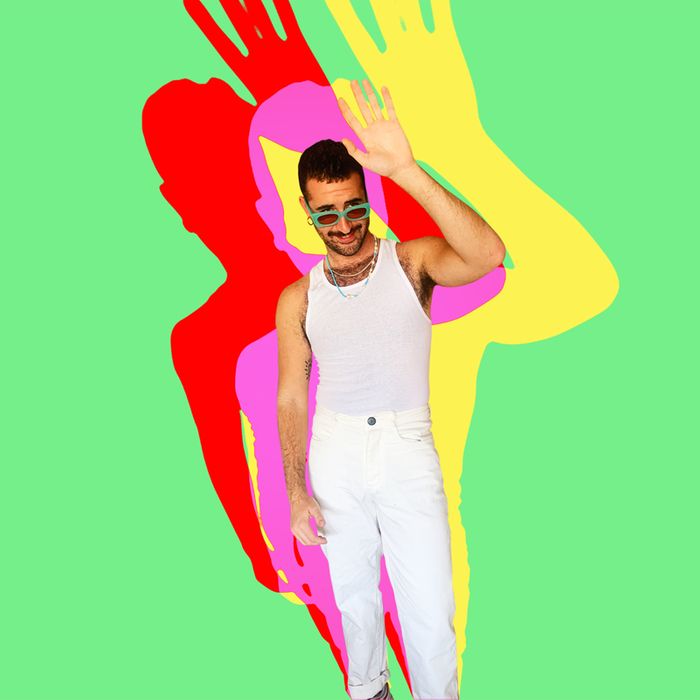 Jordan Firstman.
Photo-Illustration: Vulture and Photo courtesy of comedian
This week, we're highlighting 20 talented writers and performers for Vulture's annual "Comedians You Should and Will Know." Our goal with the list is to introduce a wider audience to the talent that has the comedy community and industry buzzing. (You can read more about the methodology at the link above.) This year, we also asked the comedians on the list to answer a series of questions about their work and comedy under quarantine. Next up is Jordan Firstman.
When did you feel that you were funny enough to make a legitimate go at comedy?
I started touring at 3. Small clubs, but it was so fun and rewarding. It was me and a couple other babies. Not a lot of them are alive or working anymore, unfortunately. But God, we had a good time. Ugh, miss those babies. I should hit them up.
Describe your comedy in five words.
Channeling directly from the source.
If you weren't a comedian, what would you be doing?
I genuinely think I'd be a great rabbi.
What of your work do you think you're best known for?
My impressions on Instagram. That's the only reason I'm on this list. I'm not even a comedian. Why am I on this list?? Get your shit together, Vulture!!!
What's some of your work that you're most proud of?
My short film Call Your Father, which is on the Criterion Channel now.
How has quarantine affected the way you approach your comedy and your audience?
Quarantine gave me an audience, which I'm so grateful for. It taught me how to intuitively listen to what people want, give that to them, and also give them what I want and what they need.
What have you done in quarantine for comedy that you thought you would never do?
I don't spend much time thinking about things I wouldn't do.
Who are some of your favorite comedians right now? Who is putting out work that excites and inspires you?
Meg Stalter, Lauren Servideo, Benny Drama, Syd Washington, Ziwe, Tommy Do, Chloe Fineman, and Casey Brown. People who are using the internet in exciting ways. People who are being themselves. People who are good-hearted and funny and not mean.
What is the best comedy advice, and then the worst comedy advice, you've ever received, either when you were starting out or more recently?
Again, I'm not really a comedian, so I haven't gotten much advice on that subject. I never remember advice. Or anything really. I have a bad memory these days.
Tell us one story from your childhood that is a good representation of your life.
My neighbor was 90 and had Alzheimer's, and I would go over and eat bagels with her. She began to think I was her husband who had died many years prior and would call me his name. I forget the name. But I was 6 or 7 and I pretended to be her husband. For her. She tried to kiss me once, but I didn't let that happen. This is applicable to my life because I do believe in giving people what they want, even if it's not entirely real.
Assuming quarantine ends at some point, is there anything about the way that comedy or the industry in general has changed that you hope continues post-quarantine?
The stuff I make and gravitate toward is chasing the light. Not negative. Not bitchy. Not surface. So I'd like to see more positivity, more depth, more joy, more fun. More things that connect people.