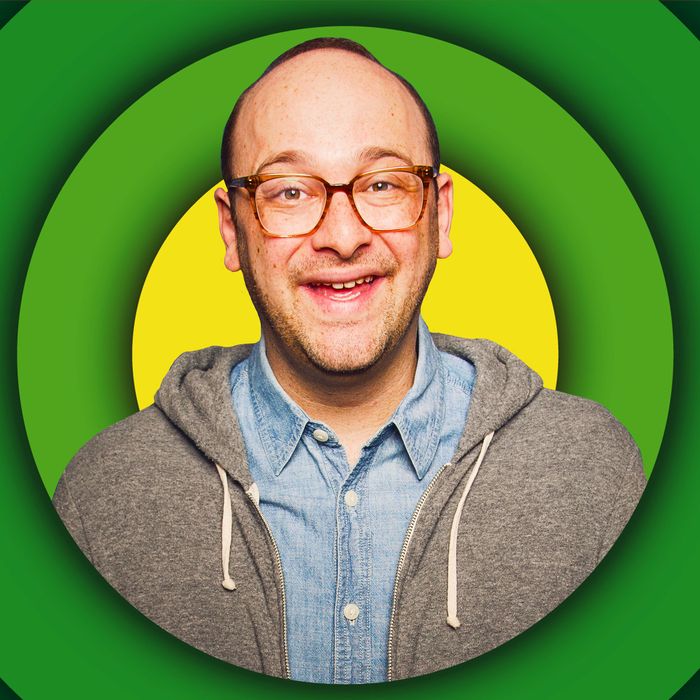 Photo-Illustration: Vulture; Photo by Mindy Tucker
When Desus and Mero were really cooking, they were unstoppable. They were a comedic juggernaut: always moving forward, expanding outward in unexpected directions. On the four seasons of their Showtime show, Desus & Mero, the staff's job was not to tell them what to say or do but to carve their locked-in riff gold into a TV-show-shaped sculpture. Josh Gondelman, the series head writer, one of its executive producers, and occasional designated Boston dork, was often the one sitting in edit figuring out how all the hours of material would make the most sense as a "show" while still showcasing the duo's freewheeling brilliance.
On Good One, Gondelman, whose debut hour special, People Pleaser, came out in June, discusses how working on the show changed how he thought about his comedy (and comedy in general) and shared some of his favorite behind-the-scenes memories. You can listen to the full episode below, and tune in to Good One every Thursday wherever you get your podcasts.
I don't like conjecture about what happened, and it isn't really my story to tell. But I loved working with the guys, with Desus and Mero. It's not the only nice thing about the show, but it is the most true thing. There were times when I felt just how fast they would lock into stuff: They would be talking about, like, the name of a newscaster in Nebraska, and it would become this whole character in an improv scene. Their ability to home in on these tiny little details, to create worlds out of them, and to tie that back into stories with the breadth and depth of their references was magical. That I'm going to miss that experience is the best thing I can say.
Something you'll often see — and this is, like, no slight against any current or former show — is people trying to do radically new things within the late-night format. Sometimes they work well and are cool and inventive, and sometimes it's just harder to pull off. People are always trying to figure out how to make the format the host's own, and I think Desus and Mero did that in such a cool, organic way. It was almost the opposite of inventing. They were like, Oh, we're just going to film the thing that's happening. I feel a little reluctant to be like, "Here's how this thing I worked on changed comedy, motherfuckers," but I do think that it taught me something about finding the thing that the people you're working with are great at and just accentuating it.
Working at Last Week Tonight With John Oliver taught me the value of when to be worried and precious about stuff and when to just let it rip. They improvise so much on set — figuring out the very gentle way to layer onto what the audience is about to see with scripted words, crafting something exactly how you want to say it, and making sure the joke is doing the structural work within a bigger piece that you want it to be doing. Then from Desus & Mero, I learned that sometimes, it's not that deep.
You can be wrong about stuff. Not morally wrong, but a mistake about a little thing like saying the wrong actor's name, and it's still funny. It was fun to do work on a show that was freed from the constraints of everything being thoroughly research-vetted, because it's just fun improvisation. They're as good as it gets — this isn't a skill that can be cultivated; it's not a thing that everyone can do — and seeing them set the bar has informed what kind of things are even possible to me. I think a lot of people felt seen by the show, by Desus and Mero, by the candid way they spoke and the way that they were themselves on camera.
Like how psyched they were to interview Derek Jeter — him being on set and how much it meant to them, clearly. The show had this culture of having fun and being enthusiastic in a real way. As a lifelong Red Sox fan, I took a back seat and enjoyed them enjoying the moment.
I loved working on the show, and it was such a pleasure. It's sad that it's ending, and it's sad to have to stop working with this wonderful team across the whole office. When you think about a show ending, you think about the experience of watching it and that going away. But being on this side of things, you're like, Oh, there's people — from graphic artists to camera operators, not to mention the writers and producers. Personally, I'm not sad. I'm not terrified for my own future. But I am trying to look out for the team, because there are so many wonderful people who are now unemployed. I'm excited to see what Desus and Mero are going to do. I don't want to put public pressure on them to take me with them, but I'm psyched for whatever comes next. Maybe as a collaborator but definitely as a fan.