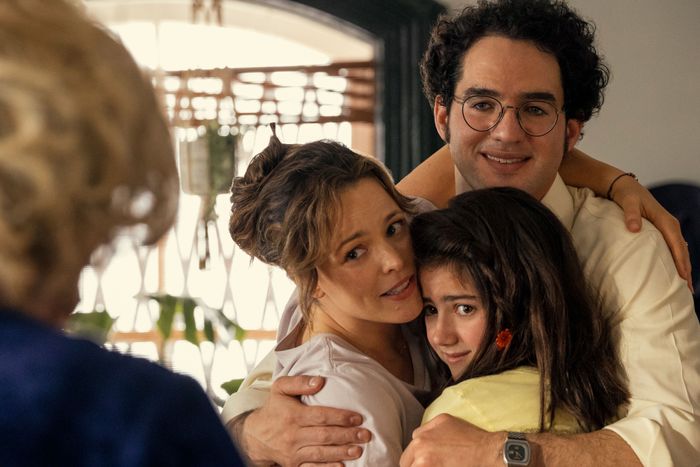 Are You There God? It's Me, Margaret
is sweet but careful, and somehow the parents are the most interesting part.
Photo: Dana Hawley/Lionsgate
Are You There God? It's Me, Margaret is an adaptation of the Judy Blume classic about 11-year-old Margaret Simon, who contends with puberty, religious exploration, and a move from Manhattan to New Jersey. But, watching the movie, I found myself focusing more on Margaret's parents. That's the thing about getting older — at a certain point, no matter how in touch you believe yourself to be with your inner youth, you start sympathizing with the adults in children's movies, even though those adults are usually there to misunderstand, miss out on the action, or get in the way. It's not that Margaret, who's played with appropriate trepidation by Abby Ryder Fortson, isn't often painfully relatable as she navigates the terrible terrain of adolescence, including participation in a friend group run with dictatorial certainty by local queen bee Nancy Wheeler (Elle Graham). But Margaret's mom and dad are an interfaith couple who've been cut off by family on one side and have slightly too much contact from the other, and who at the start of the '70s decide to give single-income suburban life a try despite having no obvious affinity for it. Margaret became an iconic tween-lit heroine because of the universality of her experiences, but her parents' lives are enticingly specific.
Also, and this is key — her mother is played by Rachel McAdams. We haven't had enough of McAdams onscreen lately, and of her handful of recent appearances, two involved a thankless part as the one who got away in the Doctor Stranges. As Barbara, an artist determined to remake herself as a dedicated housewife, she's luminous and so wonderfully open that even the fact that she's officially entered Hollywood-mom territory doesn't cause a pang. The movie, which was written and directed by Kelly Fremon Craig, unfolds mainly from Margaret's point of view. But it makes some time for Barbara even when she's out of her daughter's sight. She volunteers for PTA committees to fill her newly open calendar, learns to cook wretched-looking era-appropriate recipes, and dithers for so long over what kind of furniture to order for the living room that her unrufflable husband Herb (Benny Safdie) starts bringing in a lawn chair so that he can watch TV. Unfolding in the background of Margaret's coming-of-age journey is the story of two people chasing an image of suburban American bliss without being entirely sure it's what they really want.
Blume's book wasn't one of my sacred texts of tweendom growing up, though I read it and appreciated in particular the way getting your first period looms over everything like a promise and a threat. Craig is respectful in bringing this beloved novel to screen — too respectful, given how cautious Are You There God? It's Me, Margaret can feel. The novel's been challenged over the decades for daring to delve frankly into issues of menstruation and religion, but placed alongside the array of young-adult fare out there right now, the movie, while sweet, looks more mild-mannered than bold. Craig's previous film, the terrific Hailee Steinfeld dramedy The Edge of Seventeen, was a sharper and more assured work, though she had an older protagonist and didn't have to deal with such revered source material there. Blume's book, written in the first person, has the advantage of being able to let its readers experience its story by way of Margaret's distinctive voice, whereas the movie lets you into her inner monologue mainly by way of her private, nondenominational conversations with God. It's less enveloping, though charming scenes like Margaret's party-game encounter with class dreamboat Philip Leroy (Zack Brooks) or her first foray into attending temple in New York with her beaming grandmother Sylvia (Kathy Bates) require no narration.
Still, that's maybe why it's so tempting to wonder what Barbara and Herb are up to, why Barbara was so determined to become a stay-at-home mother right when her daughter has started spreading her wings and going out more, and why what the interior of the family home should look like remains so elusive to her. At least part of the issue appears to be her and Herb's shared desire to create a space outside both their cultural contexts, so that Margaret can feel free of pressure to pick a religious identity. She samples both of the faiths her parents came from, a process that's depicted lightly but which stems from a traumatic family secret she's only just learning about, which is that Barbara's conservative Christian parents cut her out of their lives when she married a Jewish man. This revelation retroactively colors all the choices the pair have made. If the grown-ups in this coming-of-age story keep drawing all the focus, it's no shade on Margaret — they just have so much more going on.