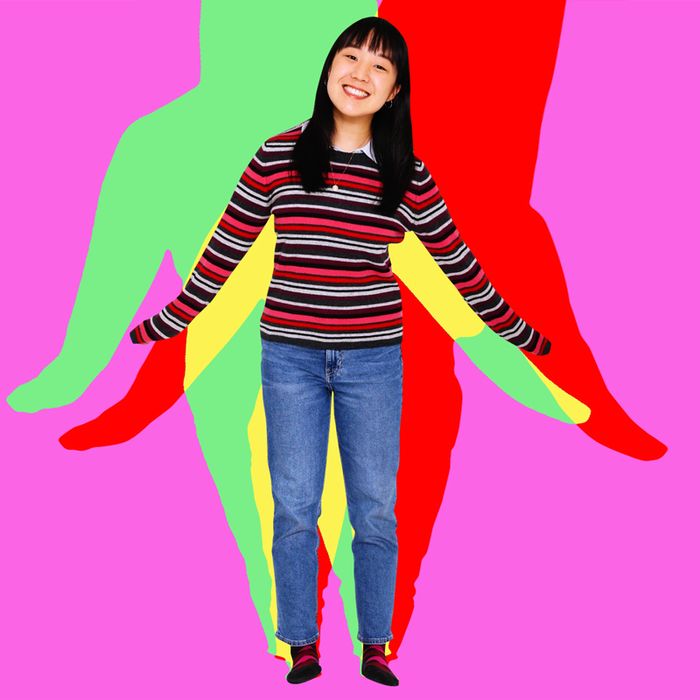 Karen Chee.
Photo-Illustration: Vulture and Photo courtesy of comedian
This week, we're highlighting 20 talented writers and performers for Vulture's annual "Comedians You Should and Will Know." Our goal with the list is to introduce a wider audience to the talent that has the comedy community and industry buzzing. (You can read more about the methodology at the link above.) This year, for the first time, we also asked the comedians on the list to answer a series of questions about their work and comedy under quarantine. Next up is Karen Chee.
When did you feel that you were funny enough to make a legitimate go at comedy?
For me, the moment I felt I had a shot at comedy wasn't when I thought I was funny enough, but instead when I saw a pretty famous comic completely bomb a show at Union Hall. He was trying out new material for about an hour, and I wanna say only about seven minutes of it made the audience laugh. And this is a guy who already had a popular special! The audience silence didn't seem to faze him at all, either. I remember he cheerfully said, "Well, none of this is working," and laughed to himself. I hadn't yet tried stand-up at that point, and I remember thinking, Oh, if this is about trying repeatedly and failing often, well, I'm game!
Describe your comedy in five words.
If you've seen it ……… thanks!!!!!!!!!!!!!!!!!!! :)
If you weren't a comedian, what would you be doing?
I'd be exhausted from fending off the dozens of polite, hot men who insist on showering me with gifts. "Please, I simply cannot eat any more custom cakes!" I'd cry.
What of your work do you think you're best known for?
Probably my work on Late Night! I've noticed that Late Night fans are super nice and polite when they stop me on the subway, which I really appreciate, because I assume any stranger who approaches me in New York is about to murder me.
What's some of your work that you're most proud of?
I'm not sure if I have a specific thing, but I feel most proud and grateful whenever another Asian woman tells me she likes my stuff, especially my stand-up. My life gets extended by like seven years each time that happens. I hope I live forever!!
How has quarantine affected the way you approach your comedy and your audience?
Probably a lot more than I realize! Most noticeably I've gone from doing stand-up practically every night to no nights at all, and I stopped doing online shows pretty early into quarantine because they gave me way more anxiety than any sense of joy. I used to write a lot of political and satirical jokes for fun, but these days my brain is leaning almost entirely to silly, sweet stuff. No more conflict, please!! I just want some nice jokes about, like, quilting.
What have you done in quarantine for comedy that you thought you would never do?
I don't know if I have a good answer for this. Quarantine has completely dissolved all the boundaries I'd set before to try and compartmentalize my life; I know most people have gotten the hang of things by now, but I'm still adjusting. I temporarily relocated to Korea back in June to help take care of my grandparents, and I'm continuing to write remotely for Late Night and a couple other shows here and there. The time difference means I'll often find myself at night lying on the ground next to my grandma's bed, listening to her breathing and making sure she's sleeping okay, while writing jokes about what's happening at the White House. That's a real mental trip, you know? My brain feels a little dazed all the time.
But I gotta say, the best comedy I've seen in quarantine has been from my mom. There was a particularly scary day when we called an ambulance for my grandma, and my mom, aunt, and I were with her. We were getting her dressed to go to the hospital, feeling terrified and panicked and trying but failing not to show it. And then my mom started cracking these jokes, just out of nowhere. It was unbelievable — they were so funny. Maybe it was because of how tense we already were, but my God, we laughed so hard! We were literally laughing as the EMTs showed up. It was somehow the most surreal and the most human thing — feeling the extremes of terror and joy at once, with the people I love the most.
Who are some of your favorite comedians right now? Who is putting out work that excites and inspires you?
So, so many! Rachel Pegram and Broti Gupta are two of my closest friends and coincidentally two of the funniest people in the world. I recently watched Michelle Buteau's and Rose Matafeo's absolutely perfect specials and cackled the entire time, and I always hope Aparna Nancherla will come out with, like, a five-hour special because I love everything she does. I'm a huge Ali Wong fan, and obviously, I'm obsessed with The Amber Ruffin Show!
What is the best comedy advice, and then the worst comedy advice, you've ever received, either when you were starting out or more recently?
The best comedy advice I ever got was to work hard but make sure my life didn't entirely revolve around this industry. The pressure to do that is pretty intense, I think, partly due to the necessary hustle of the business and partly due to late-stage capitalism making burnout masquerade as success for millennials. As for the worst comedy advice … I'm not sure I've gotten much terrible advice, to be honest. Someone did once recommend that I "don't give up on improv," and I didn't "yes and" his suggestion. I think that was okay.
Tell us one story from your childhood that is a good representation of your life.
I used to play a lot of soccer but had to quit because I got concussions. This is a good representation of my life because I have not run in years and yesterday I got a headache!
Assuming quarantine ends at some point, is there anything about the way that comedy or the industry in general has changed that you hope continues post-quarantine?
I think it's really awesome that so many comedians are being discovered online, because we get to see a lot of people who wouldn't have gotten a platform otherwise. The general swath of internet comedians is naturally a lot more diverse, I think, not just regarding race and gender but also in life experience and physical location. Plus it's genuinely thrilling to find a new positive thing about the internet, which can feel expansive but also like a prison, you know? It's like a wide-open horizon on a dying planet. I'm glad we're still able to squeeze new joy out of the World Wide Web!