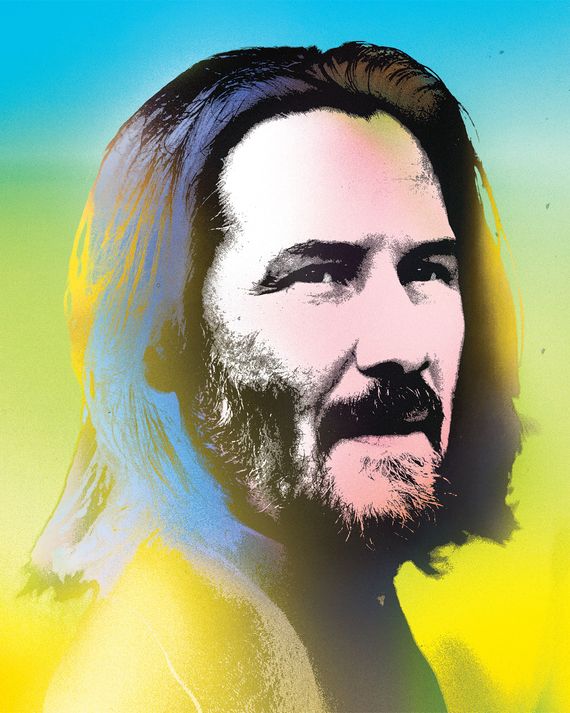 Illustration: Bráulio Amado
For an actor sometimes panned for his lack of range, Keanu Reeves's career has undergone remarkable shifts. He began as a teen dreamboat, shining in moody dramas like River's Edge, then hammed it up in the Bill & Ted movies. His attempt to pivot into serious leading-man roles ended with him becoming, quite by accident, an action star. A fallow period in the '00s led, in a roundabout way, to a new kind of viral fame that has not subsided even a decade on. Then, with the John Wick franchise, a comeback. To commemorate Reeves returning to the role of Theodore "Ted" Logan in Bill & Ted Face the Music, here is the accumulated legend of Keanu, gleaned from 30 years of (sometimes glowing, sometimes condescending) press coverage.
His Early Years
Keanu Charles Reeves was born on September 2, 1964, in Beirut, Lebanon, to Patricia Taylor, a casino showgirl from England, and her husband, Samuel Reeves Jr., vagabond son of a prominent Hawaiian family. Keanu's father walked out when he was young, and the family bounced around in Australia and New York City before settling in Toronto, where his mother worked as a costume designer for Dolly Parton and Alice Cooper, who once babysat Keanu. Of his teen years, he has said, "I was greasy and running around a lot. I was just a little too rambunctious." A former teacher attested, "I don't think he ever got to a class on time."
So Can He Act?
➽ "It would be one of the biggest misreadings … to say, 'That's not a superintelligent person,' " said Richard Linklater. "It takes a smart person to play a dumb person effectively."
➽ "A lot of people give Keanu Reeves shit, I know: I was one of them until I saw The Matrix," said Quentin Tarantino. "Then I just wanted to apologize for everything that I had ever said about him."
➽ "He's quite a funny guy, and that's not [the roles] he gets in movies and stuff," said character actor Peter Stormare, a longtime friend. "He's a really great comedian."
➽ When queried by a reader whether he was "a Good Bad Actor or a Bad Good Actor," the New York Times turned in a split decision. "A good actor, period," said A. O. Scott. "Who cares? He's Keanu Reeves, dude," wrote Manohla Dargis.
➽ "There are days when I'm okay. Maybe it's because I'm a Virgo; it's in my sign to be hard on myself," said Keanu Reeves.
His Action Career
➽ He has lived without his spleen since a 1988 motorcycle accident. He has joked that action movies helped him survive later crashes. "Chain Reaction taught me how to fall and bounce. Speed gave me the agility to get up and hobble away before somebody could run over me."
➽ His manager had to convince him to do Speed. "He hated stunts, and he hated action! He was afraid of it," said Speed director Jan de Bont. Now, Reeves has said, he will take the John Wick franchise "as far as my legs can take me."
➽ Johnny Utah, his character in Point Break, was the first person ever to be described as "young, dumb, and full of cum."
➽ Within the industry, he has become famed for his preparation — and not just for action. "If you told him to go learn how to crochet, he'd go and be an expert in that," said John Wick director Chad Stahelski.
His Looks
"There is an ambiguity about him," a philosophy professor has said. "He's not androgynous. He's not an alpha male. He's masculine and feminine in a way."
His Name
He shares his name, which means "cool breeze over the mountains," with his great-uncle. In his first months in Los Angeles, he went by K. C. Reeves. Keanu, a studio executive had said, was "a name that will never appear on a marquee."
His Secrets
Said one childhood friend: "He was a secretive guy about his life. You could be hanging with the guy for three years; suddenly, he'd introduce you to someone who turned out to be a friend of his all that time."
His Nomadic Ways
For years, he lived out of a suitcase, crashing at the Chateau Marmont or his sister's house. The contents of the suitcase, circa 1995: "A couple of pairs of pants, a few T-shirts, socks, underwear, one suit, a sport jacket, a pair of shoes."
What He Moved to L.A. With
$3,000 and a 1969 Volvo.
His Love of Hockey
He daydreamed of playing goalie for the Canadian national team. (His nickname was "the Wall.") "Even when he was tending goal," his old coach said, "he would start reciting Shakespeare."
His Business Ventures
He co-owns a motorcycle company that produces an $85,000 made-to-order bike and a publishing imprint that does "secret books."
His Tragedies
➽ He was estranged from his late father. "It's full of pain and woe and fucking loss and all that shit," said Keanu.
➽ He pushed back shooting The Matrix sequels to be with his sister as she battled leukemia.
➽ In 2000, he had a stillborn daughter with girlfriend Jennifer Syme. Syme died in a car accident in 2001.
➽ His close friend and My Own Private Idaho co-star River Phoenix died of a drug overdose in 1993.
How He Sees His Relationship With His Fans
"I'm Mickey [Mouse]. They don't know who's inside the suit."
His Love Life
➽ He has never married, unless you count his wedding scene with Winona Ryder in Bram Stoker's Dracula, which was performed with a real Romanian priest.
➽ Rumors once swirled that he was in a same-sex marriage with David Geffen. He let them swirl. "There's nothing wrong with being gay, so to deny it is to make a judgment," he said.
➽ In 2019, he and visual artist Alexandra Grant, a longtime friend and business partner, began appearing in public together as a couple.
He's a Mensch
➽ He rescued a young Octavia Spencer after her car broke down.
➽ He gave up back-end profits on The Matrix sequels to the movies' special-effects and costume teams.
➽ In 2019, he stuck with fellow passengers after their plane made an emergency landing in Bakersfield and entertained them with facts about the city.
➽ He has launched a foundation that funds children's hospitals and cancer research.
➽ He prefers not to talk about any of this.
His Intimations of Mortality
In his 40s, he began to think about his own death. In his 50s, he says, he has accepted it and begun to prepare for it.
He Is Not 'Sad Keanu'
After a May 2010 paparazzi photo of Reeves sitting by himself on a bench and forlornly eating a sandwich went viral, he had this to say: "Conceptually, what was going on was pretty funny … It's still a drag to get your picture taken when you're eating a sandwich." On reports that he is sad: "I don't feel lonely. I don't socialize a lot, but I have good friends and I have a very good life."
*This article appears in the August 17, 2020, issue of New York Magazine. Subscribe Now!