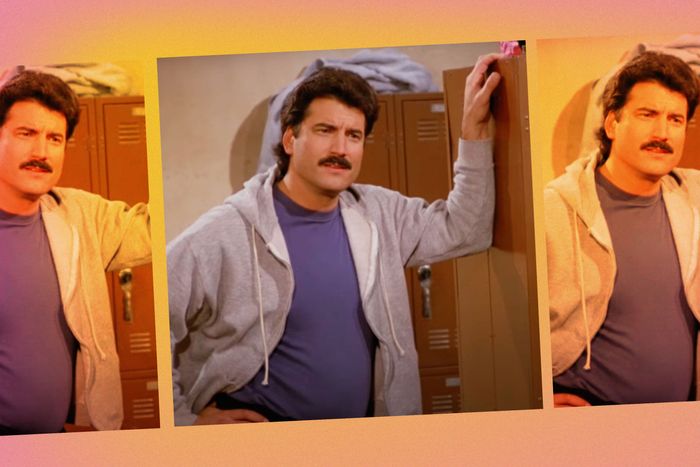 "
Seinfeld
gave me an extra life. When I retired, I thought I would be forgotten."
Photo-Illustration: Vulture. Photo: Castle Rock Entertainment
Nice job, pretty boy.
Seinfeld had a prolific streak of guest actors over its nine seasons, whether it was an overly interrogative bookman or Monica before Friends. But perhaps the most memorable swing was taken from the sitcom's creative home plate in its third season: Former MLB star Keith Hernandez played, well, former MLB star Keith Hernandez, who entangles himself with just about every character after a chance meeting with Jerry and George in a sports club locker room. The mustachioed Mets legend gets a triple play of paths in "The Boyfriend." He and Jerry hit it off and become friends, only for the relationship to sour when Hernandez asks for his help to move apartments. ("That's a big step in a male relationship," Jerry observes. "It's like going all the way.") He attempts to seduce Elaine, only for that to fizzle out when he reveals himself as a smoker. Oh yeah, and Kramer and Newman are still fuming from an alleged spitting incident at Shea Stadium, which is recounted in Zapruder-esque detail with a culpable Roger McDowell.
As Hernandez tells it, Larry David considers "The Boyfriend" a major turning point for a surge in Seinfeld popularity after it aired in February 1992, and Seinfeld, who was starstruck to meet his baseball hero, has said he considers it among his favorite episodes. Hernandez, who has been a Mets commentator on SNY for 18 seasons, even sees the favorable parallel apply to himself. "Seinfeld gave me an extra life," he explains. "When I retired, I thought I would be forgotten."
Do people want to talk with you more about Game 6 or Seinfeld?
Oh, it's Seinfeld.
Excellent.
Both have diminished, if I'm being honest. If I'm walking around in my daily life and not at the stadium where I'm around baseball fans or at a car show, it's definitely Seinfeld. I'd break it down to 80 percent of the time.
This episode aired about two years after your retirement from the MLB. Can you tell me where your life and career was in 1992?
I was just out of rehabbing my back. I was off for back surgery in spring of 1991, and that's what put an end to my professional career. I didn't know where I was going to go with my life. I mean, my whole life had been baseball to that point. So I was in Manhattan and enjoying my retirement — not having to go to the ballpark at 3 p.m. every day.
So you get a call that Seinfeld wants you for an episode. What was your initial reaction?
I didn't know anything about the Seinfeld show.
Nothing at all?
We played night games. We didn't watch prime time. I also never watched prime time in my first year of retirement, so I never heard of Seinfeld. When Jerry conceived the show, he was a fan of mine and a fan of the Mets. He could've gotten a hold of me through the Mets, but he reached out to my former baseball agent, who called me and told me about the show. He called me early in the week on Wednesday, I believe, and they wanted me to fly to Los Angeles and be there on Monday the following week. That's when they were going to film the episode.
It was very rushed. When I agreed to it, they FedExed the script to me overnight, and I received it on Friday. I thought it was just going to be a little cameo — a short appearance. Then I realized that I was a very prominent figure in the episode. I was actually the "guest star." I had never acted and never had any desire to act, but it seemed like a wonderful experience and a good opportunity. So I agreed to it, and I arrived in Los Angeles on Saturday night. I had a Sunday to relax, and then it was a 7 a.m. call to the studio on Monday morning.
What questions did you have before you agreed to do this?
How much money were they going to pay me?
How much did they put on the check?
I asked my agent how much and he said, "Well, they're going to fly you to Los Angeles, put you up at the Four Seasons in Beverly Hills, and provide you with very nice transportation. You'll be there for a week, and they'll pay you $15,000." I said, "Okay, I'll do it."
Jerry has said, earnestly, that you were the only guest star who appeared on the show who he was nervous to meet. What did you observe when you walked onto the set on day one? How did the cast and crew respond to your presence?
Larry was very friendly and welcoming. Jerry was a little sheepish but welcoming. Julia Louis-Dreyfus was about three months pregnant with her first child, I believe. She probably wasn't feeling that great, but she was wonderful to work with. Jason Alexander was a little standoffish most of the week. Michael Richards was very inquisitive about baseball. He knew nothing about it and questioned me throughout the week. He was interested in the lifestyle and what my profession contained. It was wonderful. He was very sweet, a nice man.
That's a bummer about Jason.
He probably had to work his way through bit roles, and here I come as a guest star, and who am I? A retired baseball player? I'm just speculating. But it all changed when we had to do the complete run-through in chronological order in front of the NBC executives on Friday night. I had to pass their litmus test and censors, and I didn't make any mistakes. Jason came up to me with a big smile and shook my hand and said, "Nice going." From that point on, he was wonderful. I guess I had to prove myself. I realized I couldn't hold them up and be terrible and not memorize lines. I had a lot of lines. It was a very, very stressful week.
What gave you the most stress?
I was worried about the line-reading of "graveley road" when I'm in Jerry's apartment. They actually used it as a dubbed voiceover in the final cut, but I still had to do it in front of a live audience. I knew that the whole scene was two pages of dialogue. It was more than a little bit daunting. The first scene in the locker room was the most difficult for me because they kept altering lines until the last minute. I memorized not only my lines in every scene, but I also knew Jerry and Jason's lines. I wanted to learn the cadence of how they spoke, so when they switched the lines, I was stressed out.
After I did everything perfectly in front of the NBC suits, I went out in the first scene in front of the live audience, and I screwed up. It was like, Cut, all right Keith, let's do it again. And I'm like, Oh gosh, you gotta be kidding me. I went back behind the set, took a deep breath, and tried to calm down. And I didn't make a mistake after that. Larry came up to me and said, "It's important that we get this right. We think we got a really funny episode and we don't want to use laugh tracks if we can't finish this today. We really want real laughter." I survived it. I really couldn't appreciate what was going on until I watched it when the episode aired.
What do you appreciate about the experience now?
I've only watched the episode a couple times. I have a hard time watching it, so I haven't in several years. But every now and again, I happen to stumble on it. Wayne Knight was wonderful. He's a big baseball fan and a terrific guy.
Why do you have trouble watching it?
I feel like it's embarrassing to me. I don't think I did that great a job.
Oh, I won't stand for this. You did a wonderful job, and it's one of the show's classic episodes.
We're always more self-critical of ourselves. Larry actually came up to me years later at a baseball game. I was up in the booth as the Mets were doing batting practice, so I went down and talked with him. He more or less told me, "Look, we used that episode on sweeps week because the first two years the show really didn't take off, and we felt we had a winner with that episode. We didn't tell you, but it was going to all revolve around how you did." I was stunned. And he continued, "We had the show written for a half hour, and we had the show written for an hour with an added subplot, all depending on how you did." That added subplot was George trying to keep his unemployment, and that would make it an hour they could use on sweeps. Larry said, "We had our fingers crossed. You passed the grade. We were so thrilled you knew your lines." They felt that the show took off with that episode.
One of the first things you tell Jerry in the locker room scene is, "I've always wanted to do what you do." Have you ever actually held an interest in comedy?
I grew up on television. I'm not a guy that goes to comedy clubs. I've seen Rodney Dangerfield live. Rodney would come and throw the first pitch on the Mets' second game of the season, so the team got to know him. I loved watching Rowan & Martin's Laugh-In and The Dean Martin Show. Don Rickles, Joey Bishop, Milton Berle, and Carl Reiner — all the great comedians. I go that far back.
Have you ever been star-struck in a locker room?
Believe it or not, we were playing the Dodgers sometime in the early '80s. Jonathan Winters came into the clubhouse with the Cardinals because he was a huge fan of the team. That was very exciting to me because I thought he was a really tremendous comedian, and it was nice to meet him. He was chatting away and having a blast talking to us.
How was Roger McDowell recruited to be the spitter? Was there fierce competition from the other '86 Mets to win the role?
Roger was a good friend of mine and our team's practical joker. Larry asked me who would be good at the role, even if it's a small one. I said, "If you want someone to really commit to the bit, Roger is your guy." And he goes, "Where does he live?" And I responded, "He's in Mississippi." And he said, "That's no problem." So I had Roger's number, they called him, they put him on a flight, and he was there in Los Angeles the next day.
Were you ever cranky that George went on to work for the Yankees and not the Mets later in the series?
No, not really, it's all part of creativity and comedy. They had to think about all the episodes. The writers had to come up with different storylines every week. It's a lot of pressure.
You said that you were unaware of Seinfeld prior to being offered this role. Did you start watching the show afterward?
I didn't. When I was playing, I was the guy who could never have dinner with regular people living in Manhattan at 8 p.m. because I would be in the second or third inning of a ball game. In my retirement, I was enjoying being able to go out and have dinner at a normal hour. The '90s were just terrific. I lived in Manhattan for 24 years, and that's when I really got to take advantage of what the city had to offer — going to Broadway plays, eating great food, meeting interesting people, all that stuff. I wasn't ever able to do that before because we played predominantly night games. So, no, I wasn't going to sit at home in my condo on 49th and 2nd and watch television.
A few episodes after "The Boyfriend," there's a baseball etiquette disagreement: Elaine wears an opposing team's hat while a guest at the owner's box at a Yankees game. She refuses to take it off and is berated for not doing so. Where do you stand on that? Who's correct?
If a certain organization invites you to a game and you're a fan of the opposing team, or another team, you don't wear their hat. You do not. You don't have to wear a Yankees hat or a hat of whatever team invited you. But the protocol is if you've been invited, you're a guest, and you don't do that.
Here's another etiquette question: How long would you have to be friends with someone before asking them to help you move?
Oh, it would have to be a really good friend with a long history of friendship. I thought it was great they were able to have a funny scene with Jerry getting all upset about me asking his help to move. It was way too soon.
You also briefly appeared in "The Finale" as one of the characters who attends the quartet's Good Samaritan trial. What memories do you have of coming back to film that cameo? I know you had no lines in the final cut, but still, 72 million people saw you.
There were a lot of scenes filmed and never used. I had a speaking line with Wayne that was very funny, but it didn't make it. And I had a scene with Jerry and George's parents that was so funny I had to bite my lip. They didn't use it and I was shocked.
Do you remember the dialogue?
No, of course not. I was more curious about what would make the final cut. When the finale aired I did watch it live, because I wanted to see the editing, which scenes made the cut and which didn't. We were there a whole week. I was sitting all day in the same seat in the courtroom, watching all the different witnesses come forward, and it was all day long for the whole week. I was next to John O'Hurley and Wayne. In between shooting the scenes, the three of us had a blast talking about baseball and comedy. And when it was over, my back blew out. I legitimately threw my back out from sitting all week. I was laid up for three weeks after that. It was really bad. I wasn't able to fly home right away. I stayed an extra week in Los Angeles until it calmed down.
Oh, God. Did NBC foot the medical bill?
No, I had good insurance.
It was a pretty divisive ending among fans. Do you personally think it's a good finale?
There were a lot of good vignettes. A lot of people were disappointed in the ending, but I thought all the various scenes were funny, and I enjoyed watching it. And the fact that I was there during the process made it much more fun to watch.
What's your relationship like with Jerry these days? I was at a bar a few weeks ago, and it was a nice surprise to see him as a commentator for SNY that night.
We're friendly. I don't see him too often. I'm not in that social circle. He's got his life to live. He's out in East Hampton and in the city and I'm sure Los Angeles too. He's a busy guy. I did see him in Fort Lauderdale while he was on tour last winter. He left me tickets for the show, and I went backstage to see him and catch up. He comes to the booth once a year. He's a season ticket holder and has a suite at Citi Field. It's always great fun to have him in the booth.
I feel like you're destined to get Jerry and Larry in the booth for the next Subway Series.
Oh, that's a good idea. We should try to make that happen.
What did Seinfeld do for your career after the episode aired? Did this become a major turning point for your post-baseball life?
I did a few more acting roles, like Law & Order, and a couple bit parts in movies. I was just kicking around — not actually pursuing an acting career. I didn't get the acting bug. Sooner or later, you're no longer out there in the public eye. Baseball revolves around people that like sports. With Seinfeld, our entire society basically watched that show. People from all walks of life, and all interests, gathered to watch it every week. So it just gave me a second life and more recognition. I don't consider myself a Brad Pitt, but people always stopped me for years after the show ended and said, "Can I help you move? What was it like to kiss Elaine?"
It gave me legs. It kept me out there, and people knew who I was. I was living in Manhattan and at Elaine's all the time. That crowd was writers, actors, and people in the movie and Broadway industries. Seinfeld threw me right in with them. I had such a wonderful experience in my retirement up at Elaine's with various people I was able to rub elbows with. I'm just a little kid from a beach town in Northern California, and here I am, having dinner with Sophia Loren one night, Clint Eastwood across the table, and chatting up Elia Kazan. Like, are you kidding? That show is one of the greatest experiences of my life.