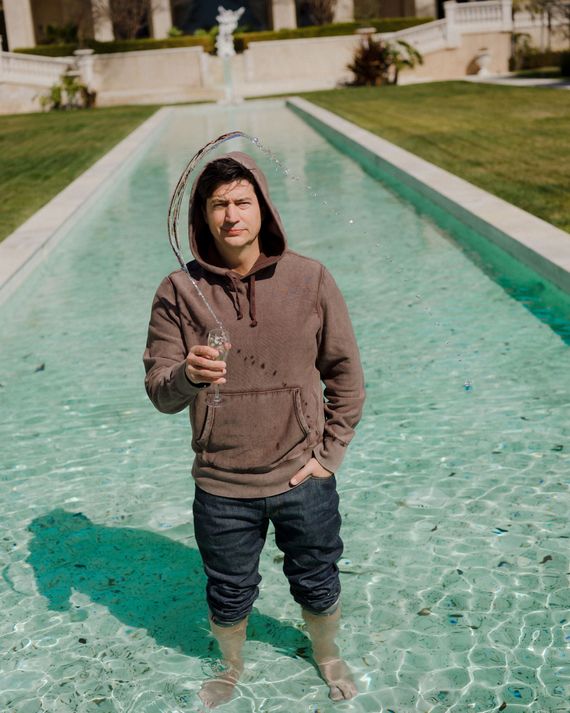 Ken Marino's characters desperately want things and display those desires like neon signs that never stop flashing.
Photo: Damien Maloney
On the lawn of an opulent Mediterranean estate in Beverly Hills, Ken Marino rolls the legs of his dark blue jeans all the way up to his knees so he can wade into a long, shallow pool. The dip is his idea: He's mid–photo shoot and appreciates the incongruity of the actor best known for playing Ron Donald — his character on the cater-waiter comedy Party Down and a man whose boundless optimism is surpassed only by his capacity to do the stupidest shit imaginable — unwinding at a venue like the Palazzo di Amore. Guys who look out of place are Ken Marino's specialty, and Ron, a destined-to-fail food-service boss with a bad flattop haircut and propensity to descend into a mad panic, is his masterpiece. But before Marino can even get his feet wet, the photographer's assistant, Chad, notices something unpleasant: a dead rat at the bottom of the pool. After a dustbin and trash can are procured, Chad scoops out the drowned rodent, and Marino, undeterred, climbs into the water to stand for picture after picture. "It's not like any plagues have been started by rats," he deadpans, a quieter attempt at humor than the big, broad swings he takes onscreen. In roughly eight hours, he will return to the estate for the post-premiere celebration of Party Down's third season, a revival set 13 years after the original Starz series was canceled, so he excuses himself to wash off his "rat legs." Even a performer who has spent decades making uninhibited comedic choices knows when to play it safe.
In person, Marino is warm, self-effacing, and generally unlike the characters he excels at playing, most of whom are better described as off-putting. They take up space. They're a little strange. They desperately want things and display those desires — to lose their virginity in Wet Hot American Summer, to be the most powerful private investigator in Neptune, California, in Veronica Mars, to creep deeper into the family he works for in The Other Two — like neon signs that never stop flashing. Marino's approach to his performances isn't so much go big or go home as just keep going bigger until, like, infinity. Yet even when you're doubled over laughing at his characters' inadequacies, he makes you feel for these idiots, including his most spectacular idiot, Ron, whose response to an allergic reaction that causes his legs to buckle and his eyes to recede into his skull is "Pressure makes diamonds."
Marino's character work began at New York University in the late 1980s, when he and ten friends launched a comedy troupe they eventually named The State. It garnered the attention of MTV, which gave them a series in 1994, also called The State, filled with raw, absurdist tendencies that laid the foundation for future projects like Wet Hot and Reno 911!. The experience taught Marino "how to be fearless and go for broke in performance and not censor myself," he says, an attitude best exemplified by his most well-known State character, Louie, a dude who bursts into parties and shouts the asinine catchphrase, "I want to dip my balls in it!" until he goes cross-eyed.
Marino is a child of sketch comedy, but he's also a student of Method acting. While studying at NYU, he took classes at the Lee Strasberg Theatre & Film Institute, where he learned how to anchor his characters in realism. Marino's first big role after graduation, before The State landed on MTV, wasn't even a comedy. He was an ensemble member (and Josh Malina's understudy) for a 1992 touring production of Aaron Sorkin's A Few Good Men. From that point on, Marino's deftness with drama and his conventionally handsome looks — he is six feet tall and broad-shouldered, with an easy, charming smile — could just as easily get him cast as the love interest in a Hallmark rom-com (2006's Falling in Love With the Girl Next Door) or the crush-worthy professor on a teen drama (Joey's teacher on Dawson's Creek from 2001 to 2002). Weirder work with his State friends would remain steady. (He appeared in Wet Hot, written by David Wain and Michael Showalter, in 2001, and in The Ten, a Ten Commandments riff that he and Wain co-wrote, in 2007. He popped into Reno 911, created by Robert Ben Garant, Thomas Lennon, and Kerri Kenney-Silver, and the 2005 sketch series Stella, created by Wain, Showalter, and Michael Ian Black.) But he could never quite shake the "normie" parts and cameos on network shows like Grey's Anatomy and Private Practice.
Seated on a velvet blue sofa in the screening room of this mansion and sipping a Starbucks iced coffee, Marino explains that more than ten years into his career, he felt lost, unsure how to integrate his tamer roles with the joy he got from playing over-the-top characters. What finally provided clarity, he says, was his recurring stint as Vinnie Van Lowe, the pompous private detective on Veronica Mars who had no qualms about belting Hall & Oates's "Private Eyes" at his perceived nemesis (a teenager) to prove he has the upper hand. (Spoiler: Vinnie rarely has the upper hand.)
"I was like, I'm just going to play a more character-y guy," he says of Vinnie, who he portrayed during the show's original run from 2005 to 2007, and in the 2014 movie and 2019 Veronica Mars revival on Hulu. "So I did, and they didn't tell me to stop." He realized he could bring an unwritten, unhinged energy to all of his performances, as long as he didn't forget the skills he learned at Strasberg: "Make a decision, find a real way to express that, believe it, and then don't think that just because the choices are bigger or weirder that they're false. As long as you can ground them, they work."
A string of memorable morons unfurled from there. In 2012's Wanderlust, another film co-written with Wain, Marino stole scenes as Rick Gergenblatt, Paul Rudd's unfiltered brother and the owner of a Porta-Potty business. (Marino's dad ran a cesspool-service company, which is why he sneaks in references to "either a toilet bowl or Porta-Potties or something alluding to that world" in everything he writes.) In 2013's Eastbound and Down, he transformed into a sports-talk-show host so insecure he jet-packs into a scene to prove he's more of a man than Danny McBride's Kenny Powers. More recently, he undergirded the obsequious talent manager Streeter Peters with a need to be liked on HBO Max's The Other Two.
But Marino's most indelible nitwit remains Ron Donald, the intense catering team leader to a bunch of Hollywood creatives who'd rather be anywhere than slinging hors d'oeuvres at yet another cocktail reception. (Three people who worked as writers and producers on Veronica Mars — John Enbom, Dan Etheridge, and Mars creator Rob Thomas — would go on to create Party Down with Paul Rudd and cast Marino as Ron.) In the first two seasons of Party Down, which was critically lauded but barely seen (co-star Adam Scott once joked that "something like 13,000 viewers" watched the finale), Ron is a young man scrapping to achieve something and blowing it every step of the way, whether by accidentally setting American flags on fire or vomiting at his own high-school reunion, which, of course, he was also catering.
In the third season, which returned to Starz following years of revival-teasing conversation among the creators and stars, Ron is just as delusional and prone to getting into horrifying predicaments. But with middle age comes a new sense of urgency. Ron is more determined to believe that good things are coming and that "powering through" a scorching case of food poisoning is the only appropriate way to proceed. Marino sweats, collapses, and explosively diarrheas his way into the physical-comedy Hall of Fame while maintaining a Strasbergian commitment to honesty. At one point during the shoot, he farted "on purpose," he explains, "to see what everybody would do. I knew I had one in there during a take, and I was like, Well, am I gonna hold it in and pretend to fart? No."
Marino insists that Ron Donald lives inside of him, a fact made apparent on the red carpet outside the Bruin Theatre where the Party Down premiere is taking place. Standing beside his co-stars — including Jane Lynch, Megan Mullally, Martin Starr, Ryan Hansen, Jennifer Garner, and James Marsden (Scott is not physically present, so Marino pulls up a photo of his face on his cell phone instead) — Marino releases the irrepressible. "Everybody do a sexy look," he shouts to his colleagues. They comply. He suggests everyone hysterically laugh at an unspoken joke. They do that too. Marino is suddenly all kinetic energy, which Starr later tells me is what Marino is like when he's behind the camera as well. "He directs the way he acts," Starr says. "Manic."
Starr means it as a compliment, even if it doesn't sound like one. "After we did season one, I left Ken a voice-mail message," he adds. "I told him that I didn't like his performance in anything that I had seen him in before we started working together, but after working with him on the show, he is by far the best character. While I think his natural comedic style is broad, it works so well for the show and feels so grounded and real."
Back at the palazzo — where a grand patio has now been decked out with food stations, an ice sculpture of the Party Down logo, and tray-circulating servers dressed exactly like the Party Down waiters — Marino continues pushing for big, open-mouthed smiles every time he poses for a photo. A friend, fellow actor Andrea Savage (who played Casey in the unaired Party Down pilot; when the show finally sold, she was pregnant and the part went to Lizzie Caplan), calls him out on it. She digs through her own iPhone library, eventually finding an image of the very first Party Down ensemble. In it, Marino's mouth is wide open and so is Scott's. Savage shoves the photo in front of Marino's face: "You're still doing the same bit," she says drily. Marino cracks up, this time for real.
Marino is aware of an anxiety constantly lurking beneath the surface of his performances, easily masked by all the guffaws. He, like Ron, can be a people pleaser: Even at a party celebrating the triumphant return of his series — the sort of high-wattage event that Party Down never got during its initial two seasons on premium cable — Marino is looking after everyone else. Are the photographers getting the shot? Are the waiters warm enough in their thin white button-downs on this atypically chilly Los Angeles night?
"I have friends, very talented people, who never think about what the next thing is, and they get the next job and it's fine," he confides. "They don't worry about it as much as I do. I always worry about it."
His friend and former State member Joe LoTruglio has a gentler read. He recalls one of his earliest memories of Marino, when they were just college kids. LoTruglio had just finished eating an apple, and even though Marino didn't know LoTruglio yet, he voluntarily took the apple and threw it away. It was a small but significant gesture. "When you're trying to be funny, the most valuable thing you can ask for from your fellow actor is to feel completely safe and taken care of," LoTruglio says.
Marino doesn't hear this adulation, but earlier, when I relayed some of the kind words my own colleagues shared about his ability to imbue Ron with so much humor and pathos, he's verklempt. At first, the tears play like a bit, but after several seconds, it becomes clear he's so overcome he can barely speak.
"I don't think I can handle compliments," he finally ekes out, laughing. "I feel like I'm constantly churning it out and hoping that people respond. I'm trying my best to do the best work I can. So when you say that" — he pauses again to gather himself — "I think it's just nice to hear."