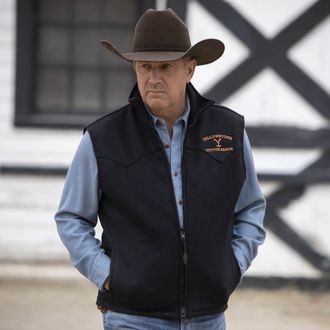 John Dutton (Costner).
Photo: Paramount
You might have heard there's some drama going on with Yellowstone, and we're not just talking about all those bodies dumped at the train station. No, we're talking drama behind the scenes of the Taylor Sheridan series. The series is a ginormous hit for Paramount — with its season-five premiere pulling in 12.1 million viewers, according to Entertainment Weekly. It's big enough that it has even spun off multiple shows based on the Dutton fam–iverse in various centuries starring actors like Helen Mirren, Sam Elliot, Harrison Ford, and, in the upcoming Bass Reeves, David Oyewolo. Given that success, the cast and crew must be a happy bunch o' fools, right? Not so much. When the cast and creatives failed to show up for their scheduled PaleyFest panel on April 1, those worries seemed all the more real, and now comes the news that the Yellowstoners have been dreading for months — Yellowstone is no more. The second part of its fifth (and now final) season will finish up in December and be quickly replaced by a Yellowstone sequel. So what's going on? It looks like the drama revolves around animosity between the show's star, Kevin Costner, and its creator-writer-maestro, Taylor Sheridan. But we don't trust the Duttons as far as we can throw them, so we're lassoing up all the info we can find.
First of all — is the biggest hit on TV ending?
It sure is. It was reported in February that Kevin Costner may be leaving the show after its sixth season while only making himself available for a week of shooting time to the back six episodes of season five (the first batch finished airing on January 2). Then, Camp Costner fired back. "The idea that Kevin was only willing to work one week on the second half of season five of Yellowstone is an absolute lie," Costner's litigator, Marty Singer, told Puck. "It's ridiculous — and anyone suggesting it shouldn't be believed for one second. As everyone who knows anything about Kevin is well aware, he is incredibly passionate about the show and has always gone way above and beyond to ensure its success."
But now, the show is officially ending. The original rumors may have said that he'd leave after the sixth season, but Costner is leaving the Yellowstone-verse even earlier than that. The current fifth season will air its second part in November and December of this year, and then Yellowstone will be over with and sequel series will appear in its stead. We're not sure yet how many actors from the original will appear in the sequel series, but rumor has it that Matthew McConaughey will be added.
Okay, but is Costner leaving?
Yep, he's done being a Dutton. At the PaleyFest panel, Keith Cox, head of scripted content for MTV Entertainment Studios, and one of those who did show, came bearing the kind of good news that only counts as good news when there's drama. "What I can say is that our star, the face of our show, and our executive producer, are very confident he is going to continue with our show," Cox said. This endorsement from an exec was less confidence-building than an actual appearance by Costner. On May 3, Entertainment Tonight reported that Costner will not be returning to the show after season five. That means Costner should still be around for the still-unfilmed season 5.2. If they can figure out a schedule. But when that sequel series comes around, Costner will be nowhere to be found.
Drama? 👀
Costner and Sheridan do not get along, per Puck. The actor had already negotiated short shooting windows for seasons five A and five B. Then, he got COVID-19 and couldn't work but reportedly counted his sick time toward his shooting window — resulting in the Yellowstone cast and crew needing to reassemble for shoots that were both costly to Paramount and annoying to some of his co-stars.
On the home front for Costner, news of his departure from Yellowstone after season five came a day after it broke that his wife of 18 years, Christine, filed for divorce. "It is with great sadness that circumstances beyond his control have transpired which have resulted in Mr. Costner having to participate in a dissolution of marriage action," Costner's rep told ET.
How does Horizon fit in?
Couldn't be more relevant! Puck reports that, from Costner's perspective, the shooting of season five was supposed to be completely finished by 2022, but Sheridan couldn't deliver the scripts on time (because he was preoccupied with his multitudinous other projects.) Costner, meanwhile, wants to focus on his own upcoming film, Horizon, a Civil War–era drama he is directing, co-writing, producing, and starring in; he plans on making a series of Horizon films. The first was shot last year but is awaiting a release date from Warner Bros. Despite this, Costner is already casting Horizon 2 and reportedly told Paramount that, owing to this, he's busy from March to October of this year.
Are there more spinoffs incoming?
Taylor Sheridan can't stop, won't stop. Chris McCarthy, the president and CEO of Viacom, is bullish on his star writer, and the two have ten projects in the pipeline, according to a McCarthy interview with the Hollywood Reporter. That notably includes the Yellowstone "extension" starring McConaughey that McCarthy says is going forward whether or not Costner stays in Yellowstone. All right, all right, all right, am I right?
When is Yellowstone coming back?
The Duttons are back to terrorize Montana one last time this November.
This story is developing.