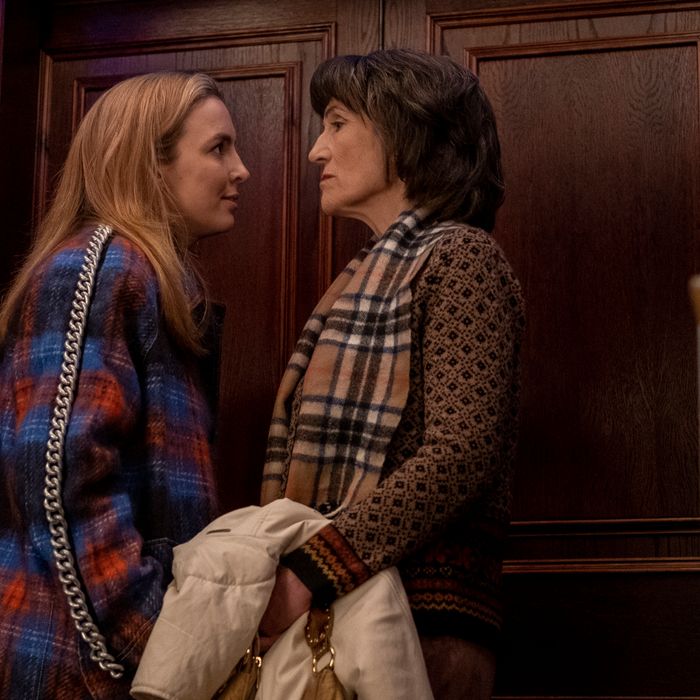 Photo: Laura Radford/BBCAmerica/Sid Gen/B) 2020 Sid Gentle Films/BBC America
"Beautiful Monster," written by Laura Neal and directed by Damon Thomas, is an exceedingly fun episode. Characters deal with the repercussions of chasing their desires. There are heart attacks and deaths, yearning gazes and near misses. It isn't an altogether stellar episode — I find Irina too precocious and Geraldine grating — but the narrative nudges at intriguing questions that have long been on my mind: What is the base attraction between Eve and Villanelle? Would Eve kill on her own if given the opportunity? What motivates Eve in the face of all of the sorrow and destruction she's grappled with? How is Villanelle wounded in ways beyond the gash in her arm?
This week's Killing Eve begins with the striking shot of Villanelle framed by armor and weaponry, a halo of destruction behind her head, as she waits for Helene to let her into another room for a tense conversation. Helene isn't alone. She has Rhian (Alexandra Roach), another assassin, watching on. Villanelle looks around the weaponry of the room and openly admits she's working out how to kill Helene. Helene's approach to threats is more elegant. As Villanelle sits, Helene grazes a hand over her wound before enveloping the assassin in a tight embrace. "Do you know why I love you, Villanelle? Because you're an agent of chaos and I love chaos. Chaos disrupts. It rips apart and starts again. It's like a forest fire. It burns, it clears. It's monstrous but it's beautiful." Helene says. She fondles Villanelle's hair, "You're a beautiful monster, Villanelle." Helene tries to get Villanelle to talk about whatever has happened recently. It seems for a moment Villanelle will open up as she mentions her mother, teary-eyed. "I took a shit in her shoe when I was 3," Villanelle admits, shutting down any chance for emotional vulnerability. I like Helene. She's graceful and deadly, careful to tell Villanelle she wouldn't be able to kill her, as she's just a child dealing with forces much larger than she realizes. They do come to an agreement on Villanelle's next job: to kill Dasha.
"Beautiful Monster" gives its characters a lot to navigate. Mo is tasked with finding a link between Paul and the Twelve. Eve remains hyper-focused on Villanelle, believing that she's the best way to get to the Twelve. But Carolyn reminds her, "Eve, you'd do well to remember heroes only get the girl in Hollywood." Consider her zeal rooting through the trash in order to find the bakery that Villanelle sent the birthday cake from, as it's a possible lead. Eve makes a what the hell face after hearing Carolyn's advice, but perhaps she can't see that desire is what fuels her.
Konstantin is hellbent on getting out from under the Twelve and off to Cuba as carefully as possible, but is faced with a dilemma as Irina is in a detention center in the wake of running over her mother's new boyfriend. Precocious teenagers can hit their limit pretty quickly with me, and so I found this scene a bit grating. But I can see what the writers are doing by exploring the ways someone can become a killer when their lack of empathy and brightness gives way to violence.
Konstantin has a rough path this week. After coming back to London, he finds someone else waiting in his home unannounced. This time it's Geraldine, dressed up with wine by her side and offering filet mignon for dinner. (Isn't she vegetarian?) Geraldine is bumbling and a touch pathetic. She scrambles to leave in the face of Konstantin's anger and annoyance. She offhandedly mentions that Carolyn is closing in on something big, then Konstantin softens. "You bastard. Mom said you were trying to play me and I didn't believe her," Geraldine exclaims, starting on an angry, loud tear. She screams and grows indignant. But she has a point: "Seeking out someone whose brother just died, taking advantage of their grief when they're at their most vulnerable. What kind of person does that?" she asks. "A shit," Konstantin replies. He admits to using Geraldine to spy on her mother. "I hope you die," Geraldine pointedly replies. And she almost gets her wish toward the end of the episode. But before we get there, let's get back to Villanelle.
In Aberdeen, Scotland, Villanelle — decked in a gorgeous tartan coat by Charles Jeffrey Loverboy — is joined by Dasha for a job. It's a cover, of course. Dasha doesn't realize she is the target. The relationship between her and Villanelle remains barbed. Dasha pushes at Villanelle's wound. They snipe at each other. A slippery and cruel argument bubbles up between them in tight, alternating closeups. Villanelle notes she will return to an indifferent, highly changed Russia. Dasha goes deeper: "I'm going to die with my feet up and my hand held, whereas you, you have destroyed any home you've ever had. You are going to die alone."
Villanelle has more pressing concerns than dying alone. (Although who doesn't worry about that in the dark of night?) Villanelle watches her target on a golf course: a boisterous American. Villanelle tells Dasha she can do the kill, as a retirement present. But Dasha worries that Villanelle has lost it and can't kill with the ease she used to. Villanelle lures the American to a desolate part of the course to help her look for her ball. When he's crouched down, she swings her club, but it is Dasha she aims for, scaring the American, who runs to the street and finds Eve in a taxi. Hearing about the beautiful woman the American is hysterically afraid of, Eve leaves him on the side of the road to track down Villanelle. But Villanelle is already picked up by Konstantin. What Eve finds instead is a brutalized Dasha. She looks around. She's alone. She stands on Dasha's chest until it cracks and cracks again. Her face is ecstatic. She only stops when she hears police sirens nearby. But what if she didn't? Would she have killed Dasha out of vengeance for Niko and her own inner darkness?
At the train station, Villanelle and Konstantin are snapping at each other. He's spiralling. She's annoyed that he didn't stick to his desire to not talk about it. "Maybe I should just let them kill me," he wonders aloud. "I can run as far as I want, they will still come." As he's going on about being a prick, he stops mid sentence and falls over from a heart attack. "I don't want to die," he says. "I don't want you to die either. But you actually might," Villanelle says, before getting the information about where the $6 million is. She hops on the train just as Eve finds her way to the crumbled form of Konstantin. (Don't worry, he survives.) "Where is she?" she asks. Eve leaves him, catching sight of Villanelle, whose face lights up as she waves. Eve waves back, futilely. She gets a call from Villanelle when she returns to London. Villanelle's silken voice, "We have to stop running into each other like that. It's not good for both of us." Eve doesn't look perturbed or afraid, but emboldened by the call. How will she use this energy going forward?
On the Dressing Room Floor:
• Favorite outfit of the week: Villanelle's cropped, verdant Charlotte Knowles coat with shearling sleeves and collar, worn over high waisted silken matching pants in a rich green.
• R.I.P., Mo. Poor, Mo. His assignment to find a link between Paul and the Twelve puts him in their crosshairs. He calls Carolyn with good news, saying he found the link. Unfortunately, he doesn't realize he's been watched and followed by the assassin, Rhian. Before the end of the episode he's dead in the water.
• I loved the final scene between Carolyn and Geraldine. I may find Geraldine annoying, but her relationship with her mother is both fascinating and a bit heartbreaking. Carolyn comes home wanting to celebrate after getting Mo's call. But she gets the news that Mo has been killed, ruining her evening. "I fear the walls may be closing in on me. It's starting to feel personal," Carolyn admits. Geraldine grows angry with her mother, "How can you be so bloody calm? You are an emotional iceberg." When Geraldine says Carolyn has to find some way to express herself, Carolyn responds by destroying glassware and pushing everything off the table in front of her. "Is that the kind of thing you were after?" she asks Geraldine afterwards.
• Konstantin survives his heart attack, but this is soured by finding out a cackling Dasha is in the hospital bed next to him. I'm so worried about Villanelle not killing her!