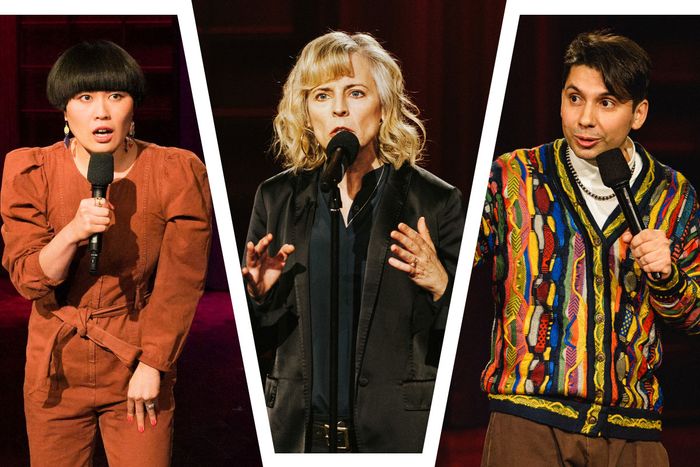 Photo-Illustration: Vulture. Photos: CBS
Late-night stand-up spots are no longer the guaranteed career catapults they once were. Long gone are the days of The Tonight Show Starring Johnny Carson, when a young comedian could go from a relative unknown to a future sitcom star overnight with a great five-minute set. But the prestige of these opportunities remains. They're recognizable credits that help comedians get booked at clubs and festivals, impressive clips that circulate online to build a fan base and offer lifelong bragging rights. They're also disappearing: Since the start of 2023, there have been just 25 stand-up-comedy sets across the five major U.S. late-night shows — one on Late Night With Seth Meyers, 12 on The Tonight Show Starring Jimmy Fallon, and 12 on The Late Late Show With James Corden. With the latter of these shows coming to an end on April 27, this trend is poised to only get worse.
Known more for star-studded segments like "Carpool Karaoke," the legacy of The Late Late Show With James Corden is unlikely to be tied to the stand-up it featured. But the program, which aired 105 stand-up sets over the course of its run between 2015 and 2023 — nearly a third of which marked emerging comedians' late-night debuts — made an indelible impact on the scene. It was an early showcase for the talent of Jacqueline Novak before she received national attention for her Off-Broadway show Get on Your Knees. It was valuable American exposure for popular British acts visiting from the U.K., such as James Acaster and Romesh Ranganathan. It was the show where Maria Bamford delivered her incredible eulogy for her late mother. All of these will live on YouTube for audiences to discover and revisit for as long as CBS permits them.
The man behind all of this is Ryan Williams, a talent booker and segment producer at The Late Late Show responsible for booking comedians and readying their sets for broadcast. Having previously worked in similar roles at The Tonight Show Starring Jimmy Fallon and The Late Show With David Letterman, Williams brought his experience to The Late Late Show in 2015 to develop the show's stand-up sensibility. The challenge, according to him, was to feature as wide of a range of comedic perspectives as possible while still appealing to Corden's not-necessarily-adventurous audience. More often than not, he succeeded at threading the needle. Ahead of the show's final episode, Williams spoke about the acts he's proudest of booking and the broader state of stand-up on late night.
Before coming to The Late Late Show, you worked as a stand-up booker for both Letterman and Fallon. How did the approach differ here?
The one thing that every late-night show has in common is that a lot of what you're doing is very tailored to the hosts' taste. James came from a place where he wasn't a stand-up comedian. He definitely had tastes and people he loved, but to begin, it was pretty much about showing off American stand-ups to James and trying to find people who tickled his fancy. As time went on, I was able to branch out a little. I focused on getting people some late-night debuts and highlighting some really interesting points of view.
What did the booking process look like?
Most of the submissions came via email from people's agents and managers. A lot of times, I'd get referrals from stand-ups who'd been on the show. Those are the ones that I'd get most excited about. When a stand-up was here, did really well, and clearly got what it was all about, I'd let them know, "As you're going about the world, keep me in mind. I'd love to hear about folks you see that are ready and have solid sets." Especially pre-COVID, I was at the clubs a lot more often than I am now, trying to go to different industry showcases, and dropping in at Hot Tub when that was a thing.
What were you looking for as you went through these submissions?
It's very much about balancing out an interesting point of view that is also very palatable to a mainstream audience. I always tried to keep in mind that the folks showing up to watch a late-night talk-show taping aren't necessarily the same folks who would show up to a comedy club. I would avoid more challenging material, for the most part, with a few exceptions. But I always kept in mind that these types of opportunities are pretty few and far between. So if I could find somebody that presented something unique and exciting, that was, in general, the direction I liked to go.
When you think back on your favorite sets you booked on the show, what comes to mind?
The first one that comes to mind is Jacqueline Novak, who is super-funny. I think we were her late-night debut here. She was one of the first more creative bookings we had — someone who is going after exciting, interesting points of view, and maybe people doesn't necessarily fit the standard, traditional late-night mold. She had a really funny set and has gone on to do great things.
Fabrizio Copano, more recently — the Chilean comedian. He had a rep who sent his clip along, and as soon as I watched it, I was just like, Wow, this is super-funny. It goes back to that thing of like, This is a unique point of view that kind of goes beyond jokes about airplane food. It has something to say that I think would be worth putting on television.
Are there any young comedians you feel particularly proud to have been an early champion of?
I feel like I got in on the ground floor of the Atsuko Okatsuka train. She is incredible. It was another one of those moments when I watched the clip and I got so excited about the possibility of putting this person on television. She's got such a unique vibe — kind of a childlike innocence, but with a really intelligent, cynical take wrapped up in it. I was thrilled to have her late-night debut here, and she's just gonna continue to excel.
Was there a set where you thought, That was so unique. I can't believe I got to put that on TV?
I'm really proud of the Maria Bamford set that we had about a year ago. I got an email with the original, which was focused on her mother passing away and dealing with the grief of that in a charming way. But that's exactly the type of thing that I would normally try to steer a stand-up comedian away from. I'd say, "This is incredible and thoughtful and brilliant, but it's maybe not the best fit for our audience." She was kind and gracious enough to send over another set that wasn't sort of focused on death and morbidity, and comparing the two of them, it just sort of took the wind out of my sails. It was like, If we have the choice to put this really emotionally riveting set on the air, I think we have to try to go for it. That was a time when I went around here to make sure that everybody was on the same page.
Since then, there have been other sets that I would have been excited to put on television but maybe were a little bit too uncomfortable that we haven't done. But the response to Maria's was really strong and positive, and I think that kind of gave us the green light for the past year or so to be a little bit more daring with some of the folks we were booking.
Comedian Jena Friedman spoke recently about a set she was trying to workshop for the show where she was wearing her baby onstage that you had to pull the plug on. I was wondering if you wanted to share your side of that story. 
Jena is a person I'm a huge fan of, and when I saw that she had a book coming out, I actually reached out to her publicist to say, "We are a receptive audience here if Jena would even consider putting together a late-night set. We realize we might not be the best fit and that it might be a futile effort." We wanted to attempt to thread that needle of getting an exciting voice who wasn't also going to be challenging to our audience. I had a great experience working with Jena, and we were both very upfront with each other the whole time about what a long shot it would be. I don't think there was any acrimony or hard feelings. It wasn't as if we pulled the plug at the last minute. It was very clear from the beginning that this was going to be a challenge and that it might end up with a big goose egg on the scoreboard.
Part of your job is going through these sets word by word to prepare them for broadcast on television. Can you think of an example of something absurd you had to censor so it could air?
You're usually able to find a compromise with the comedian that preserves the integrity of the joke, but there are definitely moments of silliness. You can say "erection," but you can't say "hard." It's that kind of stuff, where for some reason the very clinical, almost more repulsive names for things are fine, whereas the more colloquial slang terms get shut down by Standards and Practices. There have definitely been some really hilarious email exchanges with Standards and Practices going back and forth over different slang terms for buttholes.
Why do you think other late-night shows, with the exception of yours and The Tonight Show, have scaled back on booking comedians?
When you're bringing a stand-up on to the show, you're really farming out five to seven minutes to someone else's point of view. And if that's not important to you, I can see why you wouldn't want to give up that time to someone else when you could be creating your own content. For us, we really wanted to make stand-up a big part of the show. It was important for us to prioritize elevating outside voices. But even from a production point of view, stand-up is so valuable because it's basically filling an act of the show where the writers don't have to write anything, and you don't have to pay $10,000 to bring in a band. Ideally, you've got a self-contained performer who can take the pressure off of everything else for five minutes or so. So it seems silly to me that people aren't taking advantage of that.
Where do you see stand-up on late night going from here?
A stand-up set for late night is a very specific animal. It's almost like a poem or a commencement speech, where it has to be structured in a very specific way and you've got to put a lot of time into running it to get it just right. And if there's something that's not as archaic but still allows people who have unique points of view and funny ways of seeing the world to kind of get that out, I think that's great. I'm curious to see what is going to happen with this @midnight show. I remember when it aired, it put so many hilarious people on my radar for the first time as a comedy fan, and I think it has an opportunity to do that again. If @midnight is able to celebrate those voices and make people look good, that could be a real revolution in late-night comedy.
But also, who wants to be associated with Twitter right now? I don't know how they're gonna bridge that gap of just having an "@" symbol in the front of their name. But I really do hope that they find a creative way to rise to the occasion, because there's a huge amount of talent out there that's just not getting the platform that they used to have.
How would you summarize your legacy at The Late Late Show?
I'm really proud of the folks we've had on the show. I think in comparison to the rest of the field, we've done a really great job of putting stand-up on TV that people are excited about. As funny as Jim Gaffigan is, we didn't book him 15 times for stand-up like they might've at Letterman. We really did try to find people and expose new names to the audience and celebrate as many people as possible. I hope that's what we're remembered for, if anything.
This interview has been edited and condensed.