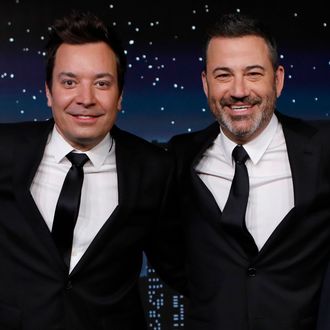 The boys are back.
Photo: Randy Holmes/ABC via Getty Images
If you've been missing the raucous game-playing, the seven-minute-long interviews, and the monologues of late night, we don't have anything to help you. But if it's the personalities of various middle-aged white-guy comedians you miss, then get ready and rarin' to go. Jimmy Kimmel, Jimmy Fallon, and some other people not named Jimmy — Seth Meyers, Stephen Colbert, and John Oliver — are starting a podcast. Strike Force Five will run for "at least" 12 weeks, according to a press release, and each episode will feature all five boys with one leading the conversation.
"When the WGA strike started in May of this year, this elite group of suddenly unemployed talk show hosts gathered via the miracle of Zoom," the press release says of the pod's origins. "Their idea was to meet every week to discuss the serious issues a work stoppage creates. What happened instead was a series of hilarious and compelling conversations." Listening to these men will actually be praxis, of course, because all proceeds from the podcast will go not toward the hosts but to the writing staffs of the five hosts' respective shows, which have all been out of work amid the Writers Guild of America strike. Strike Force Five debuts August 30, so get ready to ring in the fall with flannel, pumpkin spice, and the Jimmys.