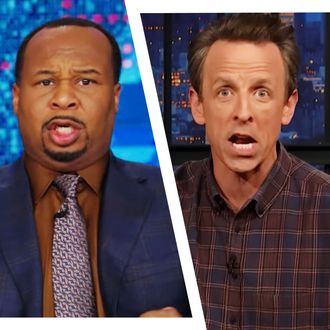 Photo-Illustration: Vulture. Photos: Comedy Central; NBC
Well, it finally happened. On April 4, former president Donald Trump was arrested in New York City and charged with 34 felony counts of falsifying business records after illegally paying hush money to adult-film actress Stormy Daniels in 2016. It was the political Olympics that television's slate of late-night hosts — who've been joking about Trump on a near-nightly basis since 2015 — had been training for. Unfortunately, Jimmy Kimmel Live! and The Late Late Show With James Corden were off this week, but the rest rose to the occasion.
The timing of this arrest was a wish come true for Roy Wood Jr., who kicked off his guest stint behind the Daily Show desk on April 3. He opened the show by digging into the historic event with some insightful commentary about how Trump is using the media frenzy surrounding the event to drum up support and attention. Still, Wood wasn't quite sure he'd done enough to truly capitalize on this fortuitous turn of events. Enter surprise guest Jon Stewart, returning for the first time since 2020, to help him go viral. But rather than pick Stewart's brain to get his take, Wood ran out the clock on Stewart's appearance by clearing up his bona fides and debating the characteristics of Star Wars characters. "The Daily Show had a white host?" a confused Wood asked Stewart at one point.
Seth Meyers, Jimmy Fallon, and Stephen Colbert didn't have Stewart by their sides to help shape their coverage of Trump's arrest, but they were nonetheless giddy to dive into the news of the day. On Late Night, Meyers rushed past the other headlines in his monologue to get to the topic at hand, gave it the "Closer Look" treatment, then debriefed the circus with Representative Alexandria Ocasio-Cortez. "Today, we witnessed the surreal spectacle of one of the world's most notorious figures, a former president and current candidate, facing arraignment in the media capital of the world," Meyers said during the "Closer Look" segment. "And let's not forget how funny 'current candidate' is in all this. He got arrested and he's still running for president. This is like Pennywise doing kids' birthday parties after It came out."
On The Tonight Show, Fallon unpacked the arrest extravaganza with jokes about Trump trying to positively spin the news. "Trump was formally charged with 34 counts of falsifying business records in the first degree, which are Class E felonies," the host said. "Trump was like, 'Of course they're very classy felonies. Some would say the classiest.'" He also poked fun at the absurdity of Representative Marjorie Taylor Greene favorably comparing Trump's arrest to that of the persecution faced by Jesus Christ: "Jesus saw that and said, 'Jesus!'"
On The Late Show, Colbert also took shots at Greene's Jesus comments. "I keep forgetting that he was arrested because he was put on trial for getting Judas to pay Mary Magdalene not to tell anyone she spanked him with a Dead Sea Scroll," he deadpanned. Still, Colbert reminded his audience that it's important to wait to pass judgment until due process takes its course: "Remember, he is innocent until proven so, so guilty."