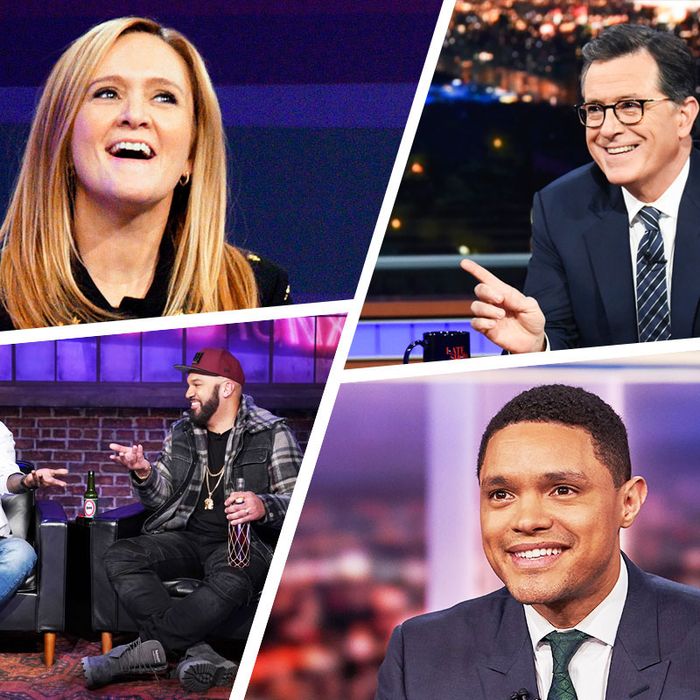 Photo: TBS, CBS, Showtime and Comedy Central
There are only so many hours in a day, and especially only so many hours in a night, and yet the late-night television (and streaming) field is more crowded than ever. At our most recent count, there are 14 shows currently running or set to return soon that fit under the umbrella of "late night," meaning they have some combination of desks, guests, and topical humor.
Of course, a lot has changed in television production since the spread of the coronavirus. At first, many of the late-night shows announced plans to suspend production indefinitely, but as we've seen this week, some have opted to go the DIY route, with hosts like Stephen Colbert, Jimmy Kimmel, and Jimmy Fallon taping monologues while hunkered down at home. Even when production shuts down, the late-night show must go on.
But what can you do to fill the recurring wacky-segment-shaped hole in your heart during these times, when you need familiar entertainment more than ever? Behind all of these late-night shows are hard-working writers' rooms staffed with talented and increasingly diverse writers, who also suddenly find themselves with more screen time on their hands and no new television to produce. And many of these writers are also extremely good Twitter follows. So if you want to add some new names to your endless scroll, we've put together a list of every writer currently working in late night and links to their tweets, when applicable, and we'll update this post whenever new announcements are made.
A Little Late With Lilly Singh (NBC)
Writing Staff:
Sean O'Connor (head writer)
Lilly Singh (executive producer)
Marina Cockenberg
Sergio Serna
Mona Mira
Jen Burton
Jonathan Giles
Joanna Bradley
Conan (TBS)
Writing Staff:
Matt O'Brien (head writer)
Conan O'Brien (executive producer)
Mike Sweeney (producer, writer)
Jose Arroyo
Glenn Boozan
Dan Cronin
Andres du Bouchet
Jessie Gaskell
Brian Kiley
Laurie Kilmartin
Todd Levin
Levi MacDougall
Andy Richter
Frank Smiley
Skyler Higley
The Daily Show With Trevor Noah (Comedy Central)
Writing Staff:
Dan Amira (head writer)
Lauren Sarver Means (senior writer)
Daniel Radosh (senior writer)
Trevor Noah
David Kibuuka
Zhubin Parang
David Angelo
Devin Delliquanti
Zachary DiLanzo
Geoffrey Haggerty
Josh Johnson
Matt Koff
X Mayo
Christiana Mbakwe
Dan McCoy
Joseph Opio
Randall Otis
Kat Radley
Scott Sherman
Desus & Mero (Showtime)
Writing Staff:
Mike Pielocik (executive producer, head writer)
Desus Nice (executive producer, writer)
The Kid Mero (executive producer, writer)
Josh Gondelman (co-executive producer)
Julia Young (segment producer, writer)
Claire Friedman
Ziwe Fumudoh
Robert Kornhauser
Heben Nigatu
Full Frontal With Samantha Bee (TBS)
Writing Staff:
Kristen Bartlett (head writer)
Mike Drucker (head writer)
Samantha Bee (executive producer)
Miles Kahn (executive producer)
Joe Grossman
Pat Cassels
Mathan Erhardt 
Sean Crespo
Sahar Rizvi
Alison Zeidman
Jimmy Kimmel Live! (ABC)
Writing Staff:
Gary Greenberg (head writer)
Molly McNearney (head writer)
Danny Ricker (co-head writer)
Jimmy Kimmel (executive producer)
Jamie Abrahams
Tony Barbieri
Jonathan Bines
Joelle Boucai
Bryan Cook
Devin Field
Josh Halloway
Eric Immerman
Jesse Joyce
Bess Kalb
Jesse McLaren
Joseph Strazzullo
Louis Virtel
Last Week Tonight With John Oliver (HBO)
Writing Staff:
John Oliver (co-executive producer)
Tim Carvell (co-executive producer, head writer)
Daniel O'Brien
Owen Parsons
Charlie Redd
Joanna Rothkopf
Ben Silva
Seena Vali
Mark Kramer
Jonathan Appel
Liz Hynes
The Late Late Show With James Corden (CBS)
Writing Staff:
Ian Karmel (head writer)
Lauren Greenberg (head writer)
James Corden (producer)
Rob Crabbe (writer, executive producer)
Molly Mitchell
Lawrence Dai
Nate Fernald 
Olivia Harewood 
John Kennedy
Kayleigh Lamb
James Longman
Jared Moskowitz
CeCe Pleasants
Tim Siedell
Benjamin Stout
Tom Thriveni
Louis Waymouth
Ben Winston
Late Night With Seth Meyers (NBC)
Writing Staff:
Alex Baze (head writer)
Sal Gentile ("A Closer Look" supervising writer)
Seth Reiss (writing supervisor)
Seth Meyers (executive producer)
Jermaine Affonso
Karen Chee
Bryan Donaldson
Matt Goldich
Dina Gusovsky
Jenny Hagel
Allison Hord
Mike Karnell
John Lutz
Ian Morgan
Amber Ruffin
Mike Scollins
Mike Shoemaker
Ben Warheit
The Late Show With Stephen Colbert (CBS)
Writing Staff:
Jay Katsir (head writer)
Ariel Dumas (head writer)
Stephen Colbert (executive producer)
Michael Brumm
River Clegg
Aaron Cohen
Nicole Conlan
Paul Dinello
Glenn Eichler
Django Gold
Gabe Gronli
Barry Julien
Eliana Kwartler
Matt Lappin
Felipe Torres Medina
Opus Moreschi
Asher Perlman
Tom Purcell
Kate Sidley
Brian Stack
John Thibodeaux
Steve Waltein
Patriot Act With Hasan Minhaj (Netflix)
Writing Staff:
Prashanth Venkataramanujam (head writer)
Hasan Minhaj (executive producer)
Kristen Acimovic
Andrew Durso
Isabella Giovannini
Ismael Loutfi
Sofia Manfredi
Brian Parise
Moss Perricone
Scott Vrooman
Seth Weitberg
Real Time With Bill Maher (HBO)
Writing Staff:
Bill Maher (executive producer)
Sheila Griffiths (executive producer)
Billy Martin (head writer)
Chris Kelly
Brian Jacobsmeyer
Jay Jaroch
Matt Gunn
Danny Vermont
Bob Oschack
Nick Vatterott 
Samantha Matti
The Tonight Show Starring Jimmy Fallon (NBC)
Writing Staff:
Jimmy Fallon
Alison Tafel
Ben Kronengold
Chloe Radcliffe
Chris Belair
Chris Tartaro
Christine Cestaro
Colin Elzie
Dan Chamberlain
Gavin Purcell
Gerard Bradford
Jeremy Bronson
Becky Krause
Jonathan Adler
Nate Dern
Patrick Borelli
Paul Masella
Rachel Wenitsky
Rajan Desai
Rebecca Shaw
Ryan Perez
Nick Ciarelli
Brad Evans