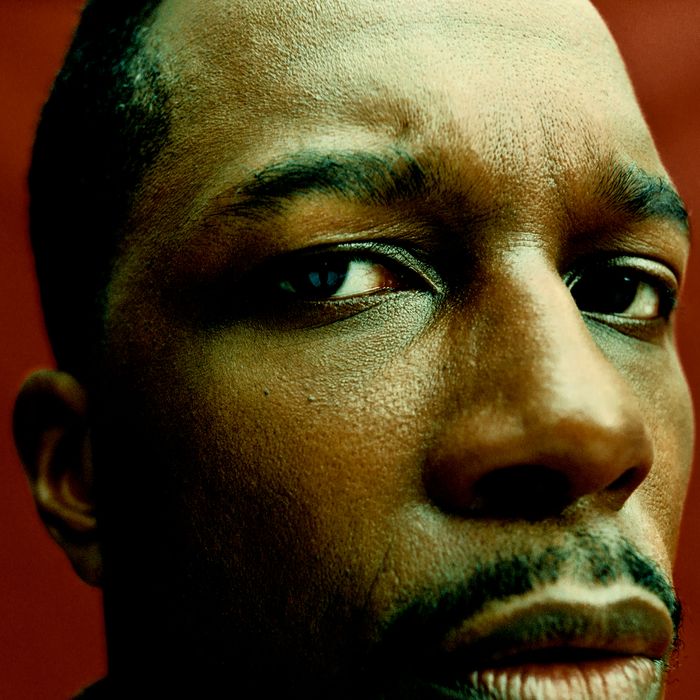 Leslie Odom Jr. didn't intend to spend seven years away from Broadway. Back in 2016, after he wrapped his run in Hamilton — and after his turn as Aaron Burr landed him a Tony, a Grammy, and worldwide recognition — he was already thinking about his next role. "Purlie Victorious was the first thing my subconscious brought to mind," he said. Ossie Davis's 1961 play, a satirical romp set in the Jim Crow South, had been put into Odom's hands when he was coming up as an actor, and over the years he had turned to it for audition monologues and scene studies. He wanted to get the play back onstage, and he wanted to play the title character: a freewheeling preacher, originally played by Davis, who works out a scheme to reclaim a local church from a white landowner. His plans blow up in his face, and he keeps on plotting. He is, per Davis's script, a "man consumed with that divine impatience, without which nothing truly good, truly bad, or even truly ridiculous, is ever accomplished in the world."
But getting the play back to Broadway decades after its premiere would take patience. Although it isn't as widely performed today, Purlie Victorious was significant in its time; Davis, a civil-rights activist as well as an actor and a writer, starred in it alongside his wife, Ruby Dee. Martin Luther King Jr. visited the cast backstage and later asked Davis and Dee to serve as the master and mistress of ceremonies during the March on Washington. The play's dark humor revolves around how the Confederate system survived in a different guise during the Jim Crow era, even if, as one character blithely insists to Purlie, "Folks can't own people no more." On September 7, the show will open on Broadway again, this time directed by Kenny Leon, with Odom in the lead role. "I've been asked a couple times 'Why now?' As if I had some grand design about 'This is gonna be what's happening in the Supreme Court. This is what's happening down in Florida,'" Odom said. "But the truth is I wanted Purlie to happen six years ago."
The problem was the rights, which were locked up with a producer who didn't want to meet with Odom about the play. It wasn't until that producer's deal expired at the end of 2021 and the rights went to Jeffrey Richards, known for bringing shows like August: Osage County to Broadway, that Odom was cast as Purlie, Leon signed on to direct, and, eventually, they secured a theater. "Everybody's got a Broadway dream," Odom said, adding an aphorism that might well be a quote from the play: "It's just a dream until you get the real estate."
Talking over lunch at Soho House — he ran into his Hamilton co-star Daveed Diggs on the way in — Odom was thoughtful and precise, frank on some topics and careful on others. His answers tilted toward optimism; this is someone who published a memoir in 2018 called Failing Up: How to Take Risks, Aim Higher, and Never Stop Learning. As most actors will, he pointed out that there's a difference between the roles he has been offered and his real personality, but there's a streak of certainty in his resting mode that has found its way into his performances. His Burr was a man with big aims and a willingness to "wait for it," and the characters he has played since have tended to blaze with ambition but burn cool: Sam Cooke in the film One Night in Miami …, a (initially) reserved scientist in Glass Onion, the founder of a rival charter school in the series Abbott Elementary. He'll soon appear as a concerned father in an Exorcist sequel. (Owing to the SAG-AFTRA strike, he would not discuss his screen work.)
Purlie has that same ambition, but he's red hot. At a rehearsal, I watched Odom bound around a fluorescent-lit midtown space as he and his co-star Kara Young put the play on its feet; Young plays Purlie's somewhat oblivious partner-in-shenanigans, Lutiebelle, a role first played by Dee. Odom was quiet and observant as the cast went over notes, then lit up like a firecracker when they read a scene. The play is under 100 minutes, but it's dense with jokes, and Odom has to carry off a lot of them. The script is short, he told me, "but this is the hardest part I've ever done."
Part of the challenge is that this is the first time Odom has led a big production of a nonmusical play. His career was built on his agile, powerful singing voice — which he has deployed to croon jazz standards — beginning when he joined the Broadway cast of Rent at 17. (He played Paul, the head of the life-support group.) On the advice of his castmate Michael McElroy, whose career Odom wanted to emulate, he went to Carnegie Mellon's theater program, then to Los Angeles for some TV experience, which he'd hoped would get him seen and cast in better Broadway roles. In a roundabout way, it worked: A role on the series Smash brought him to New York. After a couple of midsize theater jobs, he got wind of what would become Hamilton in 2015.
Look back over his list of theater credits and you may pick up the other, crucial thing about Purlie Victorious: This is Odom's first professional role in a work by a Black writer. "There's a certain amount of energy and attention I spend on projects that are not written by a Black writer. It's okay; I'm used to doing it. We all get used to translating," Odom said, then corrected himself with a rueful laugh: "Well, we don't all do that." When he's acting in a show like this, "there's no translation. I know these people, these rhythms, this world."
While Odom grew up middle class in Philadelphia, he had family members who experienced poverty similar to what we see onstage. Some of his ancestors were enslaved in South Carolina. He said this production of the play is set in 1961, the same year Purlie Victorious premiered on Broadway, and he dived into research. Before we met, he sent me a link to a 1966 documentary called Lay My Burden Down, which surveys the conditions of Black sharecroppers around Selma, Alabama. During our lunch together, he brought out a heavily annotated copy of Clint Smith's 2021 book, How the Word Is Passed, in which the author travels to landmarks and monuments that present contesting approaches to the history of slavery. There's a passage in which a tour guide at Monticello describes the difference between history, a story of the past using just facts; nostalgia, a fantasy without factual basis; and memory, which combines history and emotion. It's the last which Odom feels could be most useful in educating people. "That's what I want this play to be," he said. "I want it to feel like a memory."
It's notable to make that point when you're someone whose career was defined by playing a Founding Father. Hamilton depends on a degree of earnest nostalgia; its critique is implied through casting actors of color. It's
a far rosier vision of American history than the one in Purlie Victorious, though as Odom said, the plays share a questing spirit: "One is from a Black writer who grew up in the segregated South, and one is from our dear Lin-Manuel Miranda. But it's two writers ruminating on what it means to be an American and what we own of the American story."
Odom knows that Broadway plays have faced headwinds in drawing audiences back after the pandemic, especially to plays by Black authors. Last season, Jordan E. Cooper's satire Ain't No Mo' closed just a few weeks after opening, while a revival of Adrienne Kennedy's Ohio State Murders closed a month ahead of schedule. "I don't kid myself," Odom said. "I'm not assuming anybody's presence in this Broadway audience." But he hopes, at the very least, that those who know him as Burr will think that "when I invite them someplace, they know that I'm never gonna waste their time or their money." He's also hoping their revival will raise the play's profile — including that of the musical version, which hit Broadway in 1970 — so it will make its way to regional theaters and schools around the country. "Broadway can't help but mean something, as far as the theater goes," Odom said. He turned reflective. "I guess I should be more specific: It means something to me."
Purlie Victorious opens at the Music Box Theatre on September 27.
More From fall preview 2023
See All