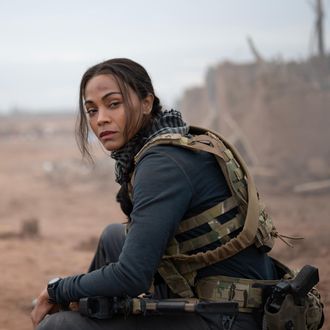 Photo: Lynsey Addario/Paramount+
Movie theaters aren't the only place Nicole Kidman comes to for magic. As Variety first reported in January, the face of the culture-shifting AMC Theatres ad has joined the cast of a new TV project. Special Ops: Lioness, a spy drama from Yellowstone co-creator Taylor Sheridan that follows different levels of a team that sends women around the world as undercover operatives. Zoe Saldaña will play Joe, the station chief who is in charge of training the Lioness program's young recruits for on-the-ground missions. The new generation of operatives includes a passionate Marine named Cruz Manuelo (Locke & Key's Laysla De Oliveira), who hopes to take down a terrorist organization by befriending the daughter (1883's Stephanie Nur) of a billionaire thought to be funding the terrorists. Kidman stars as Kaitlyn Meade, a CIA senior supervisor who manages high-ranking government officials played by the likes of Morgan Freeman and Michael Kelly. Here, everything we know about the upcoming spy show, which is based on a real-life CIA program … one might even say it's so true.
What happens in the trailer?
In the two-minute clip, Joe manipulates secret agent Cruz into doing her bidding. "You have no family, you have no friends, you were abused — until you gave yourself to me," Joe says. "Now you have a purpose, and it is noble." Kaitlyn tells Joe to do what she thinks is best for the Lioness mission to thwart a terrorist attack. Things get messy when Kaitlyn realizes the mission has been compromised. In the previous teaser, they lay out the overall strategy — find wives and daughters of "high-value targets," place an operative near them, and then kill the target. But Cruz's (De Oliveira) cover is apparently jeopardized, judging by footage of tense meetings and a spur-of-the-moment drone strike. "So we're just going to pretend that a CIA quick reaction force did not execute a kill mission in front of CBS News," Freeman's character says. Blame Joe's bosses — Kaitlyn did ask if she's ready to play "outside the lines." And now she has to clean up the mess.
What about the first looks?
Vanity Fair shared our first glimpses of the show back in May. Once again, very intense vibes all around. The photos don't exactly offer a ton of extra plot information, but the crossed arms and pointed fingers certainly let us know that the stakes are high.
Who is in the Lioness cast?
Based on the teaser and first looks, Saldana, Kidman, and De Oliveira seem to lead the show as the representatives of different levels of the Lioness program. Freeman and Kelly will be playing government official, while Martin Donovan will star as Kidman's on-screen husband. According to Variety, the rest of the Lioness cast includes Jill Wagner, Dave Annable, LaMonica Garrett, James Jordan, Austin Hébert, Hannah Love Lanier, Jonah Wharton, Carla Mansour, and Adam Budron. Oh, and Britney Spears's husband, Sam Asghari, will play a character that Variety fittingly described as a womanizer.
What's the release date?
The first two episodes drop on July 23 on Paramount+. After this initial premiere, we'll get new episodes on Sundays.
Will there be a second season of Lioness?
There's been no official confirmation yet, but Saldaña did let slip to Vanity Fair that she was worried about signing onto a "multi-seasonal show" when Sheridan first approached her about Lioness. We hope Kidman's next AMC commercial won't cause any filming delays.
This post has been updated.