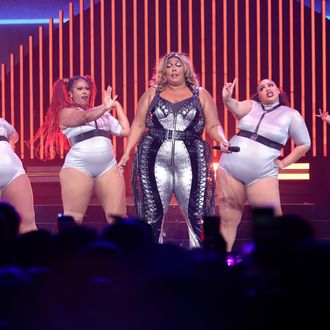 Lizzo.
Photo: Dave Simpson/WireImage
Three of Lizzo's former dancers have filed a lawsuit against her; her production company, Big Grrrl Big Touring, Inc. (BGBT); and dance captain Shirlene Quigley. The dancers, Arianna Davis, Crystal Williams, and Noelle Rodriguez, allege sexual, religious, and racial harassment, disability discrimination, assault, and false imprisonment, according to a press release. Following the announcement of the lawsuit on August 1, some of Lizzo's former collaborators have shared support for the accusers as well as their own experiences. At least six more collaborators have since shared allegations with lawyers. Below, what we know so far, including Lizzo's response.
What is Lizzo accused of in the lawsuit?
The dancers claim while on tour Lizzo invited them to a nude-performance club in Amsterdam and went "out of fear of losing their jobs." While there, the lawsuit claims that Lizzo "began leading a chant" to get Davis to touch one of the performer's breasts. "Ms. Davis said three times, loud enough for all to hear, 'I'm good,' expressing her desire not to touch the performer," the lawsuit states. "Davis eventually acquiesced, fearing it may harm her future on the team." Later that night, they allege Lizzo "badgered a member of her security team to get on stage where she pulled down his pants and hit him with whips." The next week, the plaintiffs say Lizzo took her dance team out without telling them they were going to a "nude cabaret bar" in Paris.
The lawsuit also alleges mistreatment from BGBT toward the dancers. "BGBT's management team consisted entirely of white Europeans who often accused the Black members of the dance team of being lazy, unprofessional, and having bad attitudes," the lawsuit states.
Additionally, Davis describes being fat-shamed by Lizzo and choreographer Tanisha Scott. "Lizzo and Ms. Scott pressed Ms. Davis for an explanation why she seemed less bubbly and vivacious than she did prior to the tour starting," the lawsuit says. "In professional dance, a dancer's weight gain is often seen as that dancer getting lazy or worse off as a performer. Lizzo and Ms. Scott's questions about Ms. Davis's commitment to the tour were thinly veiled concerns about Ms. Davis's weight gain, which Lizzo had previously called attention to after noticing it at the South by Southwest music festival." Davis was later fired for taping a meeting.
What are the additional allegations?
Lawyers representing three of Lizzo's former dancers said they are looking into new allegations against the pop star made by at least half a dozen people who said they toured with Lizzo or worked on her reality show, Lizzo's Watch Out for the Big Grrrls. "We have received at least six inquiries from other people with similar stories since we filed the complaint," the plaintiff's attorney, Ron Zambrano, said in a statement on August 8. "Noelle, Crystal and Arianna have bravely spoken out and shared their experiences, opening the door for others to feel empowered to do the same. Some of the claims we are reviewing involve allegations of a sexually charged environment and failure to pay employees and may be actionable, but it is too soon to say."
On September 21, former tour stylist Asha Daniels filed a lawsuit against Lizzo, BGBT, wardrobe manager Amanda Nomura, and tour manager Carlina Gugliotta. Per The Hollywood Reporter, the complaint describes an "unsafe, sexually charged workplace culture" that allegedly encouraged misconduct. Daniels claims that a backstage manager sent a graphic photo of male genitalia in a group chat with more than 30 people from the BGBT team. She also alleges that during the Amsterdam stop, Nomura and other supervisors discussed "hiring sex workers for lewd acts, attending sex shows, and buying hard drugs," and claims that she was pressured to join.
Daniels claims that Lizzo and her management team were aware of Nomura's conduct, which allegedly included verbally harassing, shoving, and threatening crew. According to the lawsuit, Daniels raised concerns to tour manager Carlina Gugliotta about Black dancers "being mocked, objectified, and denied accommodations," but was ignored and ultimately fired before the end of her contract. A representative for Lizzo called the lawsuit an "absurd publicity stunt," adding in a statement, "We will pay this as much attention as it deserves. None."
What is dance captain Shirlene Quigley accused of?
Davis and Williams first met as participants on Watch Out for the Big Grrrls, Lizzo's reality competition show, which found dancers for her team. While on the show, Quigley was a dance captain and a judge, and, the lawsuit alleges, often proselytizing her Christian beliefs. "Ms. Quigley discovered that Ms. Davis was a virgin and Ms. Davis's virginity became a topic of extreme importance to Ms. Quigley. In the months to follow, Ms. Quigley would routinely bring up Ms. Davis's virginity in conversations with Ms. Davis. Ms. Quigley even mentioned Ms. Davis's virginity in interviews she participated in and later posted to social media, broadcasting an intensely personal detail about Ms. Davis to the world." After Davis and Williams made the team, which Rodriguez was also on, Quigley allegedly continued proselytizing and "singled out Rodriguez as a 'non-believer.'"
Williams was also fired, purportedly due to budget cuts, leading Rodriguez to resign. "Lizzo aggressively approached Ms. Rodriguez, cracking her knuckles, balling her fists, and exclaiming, 'You're lucky. You're so fucking lucky!'" the lawsuit alleges. "Neither security nor management did anything to de-escalate the situation. As Lizzo left the room, she raised both her middle fingers and yelled, 'Bye, bitch!'"
Did Lizzo respond?
In a classic Notes app statement on August 3, Lizzo denied the allegations. "These last few days have been gut wrenchingly difficult and overwhelmingly disappointing," she wrote on her Instagram. "Usually I choose not to respond to false allegations but these are as unbelievable as they sound and too outrageous to not be addressed. These sensationalized stories are coming from former employees who have already publicly admitted that they were told their behavior on tour was inappropriate and unprofessional." She then focused on her relationship to standards, saying, "With passion comes hard work and high standards. Sometimes I have to make hard decisions but it's never my intention to make anyone feel uncomfortable or like they aren't valued as an important part of the team." She added: "I know what it feels like to be body shamed on a daily basis and would absolutely never criticize or terminate an employee because of their weight."
Other former employees support the lawsuit.
Sophia Nahli Allison, a documentarian who was hired to do a doc on Lizzo, shared her own experience on social media August 2. "In 2019, I traveled a bit with Lizzo to be the director of her documentary," she wrote on social media. "I walked away after about 2 weeks. I was treated with such disrespect by her. I witnessed how arrogant, self-centered, and unkind she is."
"For clarification, I'm not apart of the lawsuit — but this was very much my experience in my time there," Courtney Hollinquest, one of Lizzo's former dancers, wrote in an Instagram Story. "Big shoutout to the dancers who had the courage to bring this to light." Quinn Wilson, Lizzo's former creative director, backed up Hollinquest, reposting her story and adding: "i havent been a part of that world for around three years, for a reason. I very much applaude the dancers courage to bring this to light. And I grieve parts of my own experience. Id appreciate space to understand my feelings." Pop singer King Princess, Wilson's girlfriend, also backed up Wilson on Instagram. "My girlfriend is not only my family, she is a dedicated creative who tirelessly works to support the art/artists she believes in," she wrote. "I have watched her be underpaid, undervalued, and deeply mistreated first hand by people who have more fiscal and social power than her."
However, current employees have expressed their support for Lizzo.
Amid the misconduct allegations, the Big Grrrls and Big Boiiis thanked the singer for their positive experience on the road. "We had the time of our lives on The Special Tour," Lizzo's dance team wrote in a show of support posted on Instagram. "We have been so honored to share the stage with such amazing talent," and added that "the commitment to character and culture taking precedence over every movement and moment has been one of the greatest lessons and blessings that we could possibly ask for." The dancers went on to express appreciation for Lizzo breaking glass ceilings for members of the team, which includes people of diverse backgrounds and body types: "THANK YOU to Lizzo for shattering limitations and kicking in the door way for the Big Grrrl and Big Boiii Dancer to do what we love! You have created a platform where we have been able to parallel our Passion with a purpose! Not only for Us, but for Women and All people breaking Barriers."
The plaintiffs' attorney responded to the Instagram post on August 18, saying that the comments don't change anything about the allegations. "It's understandable that Lizzo's current employees would gush about her," attorney Ron Zambrano said in a statement. "They want to keep their jobs and maintain access to her global celebrity. But the comments change nothing about the allegations in the lawsuit. More potential plaintiffs sharing similar stories of abuse and harassment are coming forward on a regular basis. We've heard from at least ten former Lizzo employees since we filed the lawsuit and are reviewing their claims. Some of them will most certainly be actionable. Lizzo's job now is to try to do everything she can to limit the damage to her brand and save her career. Our job is to vigorously litigate this case on behalf of the plaintiffs based on the facts and we're confident the truth will prevail over the spin."
This story has been updated throughout.