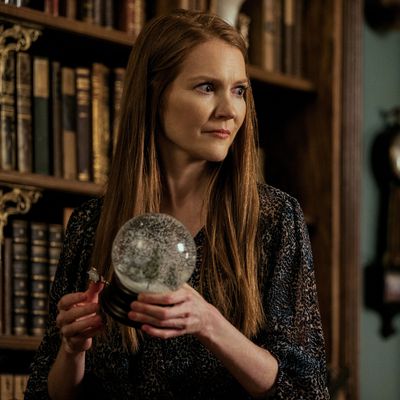 Photo: Amanda Matlovich/Netflix
The Lockes are back for the third and final season of Locke & Key, and it's an interesting season premiere because the last season's finale really could have been a series-ender, if not for the actual final scene. Think about it. Gabe/Dodge (Griffin Gluck/Laysla De Oliveira) had been defeated. Tyler (Connor Jessup) chose not to remember magic and left home to start his own life free from the Locke legacy. Kinsey (Emilia Jones) finally started a relationship with Scot (Petrice Jones). Duncan (Aaron Ashmore) was back to normal. Even the villainous Eden (Hallea Jones) was thrown down a well. Other than the threat of the monstrous Gideon (Kevin Durand) lurking in the shadows and the natural sadness that comes when someone like Tyler leaves home, there's less drama to start the season than last year's rapid-paced outing.
The lack of immediate threat allows the writers of "The Snow Globe" to be a little more playful than usual. The truth is that the Netflix version of Locke & Key has never felt quite as ambitious as the acclaimed graphic novels by Joe Hill and Gabriel Rodriguez it's based on — and certainly not as dark. Instead, it skews more YA than violent fantasy. It's more streamlined, too. Almost every time a key or object comes into this universe, it will find its way into the "main" plot, usually to save a member of the Locke family. A loftier, more expansive version of this program might allow for some keys that are just there for fun or subplots, almost like a stand-alone issue of the comic book.
At first, it feels like the actual snow globe that gives this season premiere its title might be just that as it doesn't feature Gideon, Dodge, or any other known threat. Sisters Ada (Diana Bentley) and Dorothy (Susanna Fournier) have apparently been trapped in a snow-globe replica of the Keyhouse estate for who knows how long. Do they eat? Do they sleep? They clearly spend time trying to escape and they find a way to knock the globe off its perch, the bookshelf in the winter study. Nina (Darby Stanchfield) thinks it's kind of cute and puts it back, but suspects magic because of course she does.
Meanwhile, Kinsey and Bode (Jackson Robert Scott) are shape-shifting into animals to play games outside, but Tyler's absence is felt as the Lockes plan Uncle Dunc's wedding to Brian (Milton Barnes). "I'd say we're doing pretty great," says Kinsey. "Things are finally kind of normal." Famous last words.
The sense that the Lockes aren't whole without Tyler continues into a scene in which Nina and Kinsey plan the seating at the wedding. Will Tyler really not come? He's been leaving Kinsey on read. Is something wrong? Has he forgotten them altogether? Or is this just typical young-man behavior — a guy breaking out on his own to forge his own identity? Given the chaos of the last two years, who could blame him?
As Tyler leaves Massachusetts, Ellie (Sherri Saum) comes home again. Freed from her entrapment that basically held her for all of season two, she is coming back to Matheson with her son Rufus (Coby Bird), but she seems a little hesitant. After all, as Doug (Jesse Camacho) jokes in a later scene, it is the "Home of Unexplained Massacres." It feels like Ellie carries some trauma about what happened both to her and with Lucas, who is now free to finally start his life after the action of the end of season two. She says that she has that icky feeling that comes after waking from a nightmare — a well-put, relatable sense that every viewer can identify with. Nina and Ellie talk about magic and keys, interestingly noting that they don't play favorites: "They want to be used — good, bad, they don't care." It's not the key that causes problems, it's the key-holder. It's also worth noting that Rufus wants to talk about magic and keys later, but Ellie shuts him down. How will her trauma and desire to move on impact the overall arc this season?
The season really gets going with a return to the snow globe and its residents. Bode is hearing whispering, a habit on this show that always reminds me that Locke & Key was co-created by Carlton Cuse, as the whispers sound like the voices in the early seasons of Lost. Bode finds another key calling to him and he pulls the freezer apart to find it. It's got a snowflake on it, and Mom knows where it goes! She turns the key in the base of the globe even though Bode suggests waiting for Kinsey. It doesn't seem like much is happening until Bode sees that it's snowing outside. And the sisters are marching up the property! They want the globe. Mom takes the key out and all the doors close on Bode, who is on the icy front lawn, now trapped in the snow globe. The sisters are not, and they take the key from Nina, which they can do because she's not a Locke by blood. They march off to find their demon boss Gideon, and Kinsey comes home to find the drama and arm herself (with keys).
Ada and Dorothy go to Gideon, who gives them their marching orders. They descend into the well and find the battered body of Eden — guess she really isn't coming back. In her pocket, they find a key that they give to Gideon. And, well, it looks like that may have been their entire plot purpose because the Lockes pretty handily defeat the twisted sisters in the next scene, trapped in a mirror world that looks like an even worse fate than the snow-globe one. The Lockes rescue Bode, and everything seems normal again for them, as they're unaware that Gideon is lurking out there with the Anywhere Key and trying to find more.
Finally, we see Tyler! He's hammering nails in Montana and flirting with a cute co-worker. It's a scene that's shortly followed by the return of Josh, too! Nina asks him to attend Duncan and Brian's wedding, and Josh says, "If there's an empty seat next to you, then I'm in." Hell of a good line, Josh. Tyler isn't as smooth in Montana, clearly still traumatized by the death of Jackie and not ready to date again. Will he return to Matheson? And will he bring that trauma with him?
It feels like the Lockes will need him as the final scene sees Gideon squeezing the key given to him by the sisters and watching the ground open in front of him, flashing an ominous blue light on his face. Uh-oh.
Unlocked Doors
• Were the sisters merely a device to give Gideon more power, or will we see them again? They were a different sort of villain presence than Gideon, and it might be nice to see them return.
• Like last season, it appears that the premiere is going to be the only one that gets the full-credit treatment. It's a great tone setter and a reminder of the excellent art from the source. Yes, a lot of people skip credits on Netflix, but it would be nice to have the option to settle into each episode with the full set.
• Sherri Saum (Ellie) and Kevin Durand (Gideon) have been upgraded to the opening credits this year. If they look familiar, that's because they've both been working steadily for ages. Saum started on the soap Sunset Beach back in the '90s and is probably best known for starring on The Fosters in the '10s. It's nice to see her get a bigger role in this final season. Durand is probably best known for leading FX's The Strain but has been in a ton of genre products, including Lost, Resident Evil: Retribution, X-Men Origins: Wolverine, and much more. He's a great character actor.