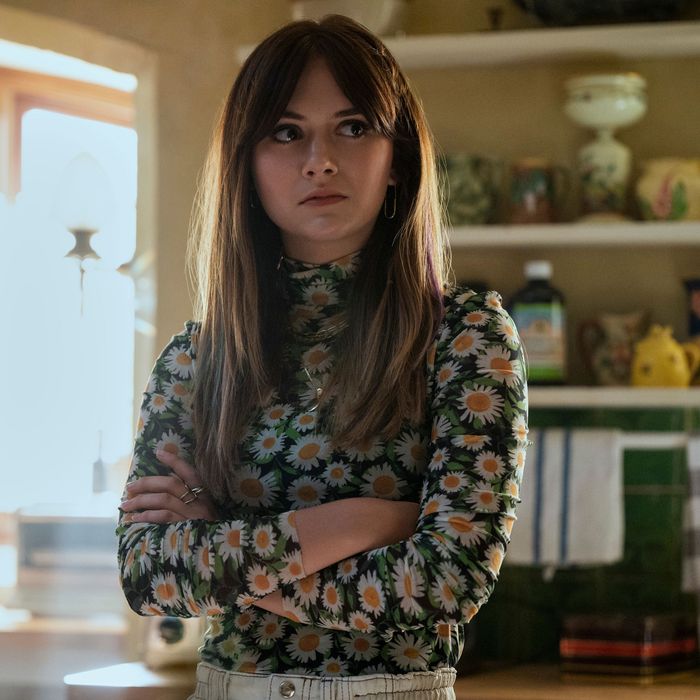 Photo: Amanda Matlovich/Netflix
The third episode of the final season of Locke & Key is such a prime example of this show's inconsistency. For the majority of its runtime, this chapter is one of the worst the show's ever done, whether it's soft-pedaling something as serious as alcoholism or presenting viewers with the weirdest and most cringe-inducing singalong on television this year. And then the episode redeems itself by killing the final scene, bringing back a performer and energy that the season desperately needs — sorry, Kevin Durand fans. Yes, Dodge is back! It comes out of nowhere, set up as just another Bode misadventure and concluding with something that seems likely to define the endgame of the entire show.
That little scamp Bode is hearing the whispers again as the episode opens. He finds a key on a Joker card and smiles. Is he now the Joker? Does he now live in a society? No, he just conveniently found the Harlequin Key so he can move the stash of magic keys from the cabinet that Gideon knows about to the indestructible chest.
Meanwhile, it looks like Kinsey and Bode have discovered the damage that's been done to the well house. As she says, it took "serious demon strength." After Bode leaves and Kinsey gets a reminder that Tyler doesn't remember most of, well, the history of the show, Kins happens to shine a flashlight to the bottom of the well and casts a light on the frozen corpse of Eden. She gasps. Not long after, the Savinis are all staring at poor Eden, wondering what to do now, which raises some practical questions, like isn't anyone looking for her? Didn't they set up an awful mother character for Eden last season? Yes, she was shallow, but would she really not contact anyone if her daughter went missing entirely?
With a slight diversion of an awkward funeral, the bulk of this episode centers Bode's emotional turmoil over the fact that there's a new man in his mother's life. He worries that Nina will forget about their dad, Rendell (Bill Heck). He starts by trying to find the Timeshift Key so he can go back and visit his father. Mom suggests using the Head Key instead so they can both share a memory in their past, and, boom, they're at a camping trip with Rendell.
Suddenly, the mood shifts when Nina spots herself pouring a drink around the campfire. It would probably be very difficult for a recovering alcoholic to literally see themselves drinking, but the writers here let down this episode-long arc about regret and even potential relapse by making it feel all a little too "TV movie." The scenes of Nina's addiction feel deeply manufactured and arguably too safe. Yes, it's traumatizing that Nina missed Kinsey's school concert and ruined a Christmas, but this show sometimes feels hesitant to go actually dark when it's confronting real demons, and Nina's alcoholism here feels too much like a cheap plot device — it's less a disease and more just a means distract Mom from the danger Bode is about to cause and give her something to do this episode that ends with an emotional Kinsey connection. It's just a really shallow representation of the regrets of a recovering alcoholic, and Nina deserves better as a character.
Back to "reality" as the weirdest sequence in the history of the show unfolds. The Savinis pull Eden from the well, casually tossing off a "She must have been pushed," as if murder is a daily occurrence in Matheson. And then they have a little send-off on a cliffside that ends with Kinsey starting to see "Hear You Me" by Jimmy Eat World a cappella, and then the rest of the theater kids sing along, getting louder as they go. No, seriously. What a strange, cringe-inducing scene that reeks of writers having no idea how to close the Eden loop and feeling like they needed to do something or risk "Barb"-ing a fan-favorite character. You can picture a writer having just seen CODA and coming up with the idea that Emilia Jones could do an emotional cover song send-up to say good-bye. And it all takes place over images of teens literally throwing a body in the ocean. It almost plays as camp, but not quite enough.
The episode spins its wheels a bit before getting to a key moment in the history museum between Josh and Tyler when the eldest Locke child spots a Revolutionary War buckle that looks familiar. Wasn't that on one of the cosplayers who broke into the house during the wedding? What feels like hours later, Josh gets a greater sense of what Tyler is talking about when Gideon arrives, looking for a compartment that held his weapons. They've been moved to the library, where the time traveler and his echoes go next to cause some chaos. His guns are still in a case there! Would they still work? Probably not. Knives, though, are timeless, especially the Rifleman one that Gideon grabs and uses to straight-up scalp a librarian. This show can be so shallow when it comes to stakes that it's a bit shocking when actual violence happens with a quick cut away to more important characters.
As Tyler is discovering that Kinsey never filed a police report about the Gideon incident, Bode is whining about Josh and complaining to his sister that Mom wouldn't let him spend more time with his dad … and then he finds the Timeshift Key. Tyler confronts Kinsey, who says she can't really be honest with him because it will break his brain, and then Kinsey invades mom's head and confirms that she will be her ally in the never-ending pursuit of sobriety.
And then things finally get fun and the episode is saved! Bode has the Timeshift Key and he goes to see his dad, but he miscalculates and ends up in the battle from the end of last season with Gabe, Eden, and the family. Suddenly, there are two Bodes in the scene. Is he gonna Butterfly Effect the crap out of everyone? Not exactly, but Duncan knows this is a bad situation, though it's worth noting that he says for the second time that the key doesn't work in a way that changes the past. He's not completely right.
Dodge senses an opportunity, turning back from Gabe into her original form and bringing the great Laysla De Oliveira back onto a show that really missed her villainous energy. Bode rambles about everything that's supposed to happen even as things are playing out differently than they did the first time. Dodge tries to get the Timeshift Key from Bode, chasing him down the hall. Just as the timer goes off, Bode wakes up in the foyer. It looks like he made it home safe. Boom. The hourglass on the clock turns again and Dodge emerges from around the corner, saying "Thanks for the ride." Aw yeah. Let's get Dodge back into this endgame. She hunts Bode through the house and the little scamp fakes dead by the ghost door — it backfires. Dodge pushes Bode through the door and then jumps through it herself. She then flings her ghost self back through the door but into Bode's body! Dodge gets to cosplay as the most annoying Locke! It's a major unexpected twist that will clearly change the entire arc of the series. Let's go!
Unlocked Doors
• Ellie doesn't have a very big part in this episode, but it seems worth mentioning her most passionate line: "I would never leave my son behind." Could that be foreshadowing for Ellie and Rufus's arc this season?
• Bill Heck! A moment of appreciation for a great character actor who should have a bigger fan base. If you don't know his work, go watch The Ballad of Buster Scruggs, I'm Your Woman, Ray Donovan, and The Old Man.
• Anyone else liking the shorter episodes? Whereas most chapters in the first two seasons pushed the full hour mark, these have all been under 50 minutes so far. Given how often Netflix series sag under the weight of a full ten hours, it's nice to see creators allowed to come in at the right length for their material instead of dragging it out.