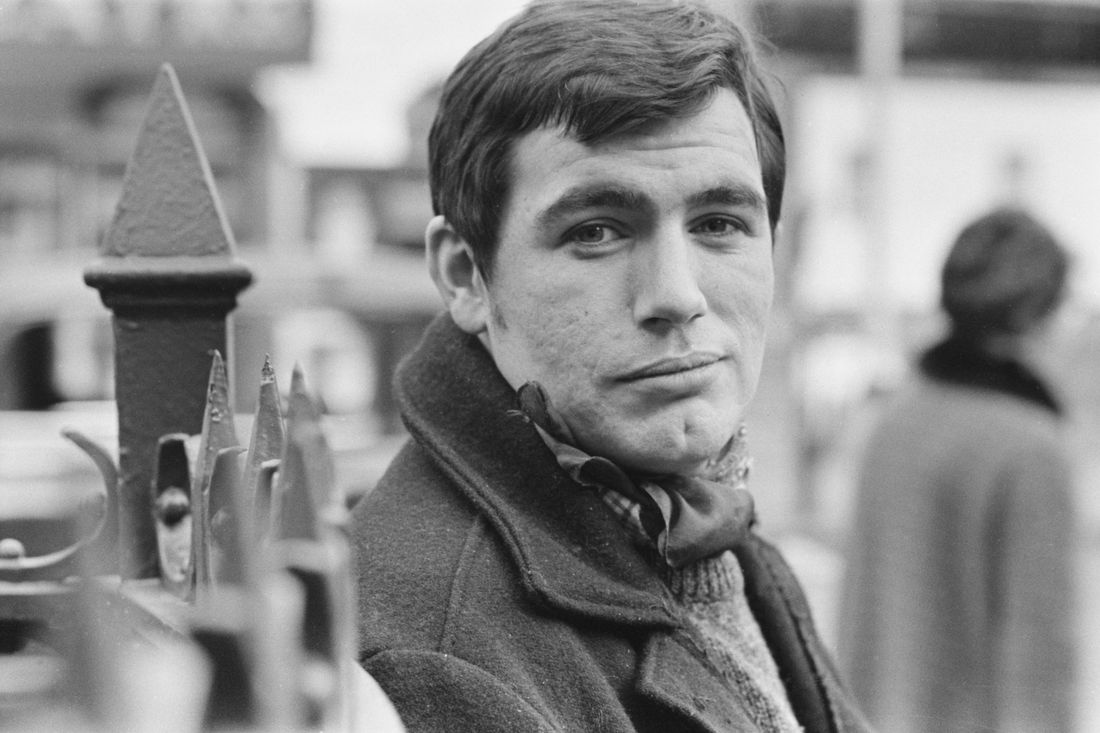 "I fuckin' love news": Logan Roy in Quebec, 1971.
Photo: Evening Standard/Getty Images
Spoilers for season four, episode three, of Succession, "Connor's Wedding."
Logan Roy — CEO, chairman, and founder of Waystar Royco, the glowing radioactive core of the American right-wing-media machine — left this earth as he lived it: at high speed, climate be damned, hurtling toward yet another scheme to make billions of dollars. His heart stopped as his jet raced to a meeting in Sweden, where he intended to conclude a deal with the tech mogul Lukas Mattson that would ensure the company's future but also take it out of the Roy family's hands. According to the family's statement earlier today, he was pronounced dead upon the plane's return to Teterboro Airport. Although his business faced the usual cable-news problems (aging audience, cord-cutting, an approach to news that is simultaneously elitist and dumbed down), Roy did not exit while caretaking a shrunken empire. Charles Foster Kane ended up physically diminished in his latter days, tended by nurses; Roy, despite a stroke in the summer of 2018 that briefly incapacitated him and provoked what was widely described as a shitshow at the fuck factory, was up on his feet at a charity event within months, slowed but asserting control. Until today, he was fully in charge of ATN — one report had him visiting the newsroom yesterday afternoon, walking the floor looking like (as one employee put it) "Santa Claus if he was a hit man" — and his choice, in recent months, to throw the network's backing tacitly behind Jeryd Mencken and his nationalist candidacy may yet make the difference in the upcoming presidential election.
Roy was not precisely what you'd call an intellectual, but he was well read, terrifyingly quick on the uptake, and firmly decisive thereafter. His philosophy, in many ways, boiled down to a phrase he was known to fall back on: "I fuckin' love news." He maintained an interest in history, reading deeply and collecting rare military medals. (Doing so could be interpreted either as homage or as irony, given that he never served.) Yet he was the type of man who actively refused to look back on his own life unless it served the future. He disliked speaking about his upbringing; a forthcoming book by the journalist Michele Pantsil may reveal more details, as she has reportedly been cultivating current and former employees of Waystar Royco. We do know Roy was born in extremely modest circumstances in Dundee, Scotland, probably in 1938, the youngest child after his siblings Ewan and Rose. His father died early in his life. When Logan was 4, his mother, Helen— no doubt fearing further Nazi bombing in the city — sent the three children to Quebec, where they were raised by their difficult and by some accounts abusive uncle Noah and his wife. Rose died young in an incident the cause of which has been covered up to this day. About the only thing we can say for certain is that Logan remained close enough to his mother to name the journalism school he endowed in his hometown for her.
Noah did, however, leave one legacy to his nephew: He ran a printshop and owned some billboards, and seeing that business seems to have kindled Roy's taste for getting the news out. Roy would sneer at the thought of a sentimental origin story from his childhood, however: "Rosebud is a dollar bill," he once said. "It's whatever it took to get me the fuck out of here." He certainly was not — unlike Nan Pierce or Arthur Sulzberger Jr. or Donald Graham or most of the other rivals with whom he was occasionally contrasted — born into wealth. That dollar bill first materialized in the newspaper business, and to this day Waystar continues to operate quite a few titles, including the flagship New York Globe, his adopted hometown's Journal Quebecoise, and the burgeoning Shenzhen Sun.
After establishing Royco in 1980 and expanding aggressively into the cable broadcasting business, the Pierces, especially, began to take notice of his tactics. In 1985, Royco expanded into theme parks and cruise ships with a division eventually named Brightstar, taking on significant debt to do so. A merger with the film studio Waystar in 1995 synergized nicely with those businesses, producing steady profits. Brightstar also, as readers of New York learned from our exposé, was embroiled in an enormous scandal in 2018 over alleged crimes aboard its ships, including sexual abuse and harassment under a Roy executive, Lester McClintock. The company's impending acquisition by the streaming network Gojo will presumably improve the overall business outlook much as the earlier Waystar merger did, bringing in IP and supplying a desperately needed new distribution channel.
But the giant legacy of Waystar Royco, of course, is the reach and power of its broadcast network ATN (along with its smaller siblings, NCN and LNN), created to provide consumers, as Roy once put it, "a bit of a laugh, some decent TV to watch, news that doesn't talk down to them." Or, as his deputy Cyd Peach described the audience, "highly, highly intelligent viewers, who are really tired of being patronized elsewhere by latte-sipping douchebags with hundred-dollar haircuts." What this meant was the manufacturing of cultural outrage, and ATN did it extremely well, with headlines like I SMILED AT HER BY THE PHOTOCOPIER: NOW I'M FACING CHEMICAL CASTRATION or GENDER FLUID ILLEGALS MAY BE ENTERING THE COUNTRY TWICE. You could almost laugh at such ginned-up high dudgeon, treating it as crabby-old-man farce not to be taken seriously — except that ATN so thoroughly pulled the Overton window to the right that it now functions as the mainstream media of the conservative movement and has been outflanked by its radical-right competitors. At a Washington event not long ago, Jeryd Mencken was overheard describing ATN's programming as a "pudding cup at 5 p.m. in the nursing home." And indeed, during that newsroom visit shortly before Roy's death, he announced an intense overhaul of its programming, demanding a new level of aggression and decrying journalistic complacency. That reimagining, if it takes place, will be unlikely to include his executive assistant Kerry Castellabate, whose cringey audition tape was reported on some gossip sites to have become an inside joke among the company's talent executives.
Roy was, at his death, still married to Marcia Roy, his elegant Lebanon-born third wife, although there were whispers about distance in their marriage. His first wife was long ago squirreled out of public view after her institutionalization until her death, but she bore him one son, Connor, who was interested in politics from a very young age and whose presidential run on a putatively intellectual nationalist platform topped out at one percent in the polls. (In a poignant turn, his wedding to the playwright Willa Ferreyra took place earlier today, abruptly reconfigured at midday from a showy event with a brass band to an understated one.) The British aristocrat Caroline Collingwood, a brittle, funny character whom he married in the early days of Royco's ascent, also survives him, as do their three children. Two are well known, especially Kendall Roy, Waystar Royco's former COO, whose high-profile news-conference blowup in the fall of 2019 and subsequent rumored substance-abuse problem made international news. Siobhan Roy's representation of the Pennsylvania Democrat Gil Eavis, who has a lefty voting record (not to mention his public criticism of ATN), must have caused strife at home, particularly after she married Tom Wambsgans, an executive at the network. The Roys' younger son, Roman, is also a high-level Waystar Royco executive. Logan Roy's estranged brother, Ewan — a major donor to environmental causes — survives him, as do Ewan's daughter and her formerly oviform son, Greg, known for his somewhat disgusting recent battle with Greenpeace.
What will happen to Waystar Royco next is an enormous question mark. (Although one thing is clear: Roy's personal, decades-long hunger to purchase Pierce Global Media, the highly respected center-left broadcaster, will never be fulfilled.) The sale of Waystar to Mattson's firm, Gojo, could close at any moment, or it could be derailed by Roy's death. Since his stroke, rumors have swirled about one or another of the children taking over, although none has been formally designated, and each has displayed one or another mark of personal frailty that may have silently disqualified them all. Other candidates have included Roy's longtime deputies Gerri Kellman and Frank Vernon, but of course that would mean relinquishing full family control. That tension should play out in the coming weeks, as the Gojo deal moves forward (or fails to) and we see a conclusion to this unconventional and highly complex plan of succession.