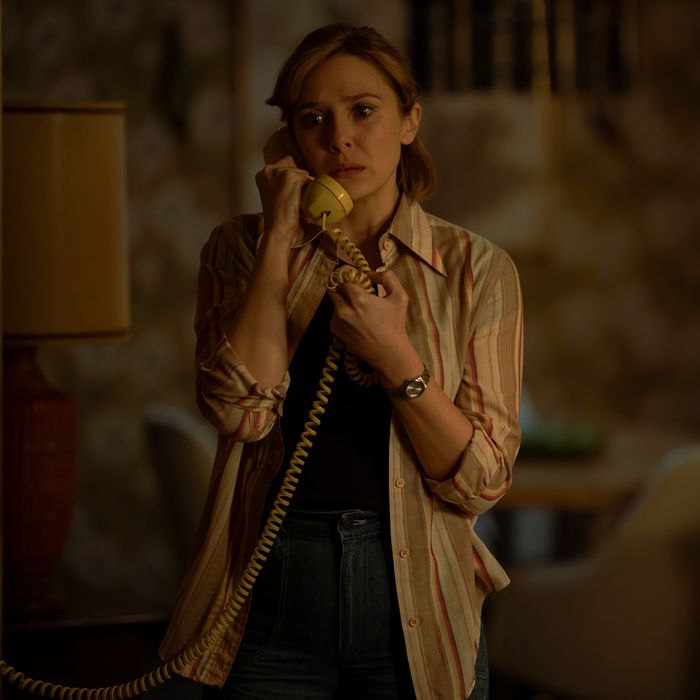 Photo: Jake Giles Netter/HBO/JAKE GILES NETTER
If the previous episode of Love & Death saw Candy absorbing her murder cleanup into other housewifely chores and errands, "The Arrest" has her clinging more tightly to the performance of domesticity, even as her usual stage appears to be falling apart. It starts to seem less like a public-image strategy than a coping one. While Pat and Sherry speak in hushed tones about the accusations making their way through the news media, Candy is in the other room vacuuming. After her arrest for Betty's murder becomes imminent, and her lawyer has to work out the bond arrangements before she turns herself in, Candy makes cookies. (I must admit: They look delicious.) And at the beginning of the episode, Candy is up around 6 a.m., absently asking Pat if the children are awake (they are not) as she cooks up a storm anyway.
It's not long before Candy is called back to the police station after Allan tells the cops more details about their affair. When Candy returns to the station ("Sure are a lot of folks here today"), the police lay their cards on the table, accusing her outright of the murder. Her seeming placidity in the face of these allegations is actually a long, slow-motion flinch.
Candy is rattled enough to seek legal counsel from Don Crowder (Tom Pelphrey), a local attorney she knows from church. At first, Don just gives her advice about gathering witnesses and taking a private polygraph — various ways she might help clear her name before charges are officially brought. Then, seeing that the case isn't going away, he offers some media training and tells Candy that he thinks she knows who did murder Betty: "I think you're covering up something." Specifically, he thinks that she might be covering for her ex-lover, Allan. Almost there, Don! Coaxing her to tell him everything, the lawyer gets a surprise confession. "She came at me," Candy says. "So I did it."
There's something unnerving about Candy coming clean, made chilling by Elizabeth Olsen's performance in the scene. She doesn't seem unburdened, exactly; there's no sense of catharsis, of finally letting go of what she's been covering up. The normal-housewife exterior remains; Candy doesn't burst into the tears that seem to be just below the surface, or directly express remorse, and even her claim of self-defense isn't as substantial as you'd expect. Olsen quivers but doesn't break. She maintains a breathy poise, with a self-possession vaguely reminiscent of the weird directness with which Candy proposed the affair in the first place. When Don suggests that she seek an attorney with more (which is to say, any) experience with a criminal trial, she holds firm in her trust of the guy from the church parking lot: "I want. You."
Olsen coils tighter as the episode goes on, taking Don's advice to not tell Pat, or anyone else, very much to heart. Much of "The Arrest" features Candy doing her best to compartmentalize as the people close to her react in bafflement and dismay — while still not harboring any belief that she could have committed this horrible crime. Even after Don knows the truth, he has Candy go to see a psychiatrist on his co-counsel's advice, privately wondering if she's got a split personality because she seems like "the most normal person on the planet!"
Don himself is developing a bit of a split personality, or at least a quick temper, as he stretches into his responsibilities as a criminal attorney. He goes from gently but firmly advising Candy to seek outside counsel to attempting to play hardball with the prosecution and provoking Judge Ryan (Bruce McGill), whom he repeatedly, compulsively refers to as a "fat fuck." He also flies off the handle as he attempts to stay ahead of media chatter that's depicting her as a "brazen, axe-wielding hussy." It's whiplash-inducing for the audience, too, watching Don abruptly switch from a background character to a hard-charging defender who orders Candy to lose weight to appear small and physically incapable of axe-swinging murder while brazenly admitting that he's not sure yet what his actual legal strategy will be. One he tries out when applying for a change of venue in court: repeatedly insulting the judge. (He keeps the "fat fuck" thing to himself, but just barely.) This material is certainly entertaining, but it sticks out at odd angles, like David E. Kelley is willing himself back into his prime legal-drama-as-farce network years; it's not as ridiculous as the endless witness interviews that framed the first season of Big Little Lies, but it feels somewhat at odds with Olsen's tremulous containment.
The container bursts at the psychiatrist's office, where the doctor places Candy into a kind of meditative trance and mentally transports her back to that fateful Friday the 13th. She screams about her apparent hatred of Betty, which (in her head, anyway) seems to have boiled over when the other woman threatened her physically. Candy then jumps back to herself at 4 years old, being shushed by her mother even as she's rushed through a hospital, bleeding from the head. With a cathartic scream and sob, her suburban suppression comes into greater focus (and the psychiatrist attempts to prove, with some subsequent suggestions, that she couldn't be faking it). She's diagnosed with "just snapped."
But what happens post-snap? The episode's final scene at the Montgomery dinner table doesn't portend healing or confrontation. Instead, there's more denial, with Candy expressing her relief to be home, issuing motherly guidance about eating Brussels sprouts, and reassuring her daughter that Alyssa — the daughter of the woman Candy murdered — can still come for sleepovers. The dinner is interrupted by a call from Don, informing Pat of the truth about Betty's murder. We don't hear how Don phrases it — only more of Candy's sunny reassurances that a "little trial" will result in her exoneration and a return to normal. That's become the biggest mystery of the series: how or if anyone could get anywhere approaching normal after all this.
Love Notes
• Soundtrack watch: The biggest musical moment of the episode is also one of its showiest acting showcases: On her way to Don's house for legal advice/media training, Candy bops with nervous determination to ABBA's "Take a Chance on Me," rhythmically moving her head and half-singing along as if to keep herself from screaming. The episode closes with "This Girl Is a Woman Now," by Gary Puckett and the Union Gap — not exactly an obscurity, but a nicely off-kilter cut for the moment.
• Speaking of the radio: Pat is unbelievably slow on the radio dial with his kids in the car, switching it away from disturbing news about their mom's arrest well after any damage will be done.
• The church's prominence in the story persists without flourishing: Don places a call to pastor Ron (Keir Gilchrist), urging him to communicate God's certainty over Candy's supposed innocence to the congregation, and former pastor Jackie Ponder (Elizabeth Marvel) reappears, only to have Candy lie to her face about the murder. Maybe this will be teased out in the last two episodes, but it feels like the church-community angle has been a little underdeveloped so far; it's hard to tell if those early moments are building to something more or just providing some sociological color.