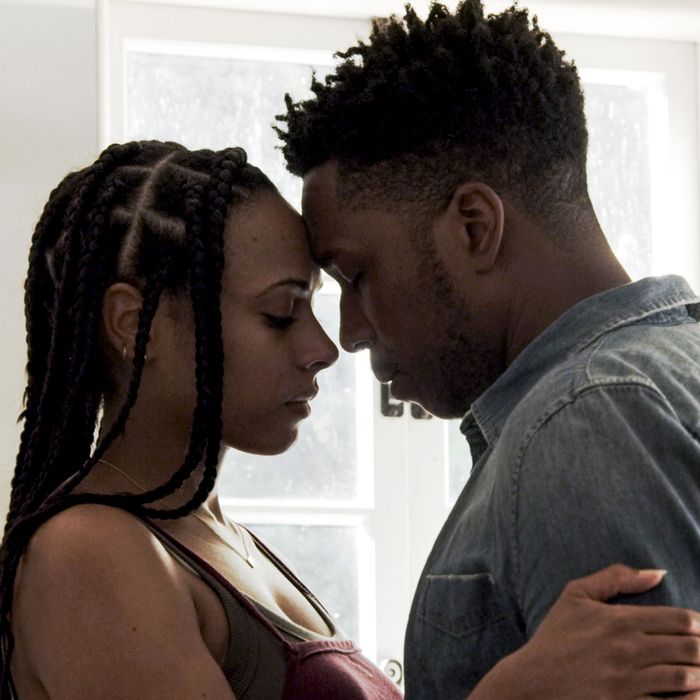 In
Love In the Time of Corona,
Leslie Odom Jr. and Nicolette Robinson play parents of a toddler acclimating to the experience of spending so much time together — and thinking about having a quarantine baby.
Photo: ABC
Some people began baking sourdough bread during the COVID-19 shutdown. Others binged on Tiger King. Joanna Johnson wrote and directed Love in the Time of Corona, a new four-part Freeform miniseries, premiering this weekend, that offers a snapshot of life in isolation for four interconnected Los Angeles couples during the coronavirus lockdown.
Shot remotely in the homes of its cast, the show stars Leslie Odom Jr. and Nicolette Robinson as parents of a toddler acclimating to the experience of spending so much time together — and thinking about having a quarantine baby; Tommy Dorfman and Rainey Qualley as best friends and roommates who decide to find each other virtual dates; Gil Bellows and Rya Kihlstedt as an estranged couple feigning happiness after their daughter (Ava Bellows) unexpectedly comes home; and L. Scott Caldwell as a retired teacher who can only connect with her husband virtually because he's in a nursing home.
Like so many Hollywood creatives whose lives abruptly stopped during the lockdown, Johnson was home with her wife, homeschooling their 14- and 10-year-old kids, and working remotely on her The Fosters spin-off Good Trouble, when her manager Robyn Meisinger began recounting tales of her virtual dating and other interesting quarantine stories she had been reading. She said the idea would make a good series. "I said, that sounds great. You should pitch it somewhere," Johnson recalls. "And she's like, No, I think you should do it."
Of course, filming a television show during a deadly pandemic in which masks and social distancing are advised comes with a whole host of production challenges. After getting a green light on May 1 — but before scripts were written — Johnson worked backward to first cast real-life couples, families, and friends quarantining together. (Though Dorfman actually lives with their husband in the house we see, Qualley is part of the couple's quarantine circle.) Still, an actor whose roommate tested positive had to be replaced at the last minute out of an abundance of caution. (Johnson declines to say which part was recast.)
Odom says safety was just one concern for his family, which also includes the couple's 3-year-old daughter Lucy. There was also the matter of their house "not being camera-ready," Robinson admits, noting it "took a lot of work" to make it presentable. "But once we decided to do it, we [thought] okay, this will either be incredibly challenging and scary and awful, and we'll regret having our home documented. Or it will really force us to get our s-h-i-t together," she says laughing.
Surprisingly, the biggest issue for the pair was their desire to have their characters' lives be more reflective of their personal experience. "We were kind of in the thick of the Black Lives Matter movement," Robinson says. "We wanted to use the opportunity to be honest," Odom adds. "We figured if there was a conversation happening in our house, they were probably happening everywhere. We're trying to share a little bit of what we've been through in order to make [people] feel a little less alone … and a little bit more hopeful." So the story of a married couple adjusting to being housebound, contemplating another baby, and watching the video of Georgia jogger Ahmaud Arbery's shooting, all mirror what really transpired in the Odom-Robinson home.
Filming over two-plus weeks in July, Johnson worked with a crew of seven who were tested before spending three days at each location. The showrunner monitored scenes from a van parked outside the actors' homes, and gave direction via walkie-talkie, which Robinson found "strangely easy and great." One crew member was allowed inside to set up cameras that were sometimes placed on dollies and controlled remotely by the director of photography, Marco Fargnoli, who worked in a tent outside. Each acting pod enlisted a safe friend or family member to be a production assistant. (Robinson's sister, a licensed therapist, was such a star she was offered additional work.) When a PA couldn't make camera adjustments, a masked Fargnoli entered the homes to make changes and wiped everything down. If a camera needed reloading or new batteries, the PA rolled it out the front door, and a crew member did the work, wiped it down, and sent it back in.
The actors all did their own hair and makeup, and their wardrobe was mostly from their closets — so that artfully shredded sweater and strand of pearls Dorfman wears on a virtual date are all theirs. Styling assists came from costume designer Deena Appel via Zoom calls. And in an acknowledgement of how our relationship with video platforms has changed, FaceTime calls and TikTok videos were all incorporated into the series after Fargnoli Velcroed iPhones onto computers situated next to cameras.
"There was a degree of risk, but also a degree of experimentation, which means it might not work," Odom says. "So that was a little exciting … It was like a little independent film that everybody really cared about. We were just lovin' up on this thing, and we just all wanted it to be the best thing it could be."
The series, which airs on August 22 and 23, originally ended with a tag of the cast making protest signs for Black Lives Matter and reciting the names of the men and women recently killed by police. But Johnson says it was ultimately decided that didn't fit, and felt "a little bit like we were trying to jump onto something." As for whether Odom and Robinson decided to have that quarantine baby, Odom says discussions are "ongoing."