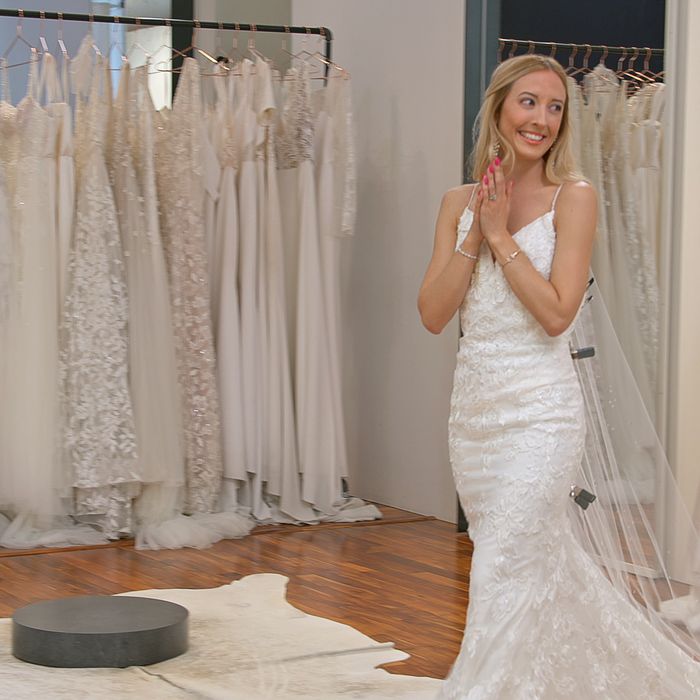 Photo: COURTESY OF NETFLIX
Is anyone else starting to get that funny feeling known as post–Love Is Blind depression? When this series is airing, life seems to be sharper, glitzier, and full of snap judgments and gilded wineglasses. While it may never recoup the shock factor of its first season, the Seattle iteration proved to Love Is Blind's naysayers that (a) the show isn't necessarily going downhill after a depressing third season and (b) Laurens and Camerons still exist in the real world, just waiting to be snapped up by the pods. (Get on it, Minneapolis, Denver, and D.C.) Of course, all this optimism could be moot after what's sure to be a chaotic live reunion on Sunday. Let's get into it.
KWAME SAYS I DO!!!!! This is the biggest shock of the week. Bigger than the Eras Tour divorce. Bigger than that Succession moment. (Okay, maybe not that big.) What happened to his beloved Portland running trail? His love of travel? His disapproving mother? Barbara, apparently. Whatever thinly veiled threat she whispered to Kwame behind closed doors clearly worked because now he and Chelsea are legally married. They have a little glass of Champagne. Kwame's clearly in shock because all he can say is "Amazing!" He's right: We are certainly amazed.
We're quickly moving on to Paul and Micah's wedding. We've chucked Chelsea's pink flowers in the trash to make room for Micah's greenery and bachelorette-style balloons. But this entire wedding already appears to be an exercise in futility, as Micah details her and Paul's differences to her friends and family; they're made very apparent by the fact that she's wearing white fluffy sandals to her wedding day while Paul's still sporting his hiking socks. Shelby is still there, doing Wiccan spells to make sure the happy couple trip down the aisle or worse. However, the more uneasy member of this couple is actually Paul, who literally begins a group poll to see whether or not he should get married. He's still looking at this decision analytically, repeatedly noting he doesn't have the right tools to decide whether or not he should marry Micah. I don't know why he expected a healthy relationship timeline from a Netflix reality show.
It's too late for Paul to make a linear regression of their relationship because it's time for the wedding! I can forgive Micah for her dress needing to be tailored, given the fact that they had something like 48 hours in between shopping and the ceremony; what I cannot forgive, however, is her bra strap sticking out of her backless dress. That was Shelby's witchcraft at work. When it's Micah's turn to say "I do," she turns the decision back around on Paul, declaring that she wants him to answer first. Though this is certainly surprising, this moment is somewhat dulled because we saw it in, like, three separate previews first. Now, there are three different ways to interpret this decision, some more charitable than others: (a) Micah truly second-guessed Paul's intentions and couldn't feel confident without knowing his decision; (b) she was afraid of being embarrassed if she said "I do" before he said "I don't"; (c) she didn't want to further slide into villain territory by saying no first. Giving Micah the benefit of the doubt, I'm going to go with explanations (a) or (b); as we've seen more of Micah, she clearly is easily swayed by big personalities and has genuinely shared some sweet moments with Paul. But this isn't the prisoner's dilemma—it's a real, legally-binding wedding. If Paul wasn't confident in the relationship before, his future wife handing him a ticking time bomb at the altar couldn't help. Naturally, he says "I don't"; Micah runs out of the room in tears.
And what, you may be asking, is the reaction from Shelby, Micah's so-called "best friend"? That's right: SHE'S SMILING. SHE'S RELIEVED. THAT'S WHAT SHE WANTED TO HAPPEN. What the hell? Has Micah made a pact with the devil only to befriend horrible people? In Shelby's mind, she and Micah were going to settle down at the end of a cul-de-sac with matching neckbearded men, and Paul clearly didn't fit into that plan. But why would you laugh when your friend just got dumped at the altar? Only we, the loyal Love Is Blind public, can make fun of Micah!!!!
As the guests leave, wondering why they traveled two hours for all this, Paul tries to comfort Micah. This is the last thing she wants right now, even if her friends are horrible people who don't deserve to be in that bridal suite, either. He then explains his reasoning for saying "I don't," saying that, in addition to the mismatch in feelings, he couldn't see Micah as a "nurturing" mother. Oooooof. That was uncalled for, especially considering Micah and his own mom are basically the same person. I can't believe this show has me feeling somewhat bad for her. Maybe Micah's apology tour is working!
Brett and Tiffany's wedding is next, and was there ever any thought that they weren't going to get married? (No matter what last week's preview tried to convince us.) Both of them are over the moon. Brett's in his good wedding sneakers. Tiffany's crying about how much she loves him. Brett finally meets Tiffany's father and opens up about his mother's mental condition. I'm sorry, how are we still learning new trauma about Brett's family on the day of his wedding? This man is truly an onion.
But, friends. The next layer is that Brett is secretly a groomzilla. Because they have, like, six hours in between their fittings and their weddings, his pants are too big, and he's pissed. Dude, just have another wedding where you can pick out everything! Tiffany's been calling you Bougie Brett for a reason! But nope, he will not even get fake-married in ill-fitting trousers. Luckily, the producers have some Italian nonna on standby who fixes the pants half an hour before the wedding, no problem. She's been training her whole life for this. Throw her Micah's dress next!
The rest of their wedding is a charmed masterpiece. Brett cries when he sees Tiffany walking down the aisle. It starts thundering right as they say their vows. Marshall's here to cheer them on. The only tough break comes when the officiant, who has the cadence of a motivational speaker, mentions Tiffany falling asleep in the pods. Why'd he have to bring that up on her special day? Nevertheless, they both say "I do." Tiffany's veil falls off during their first kiss. They needed Nonna back.
Brett and Tiffany run off to consummate the marriage in the bridal suite. During their confessional, Tiffany looks so blissed out that she can barely even speak. I'm wildly happy for them and vaguely turned on.
Finally, it's time for Bliss and Zack's wedding. This ceremony is being held together by two things: Lee Ann Womack and owls. Zack is determined to go through with the wedding because he's not willing to propose to someone for the third time. Bliss is the only question mark here: Her dad has not warmed up to Zack anymore in the past two days. He literally tells Bliss to "never settle" right before she walks down the aisle. But Bliss barely blinks at this. She's clearly had a lot of therapy to deal with her father and can easily shut off the part of her brain that comprehends stupid comments. I now understand how she took on Irina in the pods.
At the altar, Zack, of course, launches into one of his classic speeches about how he only knew he loved Bliss until he dumped her. He is determined to turn the week he and Ralphie were held hostage in a Mexican hotel room into something positive. But, shockingly, Bliss says yes, too!!! And her dad even looks … happy?? What is happening here? What kind of Wiccan magic did Shelby put over this glass tent? Of course, they have their first dance to "I Hope You Dance." This is why we've been hearing that especially-generic music this season; the Love Is Blind producers were saving their budget for this moment. And, as the camera flashes over the happy couples, they make sure to utilize every copyrighted second.
So, as it does every season, one question remains: Is love blind? Season four might have me believing again — three married couples are pretty good by LIB standards, and the other ones weren't broken up by looks but rather by the quick timeline and/or general insanity. Of course, this may all come crashing down on Sunday. All I really know is that Netflix should green-light this series for as long as it takes to solve this eternal quandary. See you in Tampa? Maybe?
Raise a Gold Cup To:
• Was that Amber in the audience of Zack and Bliss's wedding, or just another brunette?
• Micah's an only child. It explains a lot.
• If it wasn't clear that this is set in the Pacific Northwest, Bliss rolls up to her wedding in white Birkenstocks.
• When the officiant asks Bliss's parents who's giving her away, her mom answers "We do" while her dad says "I do." Oof.
• Paul's dad should narrate audiobooks. Or Calm-app meditations.