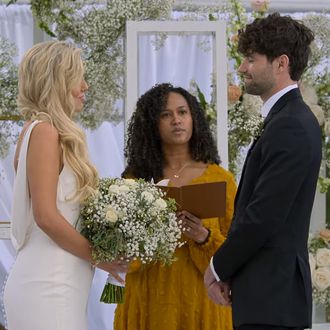 Seattle's finest most available finally said "I do" (or "I don't," if you're Paul). In the season-four finale of Netflix's Love Is Blind, four couples made it to the clear tent, but only three went through with their holy matrimonies: Brett and Tiffany (duh), Bliss and Zack (surprising but also, I guess, not), and Kwame and Chelsea (not gonna lie, that one shocked me). With Marshall and Jackie ancient history (minus the former's cameo at Brett and Tiff's nuptials), it was Micah's turn on the chopping block after Paul, for the sake of science, said "no" at the altar. And don't forget about Irina! She still counts. So how does Netflix top the wildest season of its unhinged social experiment yet? With a live reunion, of course! Judging by (non-live) LIB reunions past, hosts Nick and Vanessa Lachey are down to ask every awkward question that comes to mind. We figured we'd help them prep ahead of time with our own list of questions. The people demand answers!
Brett and Tiffany
Fan favorites Brett and Tiffany don't have much to answer for after their happily ever after, but we do need to talk about the pants. And the mid-wedding sex?
• Did someone (a producer) tamper with Brett's pants before the wedding?
• Did they really have sex mid-reception?
• Do they have names picked for their future children?
• Is Brett's entire sneaker collection Nike?
Micah and Paul
The only couple that failed to seal the deal went on to break up in such a cold, strange manner that I'm now questioning their relationship and motives for going on the show. Also, Paul's food Instagram? Let's talk about it.
• Have they been in contact since the wedding?
• Was Micah always going to ask Paul to answer first?
• Did Micah only join the show to pursue an influencer career?
• Is Paul actually a good cook?
• Where does Micah even live?
• Generally, what is Paul's deal?
• Are Chelsea and Micah actually friends?
• Are Shelby and Micah actually friends?
Bliss and Zack
Our unlikely owl lovers redefined the series' possibilities by being the first couple to date, get engaged, and marry after Mexico. I have about 15 questions about Zack's beard, but I kept it to one.
• Is Bliss's dad warming up to Zack?
• Can Bliss tell us more about being a fisherwoman?
• How did Zack celebrate her birthday?
• How much of their wedding budget did the licensing rights for "I Hope You Dance" cut into?
• Is love still blind now that Zack has that beard?
Chelsea and Kwame
Although Kwame expressed doubts right up to the last minute, he and Chelsea had me fully convinced they're soulmates by the end of their reception — and that their edit didn't tell viewers the whole story.
• Were Chelsea and Kwame's fights real?
• Does Kwame's mom regret not going to the wedding?
• Has Kwame's sister seen the rumors that she's a hired actress?
Marshall and Jackie
What a ride! This season has been the definition of chaotic for these two, and I doubt the reunion will make their hostile situation better.
• What are Jackie's receipts?
• Did Marshall boss up?
• Where's Jackie's ring?
• Will Josh crash the reunion?
• Is Jackie dating Josh?
• Can the Lacheys handle a Marshall-Jackie-Josh confrontation?
• Was Marshall just playing the long game to get on The Bachelor?
Irina
Lotta loose ends with this one!
• Has Irina spoken to Paul?
• Has Irina spoken to Zach?
• Has Irina spoken to Bliss?
• Has Irina spoken to Micah?
• Actually, can Irina just release her call logs?
Bonus Questions
Just a few general queries that need to be answered, directly or indirectly.
• How often does the cast hang out now?
• Who will be the first to walk offstage during the reunion?
• Which couple will break up first?
• How tall is Nick Lachey?