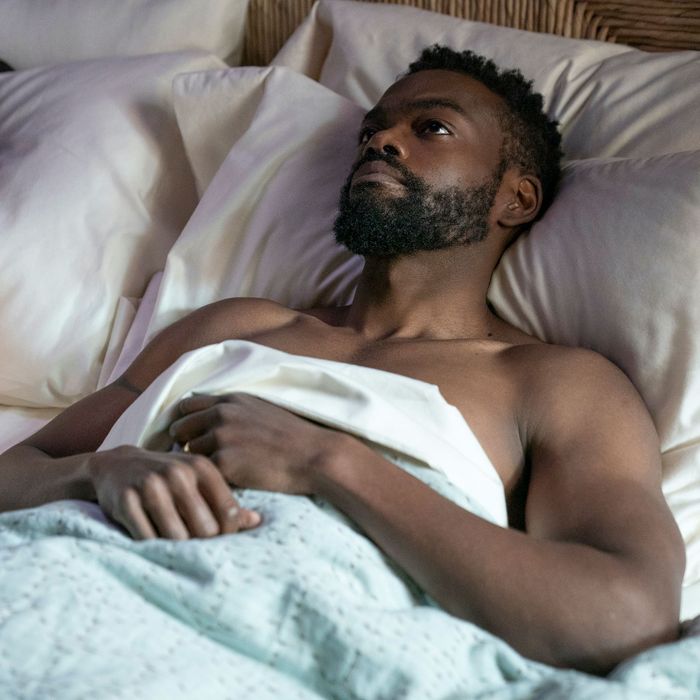 Photo: Sarah Shatz/HBO Max
I'll be honest; I pretty much forgot that Love Life existed until this new season rolled around. The joy of a romantic comedy is seeing two hot people get together — Love Life provides that in spades — so there's nothing really wrong with this anthology series necessarily, but it's so inoffensive and slight that it never really left a mark. That being said, casting William Jackson Harper as a romantic lead is a genius move — so here we are!
Since this is an anthology, you can jump straight into the new season without exhaustive knowledge of what happened to Darby (Anna Kendrick) the last time we met her. All you really need to know is that she was, at one point, married to chef and frivolous spender Magnus and then got divorced. This leads us to the season opener at her hasty wedding, where she passes over the reins to Marcus, who's too occupied with his job as a book editor to fully engage with the nuptial celebrations.
While Darby's season followed its earnest protagonist from the beginning of her first relationship to her last, Marcus's story shifts its time frame a little so that we meet him at the tail end of his marriage to Emily (Maya Kazan), whom he initially started dating out of a desire to rebel against his parents. (Red flag?) They're the kind of domesticated couple who scratch each other's backs, pencil in sex on the calendar, and fall asleep together to the droning of a podcast interview — so content that everything operates like clockwork.
That all changes at Darby's wedding, where Marcus meets Mia (the wonderful Jessica Williams). They joke about how uncomfortable it is to be the only two Black people at the party and exchange emails when Marcus offers to send her an unpublished manuscript. ("This sci-fi thing set in this alternate universe where Haiti was never colonized," he says.) But even their small talk has a flirtatious tone to it. Still, he's married, and she has a boyfriend, so to Marcus, this is just a harmless friendship. Let the dread start now.
The unsatisfying rut that Marcus has found himself in isn't exclusive to his marriage but extends to his book-editing job too, where he's unable to get the authors he's passionate about taken on. Speaking of, he has a disastrous meeting with Trae Lang, a steadfast Columbia grad (and the author of the book Marcus recommended to Mia), who rejects Marcus's fist bump for a firm handshake. Marcus wants to help him refine his epic novel, but Trae doesn't want his work to be translated for a white readership. "I'm not dumb; I know what 'refined' is code for," he says. Confident in his vision, he doesn't want his voice to be diluted in any way, not in the least by an editor he refers to as Barack (derogatory).
One of the problems with Love Life's first season was that it was so narrowed in on Darby's relationships that she wasn't afforded much of a life outside of the dating world. (The latter episodes focusing on her fractured family corrected this, but they came a little too late for me.) That isn't so much of an issue here, but Trae casually dismantling Marcus's entire personality in one meeting ends up filtering back into his marriage, as being challenged at his (usually) uneventful job leads him to reevaluate his relationship with Emily and himself. Is his life too monotonous? Is he boring? When he asks his wife which Black celebrity he's most like, she gives just about the worst answer: Obama. "He's so smart and, like, poised," she explains. "He unifies people, you know? He never gets angry; he always keeps his cool." It's supposed to be complimentary, but to Marcus, the comparison speaks to how horrifyingly dull he's become.
At the very beginning, an omnipresent narrator (voiced by Keith David) informs us that Marcus's "impulses were often shrouded in a fog of self-consciousness," which comes to fruition in his infatuation with Mia. He's so concerned with how he appears that he takes the most destructive path to reinvigorate his life. Some moments threaten to cross the line, such as a not-date date at MoMA, where they candidly open up about their (titular) love lives. Mia wonders if Marcus has ever had a long-term relationship with a Black woman, to which he replies that he has only ever been with Emily. "I guess deep down I was always afraid of fucking it up with them," he confesses. "Would you fuck things up with me?" she asks, fully aware of everything that question is loaded with. Marcus exhibits all the signs of having an affair despite not consummating it, and when he returns home, he says that he's "just tired," but Emily can sense that "tired" encompasses more than just sleepiness. The dejection in her face as she turns off the bedroom lights is particularly heartbreaking: Marcus is so infatuated with his emotional affair that he's blinded from the incoming fallout.
It takes meeting Mia's boyfriend (former NBA player Amar'e Stoudemire) to finally trigger the overdue realization that he has taken this too far. (There's just something about a basketball player towering over you that makes him realize how much of a nonpresence he is in her life, I suppose.) It's time to patch things up with Emily, but it's too late. Sitting at home with an iPad on her lap, his tearful, stricken wife has deceit laid out in front of her in excruciating detail. "I don't think she understands me," she reads aloud. "You understand me better than my own wife."
Love Bites
• One of my biggest screen pet peeves is when a text screen is shown as a new conversation, as if these two people have never texted each other before. So imagine my delight when you could actually see Marcus's previous texts with Mia! (Evidently, they text each other far more often than what we're privy to.) Staying accurate to phone interfaces is a useful storytelling device, and I don't understand why more shows don't do this.
• The fun thing about the scope of this show is that you get to see some 2010s nostalgia. Last season it was the fashion, with tight skinny jeans and Fjallraven backpacks, and here we have a chilling reference to the YouTuber-memoir boom. At Darby's wedding, Marcus is busy editing an influencer's book — "Influencee to Influencer in 140 Easy Steps (Really 141 Steps But Who's Counting *winky face emoji*)."
• Sure, he's not a seven-foot-tall basketball player, but this show greatly underestimates how thirsty the internet is for William Jackson Harper.
• I'm looking forward to seeing more of Marcus's best friend, Yogi, whose life is well-adjusted on an aspirational level but chaotic enough that he'll accidentally give his kid a sippy cup with vodka.
• I know this is an anthology, so we'll never see Darby or her past boyfriends again, but, ugh, I miss Jin Ha.
• With Keith David taking over narration duties, we must bid farewell to Lesley Manville, who presided over last season. Love Life tends to borrow quite a bit from (500) Days of Summer in the way that it tries to add gravitas to a pretty average relationship, but David's voice is like ASMR, so I can't complain.