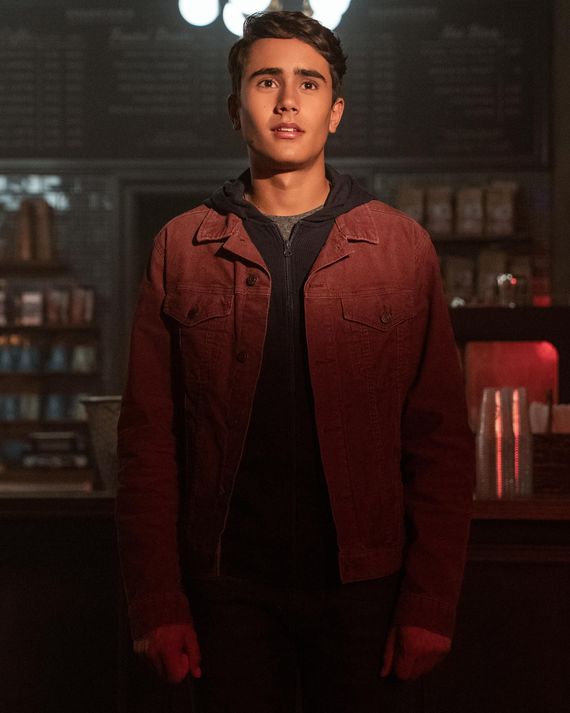 Photo: Gilles Mingasson/Hulu
The first episode of Love, Victor, the TV spinoff to Love, Simon, the pioneering yet conservative first major studio film about a gay teen's coming out, ends with the show's lead character sending a furious DM to Simon: "Screw you." The 2018 movie presented Simon as a teen Everyman, at least in the terms a movie studio might accept: He's white, with wealthy, progressive suburban parents who quickly accept his sexuality. Victor, purposefully, isn't. He's from a Colombian–Puerto Rican family, with religious parents who don't think kindly of gay people. When his family moves from Texas to Atlanta, landing Victor in the high school where Simon just graduated, a school administrator suggests Simon's story might be inspiring. Victor responds like he's someone who saw Love, Simon and got fed up. "Screw you for having the world's most perfect, accepting parents, the world's most supportive friends," he writes when he messages Simon out of the blue. "My story is nothing like yours."
There is a lot of Love, Victor's story that is like Love, Simon's. The show is full of charismatic, symmetrical teenagers with swoopy hair and has its share of swoony rom-com moments set to upbeat pop music. But it also tries to push its story line beyond Simon's charmed suburban white experience, considering the barriers that race, class, and religion might pose to a coming-out story. According to series creators Isaac Aptaker and Elizabeth Berger, who also wrote the script for the movie, this was the whole point of writing a spinoff in the first place. "The one piece of feedback we heard consistently was that Simon's story was one particular version of coming out. It was, intentionally, a wish-fulfillment, charmed version of a coming-out story," Aptaker said. "A lot of people said it was great to see that glossy version, but wished there was a version that looked a little more like mine, or that was a little bit messier, or that told the story of a character who had the odds a little bit more stacked against him."
As a consequence of that impulse, Love, Victor gets a little more adult — in the kind of ways Hollywood studios consider the term "adult" — than the movie. There are plots about sex and drinking and a story line about adultery involving Victor's parents. Those elements ended up being the reason the show moved from Disney+, the streaming service for which it was originally written and shot, to Hulu, where it premieres today. That move generated a lot of headlines and was a sign that Disney+, which had originally commissioned shows like Love, Victor and High Fidelity and a revival of Lizzie McGuire, was doubling down on content specifically targeted at younger audiences and families, but it came with the stinging implication Disney didn't consider a story about a gay teenager coming out to be appropriate for families.
Aptaker and Berger denied that Disney was skittish about telling a coming-out story on its premiere streaming platform, pointing to the fact that there are gay secondary characters in Disney+'s High School Musical show. To them, it was a "collective decision" to move Love, Victor to Hulu after they wrapped shooting, because they wanted their teenage characters to act like actual teenagers. "We wanted to do a show where 16-year-olds were behaving like 16-year-olds do," Aptaker said. "It's not necessarily something that you want your 8-year-old to absorb." Or, as Berger put it: "We wanted to make sure we were telling the story as authentically as possible, so we had to forge ahead with telling the story that we really believed in."
Soon after Love, Simon came out in 2018, Aptaker and Berger heard that the producers were interested in making a TV spinoff but decided early on that they didn't want to make another story about Simon. After consulting with Nick Robinson, who played Simon in the movie, they decided they should move on to a different character. After Simon first gets DMs from Victor, he starts responding with helpful missives about whatever problem Victor's facing in each episode in a dynamic that's like a Gen-Z update of Janeane Garofalo's voice memos in Felicity. (Robinson was filming his FX show A Teacher while Love, Victor was shooting and recorded the initial tracks of his responses on his iPhone.) "Nick felt passionately that Simon's story had been told and wanted to be part of paying it forward and be in service of telling Victor's story," Berger said.
Aptaker and Berger, who also happen to be showrunners on This Is Us, came up with the character of Victor based on the feedback they got from the movie. "It was exciting to say, What can we do differently?" Berger said. "It felt exciting to delve into the Latinx world, and into representation on that front, and to see different kinds of parents, equally loving, but coming from a different perspective. This was the version of that story that felt worthwhile to explore." They assembled a writers' room with Latinx and LGBTQ+ writers (a Hulu representative told Vulture the show was unable to share exact figures, but "we have a number of Latinx writers and many LGBTQ+"). Because they "wanted to make the show feel current," according to Aptaker, they brought Gay-Straight Alliance members from local L.A. high schools to discuss the show's plot. "We were wondering if a show like this about a kid struggling to come out would still be relevant," Aptaker said. "But then we would ask them, 'What if two guys came into the cafeteria one day holding hands?' And they were like, 'That has never happened.'"
After an extensive audition process, the show cast 20-year-old actor Michael Cimino as Victor because, as Aptaker put it, "Michael just has the face where you're instantly rooting for him." Cimino, who is Puerto Rican, felt that it was important to "represent my friends and my family's struggle on the screen." To him, that meant trying to depict a family that is "huggy and loving" like his own. "An accurate description," he said. "Not like, These Latino people are so loud." Cimino also took cues from his cousin's coming-out story to understand what it would mean to come out in a Latinx community. "Hearing how terrified he was, for someone I think is so brave, that was a real driving force for me," he said.
Cimino currently identifies as straight and has dated women, but he hesitates to put himself in a box. "For me, sexuality is fluid, and keeping your mind open to whatever is possible is key to living a happy life," he said. In casting him, Love, Victor replicated a pattern where publicly straight actors are often cast in high-profile roles as gay characters (as is the case with Robinson himself), to the frustration of gay actors who rarely get the same platform. Of course, straight actors can give great performances as gay characters, especially if there's a queer perspective behind the camera — see the recent examples of Call Me by Your Name or God's Own County — and the same is true for the reverse, though that just doesn't happen as often. Aptaker said Love, Victor considered looking for a gay lead during the casting process but ultimately settled on Cimino. "At the end of the day, it's about who can tell this story in the most authentic and honest way," he said. "When we saw Michael say these words and perform these scenes, we felt he had an understanding of the character."
With "authentic" being a buzzword Aptaker and Berger returned to repeatedly, the two said they were proud to have hired LGBTQ people elsewhere among their cast, directors, and writers' room, including their
co-showrunner Brian Tanen, who'd previously worked on series like Ugly Betty and Desperate Housewives. Greg Berlanti, the prolific gay TV producer who directed the movie, couldn't be involved in the making of the series owing to the specifics of Hollywood contracts (he has an exclusivity deal with Warner Bros. TV while Berger and Aptaker have one with Fox), but Becky Albertalli, who wrote the YA novel that inspired Love, Simon, consulted in a smaller capacity on the show.
Tanen helped flesh out the story lines in Love, Victor that feel especially true for a young gay character, such as Victor's extended relationship with a girl named Mia. The show treats their relationship as both real and serious, yet incomplete, given Victor's lack of sexual interest in her. "In high school, I dated a young woman who is still a really good friend of mine," Tanen said. "It was important for me and the other LGBT writers on the show to convey that relationship was not fake." He also described conversations in the writers' room where everyone tried to find "moments of gay wish-fulfillment." They identified tropes from traditional romantic comedies and high-school movies that they could turn on their heads by presenting with two gay characters. The scene where Victor works with his crush Benji (George Sear) at a coffee shop was a prime example, and it ended up being the scene the show used for chemistry reads between Cimino and Sear. "I remember turning around to our producers," Cimino said about his test with Sear, "being like, Wow, that guy is really freaking good."
There's another gay fantasy later in the season, during an episode Tanen wrote in which Victor leaves home to try to meet Simon in New York. There, Victor ends up hanging out with Simon's NYU roommates, who express a range of sexuality and gender identity and who teach him that there isn't one right way to be gay. It's an episode that goes all in on glossy "It Gets Better" vibes, but it subtly challenges the tropes seen in a lot of mainstream gay pop culture that gay main characters should be gay in the right way, typically by conforming to masculine gender norms. Love, Simon itself had a fantasy sequence where Simon imagined himself out in college and dancing to Whitney Houston before pulling back with the punch line "Yeah, maybe not that gay." Love, Victor may not be revolutionary — Victor's a pretty straight-acting basketball player — but it's notable that his gay mentors keep telling him that it's good to be that gay. "Even in a culture where we're starting to see more representation of gay characters on television, you still get subtle messages all your life that this is not what you're expected to be," Tanen said. "Later in life, I realized that the very best parts of my life are a direct result of being gay."
The episode ends, as all trips into New York queer life should, with a trip to a gay bar and a performance from Drag Race's Katya Zamolodchikova. It's the biggest moment of gay wish-fulfillment on the show and when Victor finally starts to understand that message Tanen wanted to impart: "The idea that being gay was something joyful, to be embraced." But Tanen remembered that it was also a scene that gave Disney+ executives pause. "They, understandably, worried about this kid-in-a-bar situation," he said. "I was trying to explain it's not a scary experience. It's a feeling that gay people understand and know. You walk into a gay bar for the first time, and suddenly every person there is like you and you feel embraced."
The fact that Disney+ executives were uncomfortable with a scene where Love, Victor gently challenges the Hollywood gay narrative speaks to the tension that pushed the show off the platform. From the perspective of someone tired of stories about respectable gay TV characters, Love, Victor might feel quaint. From the perspective of others — including, apparently, some studio executives — it's risky. "You read the think pieces that are coming out about the show, and on one side you hear criticisms of telling a coming-out story in the year 2020, and then within the same article there will be conversation about the debate whether a story about a gay teenager is family-friendly and whether it should live on Disney+ or Hulu," Tanen said. "To me, one answers the other. If it's a debate about whether these topics are controversial, then obviously it's still quite difficult for gay teenagers to come out."
The first season of Love, Victor feels like a show that is trying to be many shows at once, as if it, too, is a teenager who hasn't quite found himself. It wants to be many things to many people — both authentic and wish-fulfillment, both family-appropriate and mature. It promises to correct the Love, Simon story and get beyond that movie's gay white narrative, and it does, to a limited extent. As charming and incrementally progressive as it is, that hybrid first season, written and shot for Disney+ and edited for Hulu, is palpably the product of more than a few compromises. Now that Love, Victor will live on Hulu going forward, its cast and creative team are excited for a future that sounds more, well, out and proud. Cimino learned that the show would move to Hulu only 45 minutes before the press release went out in February, but he was thrilled. "It really did make me happy that our show doesn't necessarily have to be censored as much," he said.
So, what lies ahead for Love, Victor on Hulu? Probably not a sex-filled, gay version of Normal People, but at least a story that tilts more adult. "It was never our intention for our show to be Euphoria or be particularly edgy," Berger said, also noting that going forward, "we can be a bit looser in our storytelling and know we're not going to get dinged on anything." She and Aptaker pointed to Hulu's other YA shows like Looking for Alaska and Runaways as similar in tone to Love, Victor. They believe that being on Hulu will give the show the latitude to be more fully its own, especially since the bulk of the "coming out" part of Victor's coming-out story is done by the end of the first season.
The Love, Victor writers' room has already convened to work on a second season, and in particular the writers have started talking to PFLAG parents about how Victor's parents's Christianity might affect how they respond to his coming out, a question the show only touches on in passing this first season. Plus, Tanen promised that Victor will do more than just some passionate kissing. "Future seasons will hopefully focus on the sex part of sexuality, letting the kids grow up and be red-blooded American teenagers," Tanen said.
"The show that we made, and especially the show that we're going to continue making," he said, "will be best served by being on a network that is less encumbered by feeling like it has to be for 'family viewing.'"