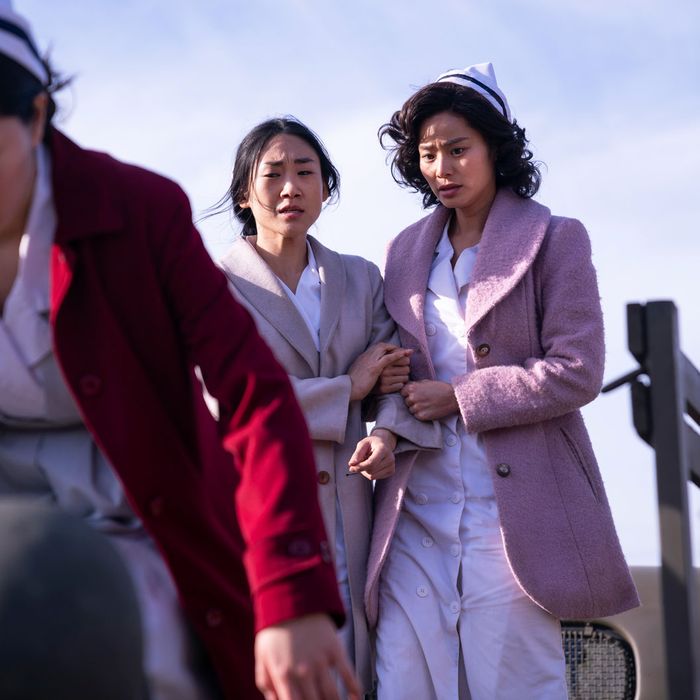 We first meet Ji-Ah (Jamie Chung) inside of a movie theater. Wrapped-up in its emotions, she watches Judy Garland sing and dance in her favorite film, Meet Me in St. Louis. Ji-Ah even rises from her seat, dancing down the aisle and onto the stage, singing along with Judy in goofy pleasure—no wait, she's only imagining it. This cinematic version of a romantic, technicolor life is impossible in Ji-Ah's present. Her life is not the same as those on screen. It's a breathtaking moment of almost-joy, even if only in her head; she remains rapt, but rooted to her seat.
"Meet me in Daegu" is a flashback episode that, like the film it's referencing, is told to us in seasons. This is Ji-Ah's episode, and by its end the teleplay has positioned her as integral to this story. Because of its framing, the episode moves slower and we spend more time with all its emotions and questions raised. The change of pace is welcome. And this episode, too, feels closest to a film. Thanks to Helen Shaver's direction of the episode, Jamie Chung as Ji-Ah commands almost every scene, and her story makes us confront much of what's transpired so far: the heartbreaking, the fraught, the violent. Her questions call out some of the more complicated notions that have plagued our protagonists thus far, laying out many ideas of morality, personhood, and conflict in a way that's compelling.
At the episode's onset, it's 1949 in Daegu, South Korea, and Ji-Ah and her mother, Soon-Hee (Cindy Chang), are struggling. While preparing kimchi, the two discuss whether they'll have enough food for the coming winter. Ji-Ah is hopeful that her nursing degree will return to them respect and stability, but her mother believes that can only help so much. As she tells Ji-Ah, "the only way for this family to be whole again is for you to bring home men." This phrasing is meant to make us consider what Ji-Ah must do to win the affection and financial stability of men, but it also hints to another fact at play—something is amiss, and things are not what they seem.
Ji-Ah is actually a kumiho, "a nine-tailed fox spirit" that, as the episode puts it, is "summoned into the form of a beautiful woman to avenge the wrong done by men." Or rather, the kumiho is Ji-Ah as we know her now, inhabiting the body of Soon-Hee's former daughter. Soon-Hee is convinced she sees glimpses of her daughter in the kumiho, while Ji-Ah is adamant that she has none of her memories. Ji-Ah's history has its own horror—Soon-Hee's husband sexually abused her, knowing that Soon-Hee might look the other way in exchange for status. But fed-up and wanting to protect her daughter, Soon-Hee makes a deal with a shaman and summons the kumiho to kill her husband, not knowing the full price required.
We've heard Ji-Ah's voice before, and seen glimpses of her in Tic's dreams and projections, but this is the first time we actually meet her. Her kumiho identity is hidden from us until the night of a speed dating event in which we learn two important components of Ji-Ah's personality. First: She has a penchant for the romance and novelty that the movies bring her. We watch Ji-Ah repeat phrases she thinks she should say to find a man, though no men pick her to go on further dates. But in her final swing of the night, she says something sincere — "For once in my life, I just want to feel … to be hit by that bolt of lightning," just as Judy Garland seeing her neighbor in her favorite film. Second: We learn the full extent of her kumiho ritual. When she brings home a man from a bar (James Kyson, from Heroes!), tails emerge from Ji-Ah's orifices stabbing the man throughout his body. She sees flashes of his whole life and internalizes his memories. Her tails raise the man above her toward the ceiling and then … he pops — with Ji-Ah left to clean up the blood after. Sun-Hee reminds her, "Ten more"; the kumiho must devour the souls of 100 men in order for her daughter to be brought back. But Ji-Ah seems unsure this is what will happen, and unsure that she'd want it to.
When the Summer of 1950 rolls in, so does the American military. Refreshingly, the episode is critical of war and America's place within it. Ji-Ah is sitting in the movie theater about to watch Easter Parade, when things start to quake. Outside, American soldiers roll by on tanks dropping fliers that read "There's nothing to fear. The United States is here." A soldier yells to the crowds, "Do not be alarmed!" but this is very alarming! The next scene shows Ji-Ah burning the American propaganda in the fire.
Further, Ji-Ah's best friend is Young-Ja (Prisca Kim), who is less invested in men and marriage (despite their attraction to her) and more interested in challenging the politics of the world around her. She and Ji-Ah bond over being different. Unfortunately, word gets out that there is a communist supporter in their midst and American soldiers take the women outside, demanding to know who it is. An American soldier shoots one of the nurses in the head when no one confesses. His gun jams before he murders a second woman, and Atticus enters the stage. He, without hesitation, shoots and kills her. It's senseless killing; he's following orders. Atticus points his gun at Ji-Ah and Young-Ja confesses in order to save her. They drag Young-Ja away to be tortured. This sequence comes after a man is hanged for potential communist ties. It's clear at this point that Lovecraft Country is invested in having us witness violence, and watch other people witness violence. The American soldiers look on (or away) with ease.
So when Atticus shows up in the Fall of 1950 in the care of their hospital, Ji-Ah is reoriented to finish her raison d'être. Now with only one more soul to take, she lets fate intervene: She will avenge Young-Ja's death and claim Atticus as her final soul. He sets up a secret date for them and they watch Summer Stock together, sharing a kiss. After, Ji-Ah brings him back to her murder lounge and the two begin to have sex. But Atticus, vulnerable after admitting this will be his first time says, "I've done some horrible things. Things I've tried to forget. And when I'm with you that seems possible." It's an affection arrived at quickly, but his words resonate with Ji-Ah. Before her transformation can begin, she ends their intimacy, yelling at him to leave.
The confrontation scene that follows further cements the cinematic nature of this episode, from the camera shots to the dialogue. Ji-Ah, wearing her powder blue coat over her nursing uniform, waits outside of the base for Tic. Upon his arrival she yells, "You killed my best friend!" She continues, "Her name was Young-Ja, she was a nurse." The two argue, dynamic and full of energy. Tic says she was a sympathizer, that he was following orders, spouting rhetoric that was likely fed to him, but Ji-Ah won't have it. "I was going to kill you," she tells him. She has all the power here. She explains that she saw Atticus as a "murderer," but that she also sees how the war had "torn [him] apart." It feels less like an exoneration and more of an acknowledgment that the two both have violent pasts they don't want defining them. It's an intense, tricky origin story for a couple but the scene works for me more than it doesn't. They kiss and then later have sex for the first time. Atticus lives.
But in the Winter of 1950, Atticus has some news: He can go home. Ji-Ah doesn't want to ask him to stay, so he asks her to come with him. The pair begin to have sex again, but this time her tails begin to take over. She begins to see his history, but before the ritual continues, she thrusts him off and something new happens: She sees his future. Among other images, we see flashes of Atticus heading back to Chicago, we see Leti's face, and finally, we see Tic fastened to some machine, on the verge of death. Ji-Ah pleads, "Don't go home! You're going to die!" It's scary and thrilling. Frightened, Atticus runs out. She finally tells him what she is, but it's too late for him to hear.
Soon-Hee consoles Ji-Ah when she's left alone after, the pair at peace despite their heated exchanges throughout the episode. It's a moment of comfort, rather than the violence that so much of the show thus far tends to end with. The two then take a trip to the shaman so that Ji-Ah can ask her the question now on her mind: Is Atticus going to die? The answer is unclear.
Leftover Country
• I would like to try the kimchi fermented with pumpkin broth.
• Jamie Chung is a STAR and this episode seems built to let her be. Her "Starring" billing in each episode's credits makes sense now.
• With that being said, this makes me wish Ruby's episode were less … fraught. As much as I found the visuals of the "shed" interesting, I can't help but wonder what that episode would feel like if she/Wunmi Mosaku had been on screen the whole time.
• Ji-Ah: *lights a single candle* *dozens ignite simultaneously*
Man: *no follow-up questions*
• The show is engaging in two tropes here that toe a tricky line in terms of respectful representation. First, in a show where everyone is involved with the supernatural, our Korean character here isn't just a woman, but rather a mythological one. I think it helps that everyone else is also supernaturally involved. Second, this is essentially a story with a romance plot between a civilian falling in love with a soldier, but it's complicated by Ji-Ah not quite being human and having a monstrous past of her own. Jamie Chung is so captivating that I'm able to buy into it. A generous reading is that it's expanding or playing with these tropes (and still making commentary on how the idea of love between people in those situations comes with its own horrors). The extra nods to film and cinematics help this, too.
• Fun fact: The director, Helen Shaver, voices Littlefoot's mother in The Land Before Time. This was my favorite movie as a young kid.
• Speaking of more movies, this is not Jamie Chung's first entry into horror. I loved her in Sorority Row.
• Gaywatch: Even if they were just good friends, part of me wanted Ji-Ah and Young-Ja to run away together.