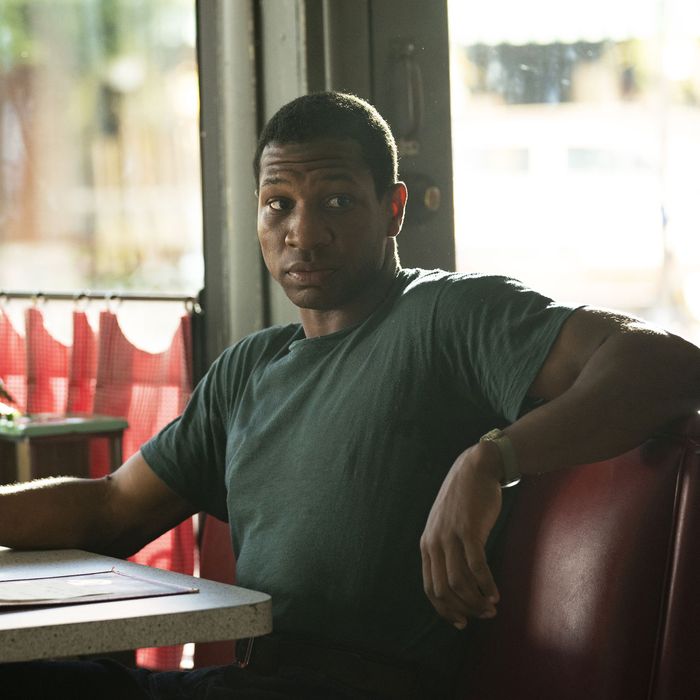 Photo: Elizabeth Morris/HBO
Atticus "Tic" Freeman screaming "shoot the mothafucka!" about the racist sheriff-turned-vampiric-Lovecraftian-being feels like a gift. The episode has moved into full-blown, gory horror by this point, but the comedic timing is impeccable. When the deputy hesitates, and Atticus insists further, "I'LL DO IT," motioning to be thrown the gun, I actually found myself laughing.
What strikes me about Lovecraft Country's premiere, "Sundown," is how full of adventure it promises this series might be. Despite being a story intent on grappling with the real horror of America's past and present (and distorting and reaffirming that horror through genre-play), there are times in this first episode when things are fun. It's satisfying to watch our characters outsmart their opponents, multiple times. It's exciting, albeit nerve-wracking, to watch Letitia give us "final girl" genius as she uses her skills and surroundings — her trusty camera bulb buying her time — to get her friends out of trouble and save the day. Showrunner Misha Green and team have imbued the horrific world the characters exist in with moments of thrill and even pleasure.
Part of the fun, of course, is that we get to see Black people be the heroes in their horror story. And "Sundown" does feel like a compact horror movie: full of mystery, character development, comedic relief, and that glorious ending — our survivors, triumphantly arriving to their destination as the sun rises, scarred yet resilient, all covered in blood.
The block party is also some lighthearted fun before the other shoe drops. It's 1955, in the South Side of Chicago. The air is celebratory and full of color. The community is finding refuge in each other amid the heat, despite the world around them not caring about their humanity. One of the most interesting moments of the episode happens early on in this celebration. We see veteran Atticus (Jonathan Majors) watch on as a white cop stops children from playing in a busted fire hydrant, and immediately after, as he continues walking, exchanging a disapproving glance with a military officer promising "opportunity to see the world" to the kids gathered around him. This positioning puts the two systems that are most prominent in Atticus's life in tandem — American lawmaking and policing in hand with American war imperialism — both full of violence in the name of white, American supremacy.
At nightfall, Atticus busts the hydrant back open. It's a fuck you to those cops and the scout he watched promise Black boys "adventure." The episode is full of fuck yous, actually: the flipping off of "old Jim Crow" on Atticus's segregated bus ride to the city, the moment in the episode's cabin-set climax when Tic gets to yell "fuck you" to the sheriff (before he turns nonhuman) and live to tell the tale, and, more subtly, the Black women insisting on their ability and competency in a society that doesn't see them as having such. I love these small moments of indulgence in the face of the world around them. The party, too, is our introduction to Letitia (Jurnee Smollett), who arrives just in time to give us the musical stylings of D.C.'s Black Canary she and her musician sister Ruby (Wunmi Mosaku). This will be the last stress-free sundown our characters experience in the episode, but it reminds us of the wonder that's imbued in the series. It's all a middle finger to the genre storytelling before it that has pushed Black people aside.
Of course, not everything is joyous and without baggage. Letitia is broke and her wherever-the-wind-blows antics have worn thin for Ruby, who, on top of other frustrations that have mounted over their lives, can't believe that Letitia missed their own mother's funeral. Ruby is steadfast: She offers Letitia two nights of help, then suggests she finds help elsewhere with her brother Marvin. Tic's uncle George (Courtney B. Vance) appears to be a loving father and husband — our first introduction to him is a cozy lovemaking scene with Hippolyta (Aunjanue Ellis), the episode lingering in its pleasure where most other shows would cut away. But Hippolyta would like to take on more responsibility with their guidebook, The Safe Negro Travel Guide, and asks if she can go in his place on the next outing. It's clear that both Hippolyta and their daughter Diana (Jada Harris) could be doing more if sexism and gender norms weren't in the way. And while George's love for his family seems full and sincere, he still carries around a photo of what seems to be a previous lover. Atticus has made the trek back to Chicago because his father has gone missing, sending a mysterious letter describing Atticus and his mother's "secret legacy," centering on a place called Ardham. For these reasons, our traveling trio is formed: Atticus to search for his father, George to assist and help fill out his guide, and Letitia to catch a ride halfway to take refuge with her brother, Marvin, if he'll let her (he doesn't).
The story clips along at an almost unforgiving speed — blink and you might miss a small detail that gives us some backstory on what's transpired in the characters' lives up to this point. The show seems less invested in making sure we understand each intricacy, and more intentionally invested in the emotional plight our main characters are thrust into by the world around them. The episode gives us not one but two big chase plotlines with different white characters bent on killing our protagonists. In the first, the three are chased out of a diner that was once a safe pit stop in the guide. The chase ends when a silver car approaches on a merging road and Letitia, smartly, puts the car between them and the townsmen who crash into it — or its forcefield — sending the men flying. A mysterious, blonde woman steps out to peer at Atticus after, looking menacing despite having just helped save them.
But the episode's big bad is the sheriff of Devon County, Eustace Hump. The problem is that the route to Ardham isn't on a map — it's a region shrouded in mystery, and the trio will want to avoid this sheriff en route (they can't). Look at what this episode juxtaposes in the same shot: Atticus jokes that a noise in the woods might be a shoggoth or a "massive bubble blob with hundreds of eyes," while we see the sheriff car pulling up closer and closer behind them, as if to say, "who cares about the monsters in the woods, the real monster is here." If the information that Marvin found wasn't enough to show how evil this man is, his dialogue is. He forces Tic to repeat after him something I don't even want to type and follows them, urging that if they don't make it out of the county limits by sundown, he will kill them. For a minute I was sure their car would die. The sequence is full of dread.
Somehow, there's still more terror in store for these folks. The chase isn't really over. The sheriff and his deputies are now collectively trying to pin local burglaries on the trio — the "rules" established before never really mattered, it's all nonsense to get to the same, racist end. Thankfully, as if Atticus's imagination summoned them, creatures that look awfully like shoggoths appear. Most of the deputies are killed (brutally!), the sheriff is bitten, and those still living take refuge in a cabin. George figures out that the beasts are afraid of light, and that the sheriff seems to be turning into one of them. They can't catch a break! Thankfully, Letitia goes and gets the car and saves the day, but the sheriff-shoggoth escapes. Outside, they are surrounded by more bubble blobs (were these all once humans?) and use flares to keep them at bay. I fully believed they'd be able to fight them all off, but a mysterious whistle sends the creatures scrambling and they don't have to. It's all excess, but in a good way. By the end of just the first episode, our characters have survived so much, in a stunning, plot-packed addition to the horror canon.
And like a true horror film, we end on a cliffhanger. It isn't Atticus's father who greets the characters at the door of the giant mansion in Ardham, but rather a blond white man who strangely says, "We've been expecting you Mr. Freeman … Welcome home." Will they survive whatever comes in the sequel?
Leftover Country
• "MY NAME'S NOT 'GIRL,' IT'S LETITIA FUCKIN' LEWIS!"
• The narration in the opening dream sequence is from the 1950 film The Jackie Robinson Story. The voiceover during the "Midwest" travel montage is James Baldwin speaking during his debate with William F. Buckley Junior in 1965. The characters seem to be listening to it when they stop for a break, despite the speech being a decade out of time.
• I'm interested in how the show will think about color and colorism (which is bias and discrimination against people with darker skin tones). Casting Jurnee Smollet as the female lead makes it so that the show must engage with this, and I'm hoping they do so responsibly. It feels like the conversation is already there bubbling just under the surface in her discussion with Ruby.
• I know Jamie Chung when I see her (I've enjoyed her since she started on The Real World: San Diego in 2004)! She's the Martian gloriously descending from the spaceship in the opening dream sequence. I suspect she also might be the voice from Tic's ominous call to South Korea.
• The way Atticus slides the tile with his foot to confirm the diner-formerly-known-as-Lydia's has been burned down because it served Black people is paced so satisfyingly. The reveal is quick and the action is kinetic.
• The choreographies of the car chase scenes (and the characters' actions within the car) across the episode are also thrilling — there's lots of adrenaline and lots of dread! The car is even a character of sorts — the characters call it Woody.
• Fuck, Eustace Hump! (Which sounds like … never mind).
• Diana is basing her new comic "The Interplanetary Adventures of Orithyia Blue" off her dad's adventures. It's very sweet and I need the comic ASAP. The show goes out of its way to let us know she's talented for her age.
• Gaywatch: Atticus walks in on the bar owner hooking up with a man in the back alley. I'm glad he doesn't react negatively. Fingers crossed for some queer representation as the show progresses.