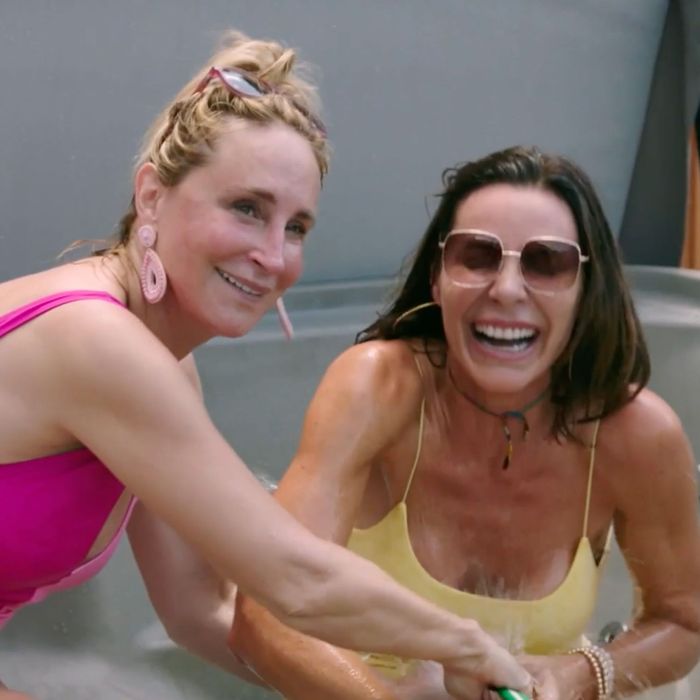 There are many occasions where I worry about the Housewives. Anytime there is a psychic around, I break out in hives because if it's not going to be Allison DuBois getting prescient on Kyle Richards, it's going to be that weird dude from RHOC telling us that Brooks Ayers is faking cancer. Also boats. If a Housewife ever asks you on a boat, don't go. You think it is going to be drinks and fabulousness, but it could be the Boat Ride from Hell, it could be Brandi Glanville slapping Lisa Vanderpump, it could be a child's fashion show that goes horribly wrong.
One place Housewives always seemed safe, though, is in cars. (Not limos, then you might find out that you stole your sister's house.) Usually we see the ladies being escorted to and from events in the back of a black car rather than driving themselves. Not Sonja and Lu. They're behind the wheel of a four-by-four, and I am terrified. Sonja doesn't like to buckle her seatbelt. She also won't give Luann — who always seems to be driving like a 1950s husband — directions and insists that Luann put her info into Waze. Sonja! Girl! You have one job, and it is to keep Luann's eyes on the road. Do her phone, get the directions, choose the radio station, and flirt with hot guys standing on the side of the road. Sonja has to do all of that for Luann for me to feel just slightly better about them whenever they're in a motor vehicle.
But we all know our Sonja Tremont Morgan of the Bose Lavellier Mic Morgans isn't good at completing any job. The episode starts with the ladies purchasing a hot tub for Motel Benton so that they might improve tourism a bit. To be honest, I think that Sonja has spent one too many weekends in Fire Island and knows what can happen when everyone is neck-deep in some bubbling and darkened water. However, as they're rinsing it out and filling it up, Sonja is just sitting in the tub in her bathing suit, waiting to be the first one relaxing in that bath.
Oh, and what about her bath later in the episode? She puts on the hotel's shower cap so she looks like the world's only lunch lady who has had her face tightened, resurfaced, peeled, microdermabrasioned, and lasered within an inch of its life. I don't know how she doesn't get the suds all over the hotel floor, the water level is so high, but she manages.
This is all going down as renovations are happening. Yes, Luann and Sonja hated their rooms at Motel Benton so much that Luann forced her brother Mike to ditch his vacation in Canada to come to a steaming midwestern town and install a whole new closet and vanity for his kid sister. This man better get the best Christmas present of anyone in the whole family, also an appearance fee, also his shirt on the ceiling of the bar where Sonja picked up Billy Richard, also a star on the Benton, Illinois Walk of Fame, also a free ticket to the Benton Follies, also a signed note from Andy Cohen and both of Andy's children even though one of them isn't even old enough to hold a crayon yet.
Originally, I thought they were going to redo the whole motel as a gift for Akash, but it's really just their rooms. They say that they will be the Luann and Sonja suites and they can charge more for them, but I think that our favorite pampered ladies just wanted slightly better carpet under their pedis for the last week and a half of their stay and somehow talked production into paying for all of it. Sonja has a great plan for the door of her room. No, it's not making her notebook paper "Do Not Disturb" sign permanent; it's a sign that says "Sonja Fucked Here!" Can I get that on a pair of underwear? Or maybe a pillow? Get that merch flowing, Sonjarita.
The gist of the renovation story is that Luann is helping her brother, and Sonja, as usual, is doing absolutely nothing. Well, not nothing. She does offer Mike a Jell-O shot out of the freezer section of her minifridge. Okay, I need to break this down a few steps. First of all, why are there even freezer sections of minifridges? It is just like a block of ice taking up the top right-hand corner of the appliance and can't really keep anything frozen or serve any purpose. Secondly, why does Sonja have Jell-O shots in her freezer? Where did they come from? How did they get there? And how did they survive whatever length of time it was from her putting them in there until this moment? I can't imagine a Jell-O shot in Sonja's possession lasting any longer than a vegan at an all-you-can-eat cheese buffet,
It does seem like Sonja and Luann did a lot of work at the animal shelter. Since we saw it last episode, they have put up a fence and several dog pens behind the shelter so that the animals can go outside and play. Immediately all the pooches look more excited than when they heard the title of the classic movie All Dogs Go to Heaven. Sonja says that the dogs look happier now that they can "shit outside." That's ironic because, usually, Housewives are happiest when they're shitting on a floor, a toilet seat, or the sheets of a rented house in Cartagena. Sonja is also happiest when she is peeing in a cornfield, so maybe that's how she relates to the dogs? I can't say. If I knew how Sonja's mind worked, I wouldn't be a billionaire, but I do feel like I would be a whizz at the claw game that's in every rest stop across America.
Finally, we end up with the ladies at the tech rehearsal for the Benton Follies, and, for some reason, Luann is dressed as Julia Roberts from Pretty Woman when she's dressed as a street walker and before some shop owners made a "big mistake, huge." This is where we see most starkly the difference in the work ethic between Luann and Sonja. Luann, a veteran cabaret star who may not be an accomplished singer but who can definitely learn a line or two, thinks that the show should look as professional as possible. Sonja, who has never rehearsed more than 30 minutes before one of her "caburlesque" performances, thinks that the kids should just get out there and have fun.
The reality of what the situation deserves seems to be somewhere in the middle. I don't think that Luann should be calling out the girl who fell during her dance routine or making sure her troupe has something matching to wear in their hair. It's not like they're being paid for this, and you know the old adage, you get what you pay for from Shein. Then there is a disagreement about a cheerleading ensemble, and they basically want them to rewrite their whole routine because Sonja finds it distracting that there are dancers in front of the acrobats. Oh god, don't even show Sonja Cheer. Those routines will give her a seizure, a conniption fit, and an itchy crotch because that is how she experiences all allergic reactions.
As the two disagree, they're both on the mic talking to each other and over each other in the auditorium full of their performers. It's the most unprofessional thing I've ever seen, and I used to work with Anna Delvey. (Would you like to hear about the foundation we're starting?) For a moment, it was classic Housewives, two crazy ladies barking at each other with audio enhancements until we realize they're doing this for the good of Benton, for the good of America, for the good of our entertainment. That's how I'm certain, no matter how little Sonja does, she's still doing an excellent job.