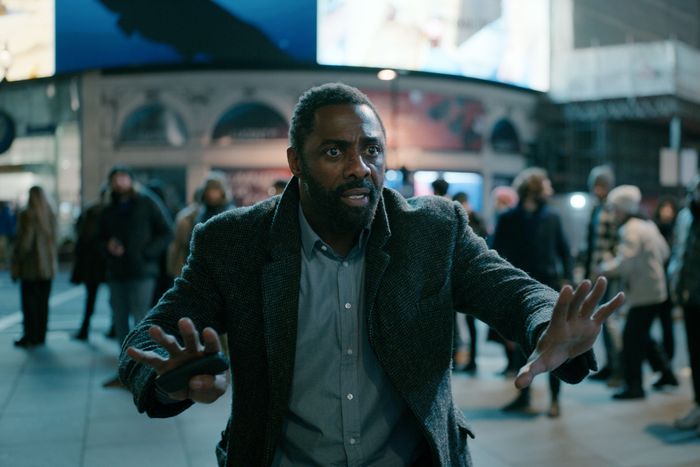 Photo: Courtesy of Netflix
After Columbo but before Poker Face, there was Luther, a gritty British "howcatchem" mystery for the ages. First airing on BBC One in 2010, the operatic series played the long game by releasing only 20 episodes over the span of nine years. The show follows Detective Chief Inspector (DCI) John Luther (Idris Elba), a gruff investigator known for his ability to always get the bad guy by any (unconventional, often illegal) means necessary.
Luther usually figures out the killer early in the case, if the culprit is not shown in the cold open of the episode, and the story instead becomes about how the intrepid detective is able to track them down. Most of the seasons follow similar themes: Luther must solve a high-profile case or two, Luther is affectionate toward a redheaded woman, Luther suffers a devastating personal loss, Luther is arrested for (or at least suspected of) being involved with a crime. More than anything, Luther is obsessed. Although predictable in some ways, the bread and butter of the series is the character work, from beloved members of Luther's team to indelible, charismatic villains.
Despite the conclusiveness of the fifth-season finale, Luther will return to our screens in Luther: The Fallen Sun, which hits Netflix on March 10. The film picks up some time after the series left off, with Luther sitting in prison for his crimes. Haunted by a new tech-savvy psychopath (Andy Serkis), Luther breaks out of prison to help take the man down. In preparation for the release of Luther: The Fallen Sun, here are the six essential episodes of the series. Think of them as the clues you need to track the rise and fall of John Luther and his many acquaintances before watching the movie.
Season One, Episode One
After a forced leave from work, Luther returns to London's Serious Crime Unit, where he's greeted by a new partner, Justin Ripley (Warren Brown). Most people are wary of Luther and consider him a ticking time bomb, but his ability to understand the criminal psyche remains unparalleled. While an explosive asset in the office, Luther's single-minded obsession with work has affected his homelife to the degree that his wife, Zoe (Indira Varma), separated from him during his time off. Distraught by the news that Zoe has fallen in love with fellow human-rights lawyer Mark North (Paul McGann), Luther throws himself into his first assignment: the case of Alice Morgan (Ruth Wilson) and her brutally murdered parents.
While anyone might think that the weeping, blood-covered woman was a victim, Luther quickly discerns that Alice — a brilliant psychopath — was the culprit and pulled off a perfect crime. Her only flaw? She needs someone to know. Although Luther is unable to arrest Alice due to the illicit manner in which he obtains the evidence against her, the one-off case sparks Alice's interest and she becomes obsessed with Luther. Despite some outward protest from Luther, the intrigue is mutual, and the premiere is the start of a passionate, series-long entanglement between the two characters.
Season One, Episode Six
When a robbery-kidnapping gone awry reveals malfeasance within the Serious Crime Unit, Zoe ends up dead. Luther is framed by fellow detective Ian Reed (Steven Mackintosh) and forced into hiding. It marks the first irreversible consequence of Luther's fixation with the job, and there's a sense that everything has changed for the detective. On the run, Luther reaches out to the only person who can help him: Alice. She's giddy that he thought of her and helps to combat the evidence that Ian has planted. The two work together with practiced ease, and it becomes clear that their brains operate similarly, even if they're on opposite sides of the law.
While formidable Police Complaints DCI Martin Schenk (Dermot Crowley) investigates, Luther recruits Mark and an eternally loyal Ripley to help him, to great professional cost for the latter. Luther finally catches up to Ian and tapes a confession, but Ian goes out swinging (or, in this case, stabbing). Alice pulls a gun on Ian and — despite Luther's requests to let him live with what he's done — kills him, permanently tying her and Luther together.
Season Three, Episode Three
Following a relatively unremarkable sophomore season of grief-stricken, risky behavior and a blasé attitude toward his own well-being, Luther slows down for a bit. For the first time in a while, he is content. After starting a relationship of sorts with Mary Day (Sienna Guillory), a nice woman he met in a fender bender, he invites Ripley inside his home and introduces the pair. "He's my mate and I love him," Luther explains before he and Ripley head to a new crime scene. Although Luther is attempting to meld a normal homelife with his work, a looming corruption investigation helmed by George Stark (David O'Hara) serves as a reminder of the detective's inability to catch a break.
At work, vigilante killer Tom Marwood (Elliot Cowan) is on the loose and witnesses are less than willing to help the police arrest him. When Marwood abducts a pedophile and allows the public to vote on his fate, Ripley and Luther chase him down. Ripley confronts him in an alley, only for Marwood to shoot him point-blank and kill him. It's a shock, even in a series that is defined by the unpredictability of death. Just as Luther discovers his body, Marwood takes off to hunt down Mary.
Season Three, Episode Four
"So what is it with John Luther and the people he loves?" Stark asks at the beginning of the episode after rescuing Mary from Marwood's rampage at Luther's home. While ill-intentioned, the question holds weight and is something that Luther grapples with throughout the season finale. Soon after Ripley's death, he is arrested for both his friend's murder and for the attempted murder of Mary (they're grasping at straws here with his connection to Marwood, but it somehow sticks). As Stark attempts to transport Luther, a masked figure attacks them and abducts Luther. It's Alice, naturally.
Despite her fugitive status, Alice works as a go-between for Luther and the force as they hunt down Marwood. Alice harshly (but correctly) identifies that Mary is a "pixie" for Luther — a sweet, simple idea of a life he thinks he wants — and notes that he'll "be bored silly by the end of the week." After a final showdown with Marwood that leaves Stark dead, Luther and Mary silently acknowledge that their lives are incompatible, and he takes off to find Alice. At her prompting, he tosses his infamous gray coat into the Thames. They walk off together and the coat floats away, like a corpse in the river. It's a first for Luther, who appears to be actually walking away from the job after years of teasing that he might do it. For any other show and any other character, it could be a fitting series finale, but Luther's addiction to his career suggests an inevitable, compulsory return.
Season Five, Episode Two
Sure enough, the bubble pops by the start of the fourth season and Alice and Luther have separated. At the beginning of the fifth, Luther is back on the job and resigned to his inability to look away from chaos. Attempting to do things somewhat by the book, Luther's plans are foiled when an injured Alice turns up on his doorstep after previously believing she was dead. Throughout the episode, Alice and Luther reminisce on their relationship and what went wrong, arguing over who left whom. In flashbacks, we see the duo having sex and discussing disappearing together. The reveal that Luther felt guilty for leaving his position with the police and felt personally responsible for each dead body he saw on the news shouldn't come as a surprise to viewers or anyone who knows him, but Alice remains hurt and perplexed by the fallout.
Although Luther is attempting to hunt a husband-and-wife killing team alongside his new partner, the very green Catherine Halliday (Wunmi Mosaku), his focus is on notorious gangster George Cornelius (Patrick Malahide). Cornelius's son has gone missing, and he's positive that Luther and Alice had something to do with it (Alice did, of course, and Luther has unfortunately been implicated in the abduction). The stakes are brought to a series high when Cornelius abducts tech expert Benny Silver (Michael Smiley) and Alice kills the gangster's son, sending her and Luther hurtling toward a destructive finale.
Season Five, Episode Four
Even though Luther and Alice are able to rescue Benny in episode three, Benny is still ultimately assassinated. The casualty marks the loss of one of Luther's last true friends and chips away at the tired detective's final links to humanity. Luther, reeling from the loss of his friend, works to arrest the increasingly volatile Jeremy Lake (Enzo Cilenti) after the team captures his wife. Alice is erratic throughout the episode, miffed at Luther and misguidedly jealous of Halliday. She warns Mark North to never see Luther again, claiming he's not who they think he is. Her behavior should be a red flag for Luther, but he's simply exhausted and can focus only on capturing Jeremy.
After they take down Jeremy, Alice murders Halliday in cold blood. Luther chases Alice in a half-hearted attempt to finally arrest her, and the two fight about love, of all things. "I can't believe it took me so long to see that Zoe was right about you," she throws in his face, hurt that he remains unable to get past his obsession (and that it isn't with her). Just as Alice goes to shoot Luther, he tackles her and she falls off a platform. Luther attempts to save her, but she slashes him and he's forced to let her go. Alice plummets to her death and puts an end to the most enduring, complex relationship in Luther's life. Seconds later, a conflicted Schenk arrests the weary detective. Luther — at least for now — seems resigned to his fate, but crime carries on in London. With Luther behind bars, the city is more vulnerable than ever, as The Fallen Sun will reveal.