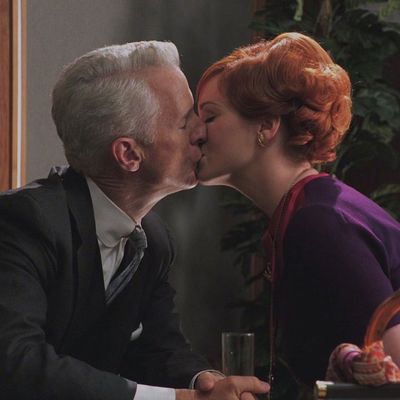 Toward the end of "Indian Summer," Pete Campbell, playacting a fantasy of triumph by sitting at Don Draper's desk, notices a package wrapped in brown paper marked Private and takes it home to see if there's anything in it that he can use. He has no way of knowing it's the box that was mailed at the start of the episode by Don's half brother, Adam Whitman, the poor soul Don tried to push away with a $5,000 bribe in "5G." Mailing the package was the last thing Adam did before hanging himself. There's an intimation of karmic backlash in how it all played out: Don tried to buy Adam off to protect the false identity he'd devised, the bribe led to Adam committing suicide, and now the dead man's last words could be used to blackmail Don.
This is business as usual.
Written by Tom Palmer and Matthew Weiner and directed by Tim Hunter, "Indian Summer" is about how capitalism, advertising, and workplaces can warp the mind and kill the spirit, making people act coldly toward the ones they love because they aren't meeting the goals the system set for them.
Some examples are merely frustrating and sad, like Don hammering Betty's therapist about getting "results" as if he were paying a man to build him a redwood deck, and the cutting remarks that Peggy and her date, a Wise Potato Chip Company truck driver, make because each thinks the other is a snobbish cultural cliché; their misunderstandings were born in their reductive opening queries, variants on the work-obsessed American salutation "So what do you do?"
Other examples are disturbing, such as Pete's theft of Don's package as leverage for a promotion, and Adam's suicide. Still others are minor and comic, such as Sterling Cooper's decision to sell an electric weight-loss belt as, basically, a pair of orgasmic underpants, newly dubbed "The Rejuvenator" because, as Peggy promises, "You'll love how it makes you feel." Apparently the belt is already building a loyal audience: We're told Freddy's wife loves it and Mitch's won't take hers off. Don tweaks Peggy's campaign a bit, framing the product not as a device "that gives the pleasure of a man without a man" (a potentially emasculating concept), but as one that gives a facsimile of the pleasure that can "only" be provided by a man.
The episode tucks beguiling character moments into its margins. They all feed back into the script's fascinations with work, commerce, career advancement, profit, and consumerist fantasy. There are riffs on established Mad Men obsessions, such as Utopia/Babylon/Shangri-La (in bed with Don, Rachel worries that their relationship is "a fantasy"); the sexual chemistry between characters who probably shouldn't be mates (Rachel/Don, Roger/Joan, Pete/Peggy), and the generational changing of the guard, represented in a scene in which copywriters discuss Roger's heart attack, and Paul Kinsey concludes, "Don't you know anything about business? Cleaning out the old guys, it's good for us. It opens up spots." Betty welcomes a handsome door-to-door air-conditioner salesman into her house (after citing fear of strangers as a reason for not letting Helen Bishop's ex-husband use her phone), making him an object of a private sex fantasy while climaxing against a defective washing machine that shimmies like a bigger, harder version of Peggy's "weight-loss belt." (The belt makes an encore appearance in the closing scene at Peggy's apartment, lying next to Peggy's bed like a pet.) This is the episode in which Don gives Peggy her first piece of specific and helpful writing advice, about how to open the mind: "Think about it. Deeply. Then forget it. And an idea will jump up in your face." It's the first time he's sounded more like a mentor than a supervisor, passing on advice to a pupil. But this moment, too, has business on the brain. It's about advancement, and it leads to yet another moment that's about advancement: When Peggy meekly asks for her own desk, Don presses her to ask for the raise they both know she deserves, then takes his own advice and wrests a raise from Bert, with the usual stipulation: "No contract." "Beware the nonconformist," Bert drawls, then adds on his way out, "I'm going to introduce you to Miss Ayn Rand. I think she'll salivate."
Bert insists that Roger come into the office because Lucky Strike, his account, is "on the ledge" (quite a phrase, considering the fact that "Indian Summer" opened with a suicide). Roger disregards his wife and his doctor and gives Bert what he wants, in the name of protecting the company's bottom line. His reentry into the office is suitably no-fuss ("I feel like I should make a speech: Get back to work!"), yet chilling because, as Harry observes, "He looks like death." When Joan touches up Roger's face with makeup (remember Ken Cosgrove saying in "Red in the Face" that lipstick was invented to make women look as if they'd just had sex?), he might as well be a corpse propped upright in a coffin. His parting remarks to Joan, whom he's decided he can no longer see, are as romantic as near-pornography can be: "You are the finest piece of ass I've ever had, and I don't care who knows it. I am so glad I got to roam those hillsides." The sight of Joan breathes new life into Roger by reminding him that there's more to life than work. A few minutes later, at a business meeting, he will suffer his second heart attack.
Excerpted with permission from Mad Men Carousel by Matt Zoller Seitz.