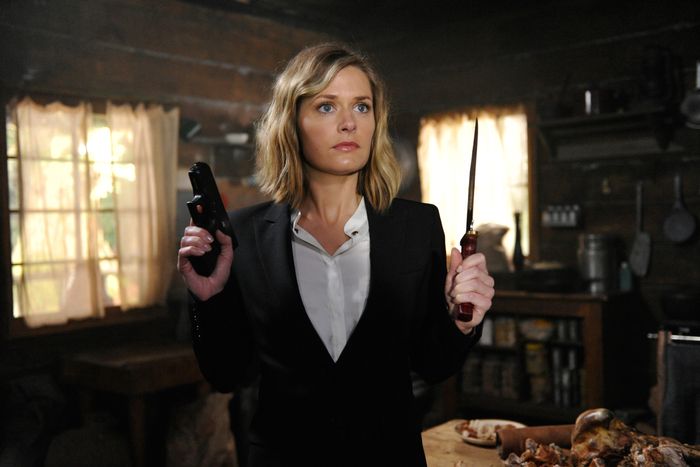 "Nobody had really talked about a
Psych
rewatch. Did the show have to have been off the air for long? What are the rules around this? I didn't know anything about it at all."
Photo: Alan Zenuk/USA Networks/Courtesy Everett Collection
Chances are high that your favorite off-the-air series has received a celebrity rewatch podcast over the past few years. These warm hugs of sound serve as a nostalgia trip as well as a source of stability and autonomy for its hosts during periods of industrywide uncertainty. Enter, across the chaise lounge, The Psychologists Are In. Hosted by Psych leads Maggie Lawson and Timothy Omundson, the duo began their episodic journey in November 2021 as a creative way to revisit the police department under the Santa Barbara skies — all eight seasons' worth of episodes — and own a part of the show's legacy in the process. To quote a wise man: You know that's right.
The draw is obvious for Psych fans such as myself, who continue to cling to the show's eternal sweetness like a ripe pineapple: It's Juliet and Lassie, partners once again, as they deconstruct every episode with interviews, lightly researched talking points, and insider chitchat. But for someone like Lawson, a deft television actor of nearly two decades who has appeared in everything from Cybill to Two and a Half Men, the appeal goes beyond a simple brand extension of USA's "blue sky" era. Lawson hasn't taken an acting role since developing the podcast, a decision that, she said, is due to its unexpected popularity. "It has filled my heart and soul to be able to relive this process," she told me back in June. "I'm curious to see where this whole path can go now. It's because of people like you that this continues."
I want to start with your decision to pivot away from acting for a bit and dedicate your time to such an extensive podcast undertaking — 120 episodes isn't a quick trip down memory lane. What motivated you to revisit the Psych world?
I had been on a show called Outmatched that was unfortunately a casualty of the pandemic. I always felt that if I didn't become an actress, I would've become a reporter or a journalist. My friend owns Cloud10, which is the podcast company that produces our Psych rewatch. I remember him saying, "If you ever have any ideas or you want to explore this space, give me a call and we can talk about it." With the pandemic, everything was on hold in the world, but not podcasts. It was a medium that was bringing people a lot of peace. Comfort shows took on a different meaning. All of a sudden, there was this space. I think we all had the sense of, Huh. What do we do with this time, and how do we stay creative? Nobody had really talked about a Psych rewatch. Did the show have to have been off the air for long? What are the rules around this? I didn't know anything. I didn't even know if it was my role to do this.
When did you realize it was something you felt comfortable doing?
I went to James Roday Rodriguez and Steve Franks like, "If no one else is doing this, do you mind if I explore it?" Both of them said I could absolutely host a Psych podcast. I'm a little woo-woo like this: If you walk through the door a bit and it all opens up, it feels like it's meant to be.
We were about to start filming Psych 3, so there was a lot of love and buzz. I called Tim and I was like, "What do you think about going back?" Of course, he was like, "Wait — what's the technical side of this?" I was the same; I actually thought a rewatch podcast was watching episodes and talking about them like DVD commentaries. He was a little skeptical, so I went to Dulé Hill and ended up having conversations with a few other people in the cast. But I kept thinking, I've got to get Tim onboard. Lassiter and Juliet just seemed right. So I laid it all out: "I will come do the setup at your house. All we have to do is have the lovefest we always have when we talk about our show." He was like, "Oh, hell yes. I'm in." And then, honestly, I had no idea what we were doing. All I knew was I wanted to hear every single detail about how Psych came to be. It was easy to start with origin stories. Then I realized there had to be some kind of format because Tim and I could shoot the shit all day about anything.
We open up a whole other world when we're telling all the behind-the-scenes stories and the silliness that went on at work, after work, and what everybody was going through. This podcast is a way to have a deeper connection all the way around with the show and the fans and also keep our little Psych heartbeat.
The appeal of a rewatch podcast is straightforward: You're hitting fans with nostalgia about one of their favorite shows and, as an actor, you get to relive that era of your life. What were your ambitions for the podcast, and how did you see a path forward?
I don't know that we necessarily had some very clear intention for it other than the nostalgia part — reliving this time and bringing it to the Psychos in a different way. Steve Franks has, from the very beginning of the show, held a no-assholes policy. I wanted to make sure we stayed in the spirit of that. Sometimes there's a push for gossip. People want to know if there was drama behind the scenes. There's nothing like that here.
I feel like we're still learning. I had some fear about going into a hosting space because I'm not playing a character. There's a lot of vulnerability that goes along with that. I used to turn down podcasts. I used to turn down interviews. It was a huge fear. I had a lot of anxiety talking about myself or being in this host space. That's a little bit of why I decided I should explore it: to face the fear. Psych was such a safe way into that because it's our favorite thing to relive and explore. It'll go down as one of the greatest — if not the greatest — eras of my life. And it's still continuing. There's still a lot to come with it. We're also now panicked because we've done so many and we're already on season five. Tim and I are trying to explore ways of slowing it down a little bit.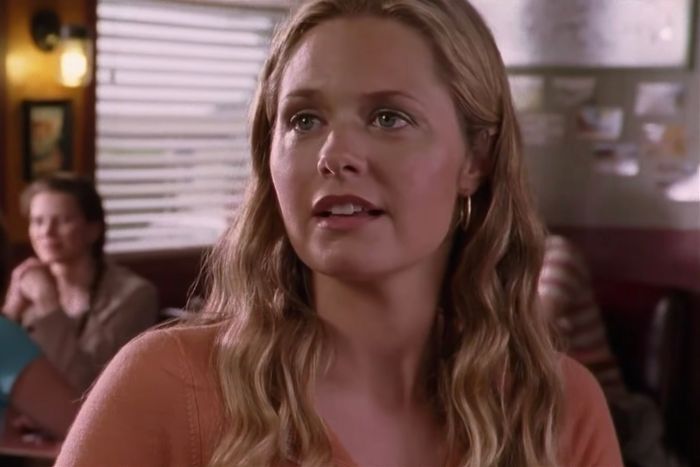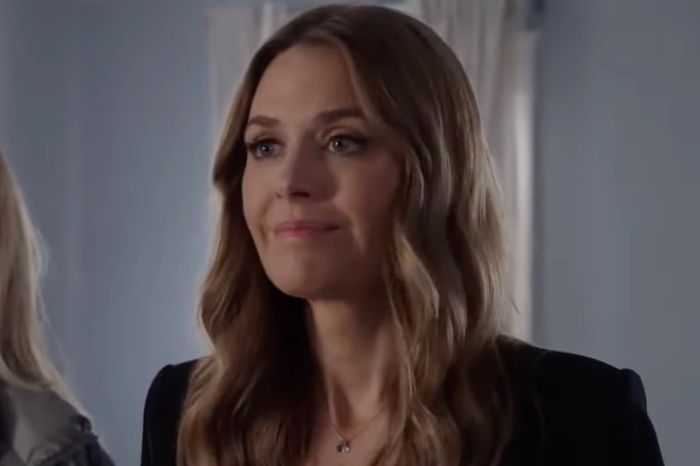 How important was it for you to actually break news in addition to sharing memories, funny stories, and fun facts? I recall an early episode in which James revealed the network heavily courted a fresh-off-Friends Matthew Perry for his role and he only won the part when Matthew passed. I feel like this revelation would've generated a solid news cycle in a print or online interview, but it was buried in audio.
I've learned so many things about the origin of Psych. I mean, I wasn't in the pilot. I have this whole other story of how I came to it. Tim does this fun thing where he declares, "Okay, I'm about to share a Psych first. Everybody pull over and settle down." There's no intention of being like, "Dun-dun-dun. We have this major breaking news for you." Sure, it would be nice if more outlets took notice. I do see a lot of quotes and information coming from other podcasts and making headlines. But Psych has a very strong cult following. For us, it's just fun to share these stories.
A popular rewatch podcast is theoretically a good data point for networks to consider reboots and reunions. Is this something you have given much thought to? I'm wondering if, say, Psych 4 is coming to quicker fruition because of your work here.
One-hundred percent. There's a whole nostalgia thing that's happening in the industry. For us, keeping Psych present and alive is a priority. There's still so much to do and stories to tell. We do have a script for Psych 4 — I'm allowed to say that. We don't have the green light yet, but I know we've at least gotten that far. It's a seed, and something can grow from it. Tim and I always joke about What if we remade an episode or go back and do reunions or a talk show? It may be in a different format. I feel like this world is meant to keep opening up. The podcast is the thing that's keeping the family together every week. And from it, there are endless possibilities.
What would be your ideal way to continue Psych beyond the films?
Let's reboot the show. Let's go all the way. I think we did such a good job of tracking our characters' lives as we're getting older and growing. I don't want to stray too far from the Psych specialty. Tim and I recently talked about the idea of redoing the musical episode. Steve has a lot of ideas up his sleeves; I've heard some of them. There's still goals in the storytelling. It's fun as we all get older to watch how silly we can still be after all this time. I'll leave you with that.
In a way, you're mourning a lost art form — that blue-sky era of basic cable just doesn't exist anymore. I really miss it, and the podcast reminded me of that.
It's interesting that even Monk is doing a movie now. Tim and I have observed this sort of thing on the road. We've started doing the podcast in live settings, and I cannot tell you the amount of people who've come up and said — and obviously it makes me feel a little old — "Oh my God, I was such a fan of Psych, and now I watch it with my kids." There's this idea of seeking it out as their comfort show of choice; it's always on in the background and then the kids start watching it. It's a feel-good show. Maybe that's part of what the blue-sky intention was.
We never had any idea, being in Canada in our little bubble, how we were doing as a show. We didn't know until years into filming, when we went to Comic-Con and they told us we were going to be in one of the biggest ballrooms there. We were like, Oh, this is going to be embarrassing. It's going to be a lot of empty seats because we're this little odd show on the USA Network. And the whole room was packed. It was very moving. The ethos of Psych is being very open, loving, and accepting of everyone. We weren't trying to be the sexiest show. We wanted to have fun and be silly. I think we achieved that.
You were consistently working in television until the end of 2021, which is also when the first episode of The Psychologists Are In premiered. You haven't had any acting credits since. How much of that decision was based on the fulfillment of this podcast?
I have this thing about following the green lights. Throughout my career, I've always been pretty clear on what I wanted to do next. After Outmatched was canceled during the pandemic, there was a little bit of sadness. It had that magical Psych quality to it, so I really thought it was going to continue. I wasn't clear on what the next thing was for me after that.
The podcast opened into this other world that I've always wanted to know about. It's been a lot of work and it's taken a lot of time. I haven't been as clear on the acting side. Simply put, there were more doors opening for me as a host. I'm excited to go back to work and act when that happens again. But this has been so fulfilling. I used to turn down podcasts. I used to turn down interviews. It was a huge fear. I had a lot of anxiety talking about myself or being in this host space. That's a little bit of why I decided I should explore it: to face the fear. So it hasn't been a choice to not act over the last year and a half. I've just gone where the energy is.
Lawson and Roday Rodriguez, for instance, dated for the entirety of Psych's production. They remain friends but don't address their breakup on The Psychologists Are In.
Lawson's character replaced a role held by Anne Dudek in Psych's pilot. Dudek played a junior detective who had a secret romantic relationship with Lassiter. Franks later admitted that test audiences had an overwhelmingly negative view of Lassiter because of the creative decision, so Dudek was let go in favor of a new female character.
Lawson now also hosts a personal podcast, Me Time.