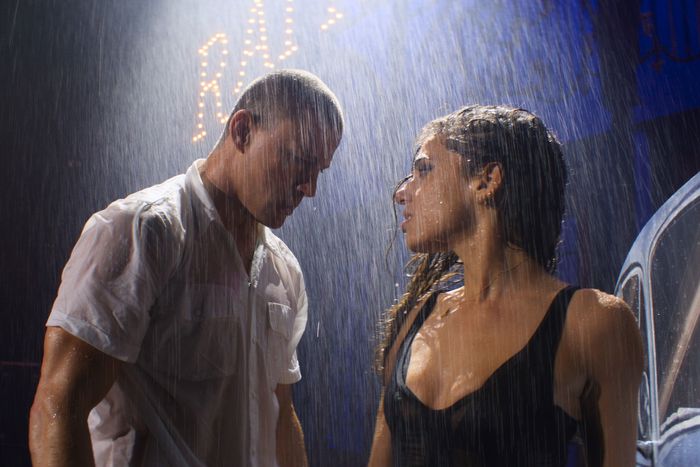 Mike Lane used to seem more like a person. Back in 2012, Steven Soderbergh's Magic Mike introduced Channing Tatum's character as a genial hustler who knows the perils of staying too long at the party — a raucous Sunshine State answer to the New York escort played by Sasha Grey in an earlier, more aloof Soderbergh movie, 2009's The Girlfriend Experience. Both films are about the complexities of the business of intimacy (or at least the illusion of it) and hum with fiscal anxiety: Grey's character struggles with the pressures of offering a high-end service during a downturn, while Mike tries to save enough money to start his own business and get out of dancing, an industry in which he sees no future. But when Magic Mike got a sequel in 2015 (Magic Mike XXL, directed by Gregory Jacobs), that economic context got dumped, which turned out to be the best thing that could have happened to the series. Mike was transformed from a guy with struggles and ambitions to a figure no one knew they needed: the magical himbo performing not for money but for the sheer gratification of making women shriek and smile. That's who we meet again in Magic Mike's Last Dance.
Tatum has made an art of playing meatheads with hearts of gold. That might feel self-indulgent in these movies if it weren't so radical. The first film centers on male characters who view catering to the needs and longings of women as a cheat code to easy cash and eager company. But in the second, it becomes a near-sacred calling, one that is as much about attention as lust — from Joe Manganiello's epic Backstreet Boys–soundtracked display for a bored mini-mart cashier to the chaste flirtation Mike keeps up with a photographer. It's not often that a character is improved by having less interiority, but Mike, built like a brick shithouse and possessed of a genius-level EQ, is far more interesting as a fantasy figure than as a conventional protagonist. He's a self-aware sex object, masculinity without the toxicity, and a basic wish fulfillment: someone both smoking hot and solicitous.
Once you turn a character into a lens for female desire, it's hard to go back. Soderbergh has reclaimed the director's chair for Magic Mike's Last Dance, and the movie he made hovers awkwardly between the modes of its predecessors, unsure how to treat its loose-hipped hero. Mike's done with stripping when the film begins. He's also done with his dream of being a furniture designer, having lost his company in the pandemic, and now he's broke and drifting at the age of 40. Magic Mike's Last Dance knows enough to steer clear of midlife male malaise. Instead, it flings Mike into the path of Maxandra Mendoza (Salma Hayek Pinault), the estranged wife of a moneyed British media mogul who wants out of her stifling marriage but not her luxurious life. While bartending at a fundraiser at Max's Miami mansion, Mike ends up giving her a gloriously over-the-top private dance — one involving a blindfold and, almost as an afterthought, decorously off-screen sex. Max decides she wants Mike to direct a revue at a theater she owns, partly as a "fuck you" to her cheating husband, whose family name adorns the venue, and partly because she wants to give other women an experience like the one she had. She whisks him off to London for a monthlong paid engagement she swears will be platonic.
Despite being half–"Let's put on a show" movie and half–romantic comedy, two genres dedicated to delight, Magic Mike's Last Dance never achieves satisfaction. Where the original Magic Mike drew inspiration from Tatum's own stint as a stripper, the new one draws from the Magic Mike Live stage show Tatum created with an ensemble made up of a blur of professional dancers. (His cohort from the previous films, the Kings of Tampa, get consigned to a cameo on a Zoom call.) The dancing skews toward feats of choreography rather than lascivious communing with the audience, and the film suffers from a "tell, don't show" approach. Reid Carolin's script includes blunt lines like "This is about women!" while Max's precocious daughter, Zadie (Jemelia George), dryly comments on the connection between love and dance in a voice-over. No matter how winking, the intellectualizing drains the mojo.
But the real problem is Mike. Although Tatum and Hayek are plenty hot, the by-product of Mike's becoming more concept than character is that he can't hold up his side of a love story. Mike is the holy hunk, and his own desires feel incidental — tough stuff when you're supposed to be showing a grand passion. Max is the one with the inner turmoil and everything to lose, while Mike provides a service by helping her get through a rough patch and back in touch with herself before he turns to his next patient.
Magic Mike's Last Dance is supposedly the last of these films (though it's worth noting that Magic Mike XXL was also marketed as a last hurrah). It's a little too easy to imagine Tatum keeping at this forever with Mike going gray but otherwise unchanged. He could just keep performing for an audience that wants to be seen — as long as what they need for that is to watch him grind to "Pony."